Since the start of the novel coronavirus at the end of 2019, the tourism world has hit the bottom with the closure of many inland border crossings, aviation suspension and the shutdown of tourist attractions in China and East Asia. However, some other territories like Cambodia still welcome international arrivals with necessary precautions to enjoy and relax during the so-called Covid-19 outbreak.
The question remains to be: Is it a wise decision to travel to Cambodia at the moment?
We will help you examine both sides of the issue and let you make your sensible choice.
Latest Updates On Novel Corona Virus Cases In Cambodia
Cambodia and China are always on good terms not only in tourism but also in economy and politics. That causes a lot of people believing that there would be pretty several cases of the Covid-19 in Cambodia (as we know that the virus originated in China).
Still, there was only one infected case found on January 27. The patient is said to be a Chinese national, 60 years old, visiting Sihanoukville from Wuhan. And fortunately, she has tested negative with the Covid-19 not so long after that.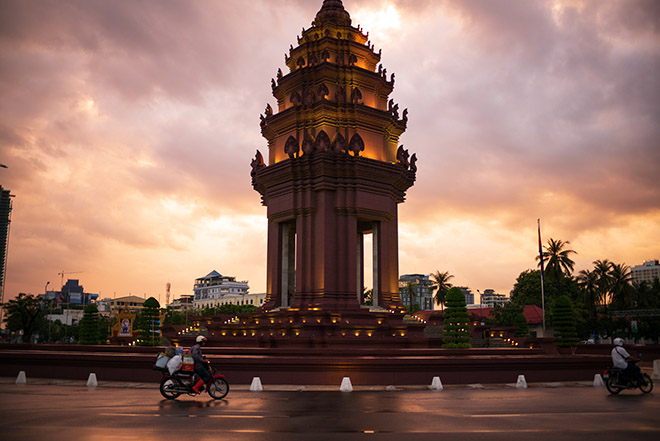 At the present, Cambodia is free from the novel coronavirus.
It can result from the warm tropical climate of the country. Though there is no clear evidence, members of the coronavirus families such as SARS, MERS are claimed to decline in high temperature.
Cambodia climate balances the significant amount of sun, high rate of rain and humidity. Therefore, people can visit Cambodia at any time of the year.
One little worry for Cambodia travellers is the confirmed case found in Malaysia. The American national flew to Kuala Lumpur after arriving in Sihanoukville on Westerdam cruise ship on February 14. So far, all the passengers and the crew members remain in a local hotel with full facilities in Sihanoukville, Cambodia for another coronavirus test. And no new case is found.
The Pros Of Cambodia Travel At The Moment
Less Crowd At Popular Tourist Spots
Although there is a marginal risk for all kinds of travel right now, you can actually take advantage of the low number of tourists to enjoy your Cambodia expedition.
Due to the long-term relation between Cambodia and China, the Chinese are still allowed to enter Cambodia as the latest update on February 18. However, the Chinese government itself has quarantined some areas with a high possibility of infection such as Wuhan, Hubei. Another initiate step of travel agencies is not to offer trips for Chinese citizens at the moment to prevent the spread of Covid-19.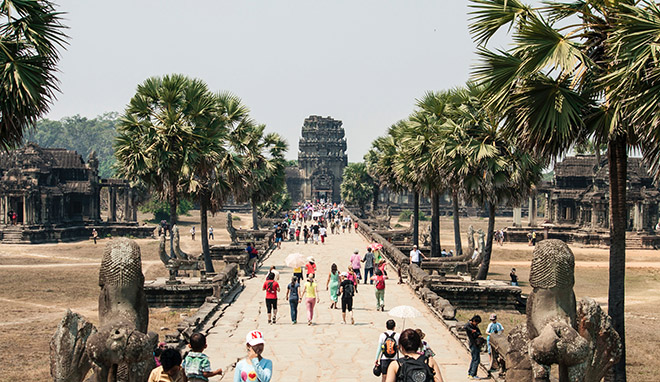 Tourists from mainland China used to account for two-fifths of the international arrivals in Cambodia. Nearly 80% of them go on a package organized by a tour agent. So now you can expect that there is approximately 30% of visitors less in hot spots like Angkor Wat, Siem Reap, Phnom Penh.
Read More: What To Do If You Have 3 Days In Siem Reap, Cambodia?
Perfect Weather Throughout The Country
The weather in Cambodia is strongly affected by monsoon, which divides the climate into 4 main seasons: dry, cool, hot and rainy season. Therefore, the climate balances the significant amount of sun, high rate of rain and humidity.
The period from November to April is usually the peak season. These months are in the cool season, which is mild for discovering this charming kingdom in comfort but warm enough to enjoy beautiful sunny days on gorgeous beaches.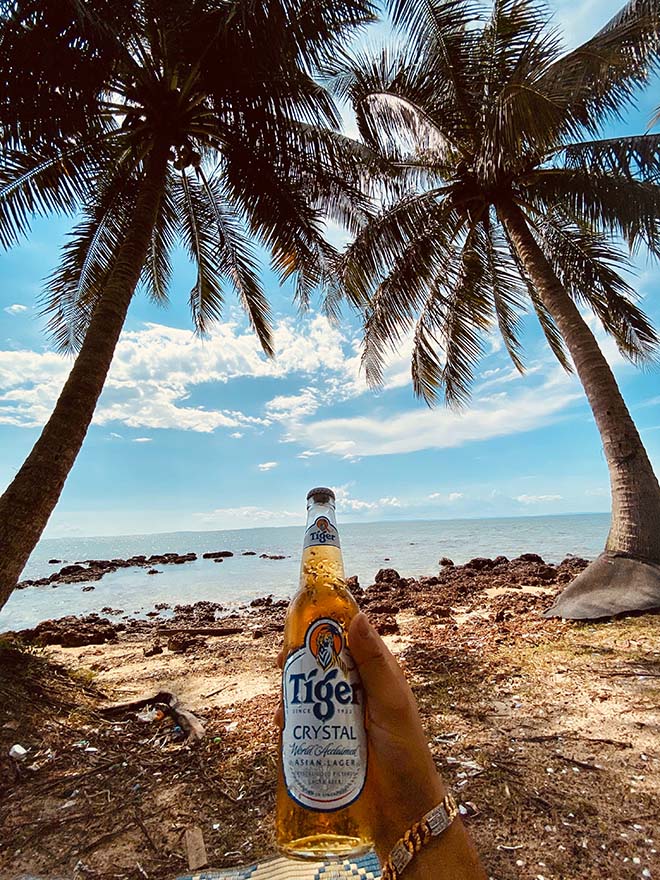 Coming to Cambodia in this period can help avoid mud and flood, limit rain. It will be the best time for your perfect trip with exploration to the hidden heritages deep inside the evergreen tropical forest, and a great visit to ancient temples to contemplate the picturesque long-standing beauty under glowing sunshine!
Read More: Best Time To Visit Cambodia
Discounts Are All-Around
As a consequence of the virus spread, tour companies lose a great proportion of Chinese travellers. That's why they make up for the loss by multiple campaigns to attract tourists from other regions.
If you have a quick search now, you can find a lot of discounts, price reductions on tours and travel services. Accommodation price and food cost are lowered accordingly. Altogether, travelling at the moment will help you save pretty much money.
The Government Is Responding Proactively
Since the beginning of the disease, the Cambodian authorities have carried out strict measures to help the citizens.
When you arrive at all the international airports and the border checkpoints in Phnom Penh, Siem Reap and Preah Sihanouk, Kampot, you may see thermal scanners for all visitors.
The Khmer-Soviet Friendship Hospital in Phnom Penh and provincial hospitals in Preah Sihanouk and Siem Reap have set up isolation rooms for any suspected cases. The government also established a separate hotline working 24/7 for emergency calls about the Covid-19.
Some Consideration To Take Into Account
To say it's a good time to travel to Cambodia right now, we don't eliminate the likelihood of Covid-19 infection in travellers.
The novel coronavirus from Wuhan, China is declared to be able to transmit from human to human, which is seriously dangerous if you encounter a victim. Also, we are still in the dark about the virus potency and incubation period.
However, scientists from all over the world are sharing hands to carry out in-depth research on the new virus. Good news is adults with a strong immune system are less likely to be infected, and the chance of recovery is also higher.
That's said, the risk of infection is always there. But you still have a choice. If you are healthy and follow the recommended guidelines to avoid coronavirus spread, chances are that you will enjoy a wonderful trip in Cambodia.
WHO'S RECOMMENDATIONS AND ADVICE FOR THE PUBLIC
Avoiding close contact with people suffering from acute respiratory infections.
Frequent hand-washing, especially after direct contact with ill people or their environment.
Avoiding unprotected contact with farm or wild animals.
People with symptoms of acute respiratory infection should practice cough etiquette (maintain distance, cover coughs and sneezes with disposable tissues or clothing, and wash hands).
Within health care facilities, enhance standard infection prevention and control practices in hospitals, especially in emergency departments.
In case you have further concerns about travelling during the Covid-19 outbreak, don't hesitate to contact our local travel experts. We will give you the true image of the country at the moment!
Also, the epidemic situation in Vietnam is controlled well. There is no new cases in recent days, and almost patients have been cured. So you can consider Vietnam in your travel plan too.
Read More: Updates about the new Coronavirus (Covid-19) in Vietnam

---
Ellie

I didn't have many opportunities for travel during my early childhood, so I decide to dedicate my young adult years to exploring the world. "Set off with a pure heart". That's my motto for any adventure in my life. And as sharing is caring, I love writing about my journeys so that the audience can gain an objective view of the destination. That's what I do before travelling, set the right, open mind to welcome both obstacles and blessings. So stay tuned for my new stories.
Travel With Us: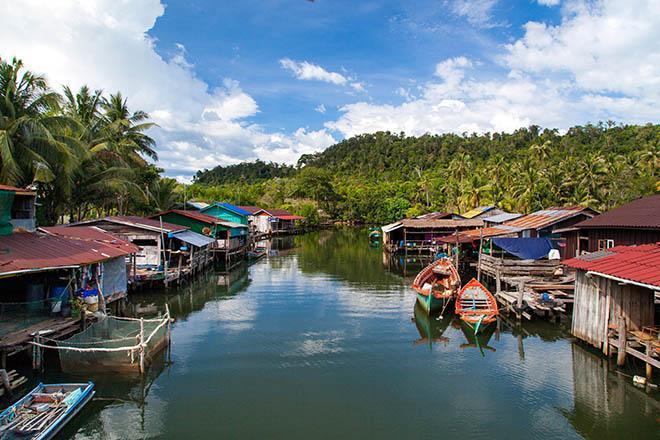 The Best South of Vietnam and Cambodia 7 Days 6 Nights
This 7-day package tour will offer you the sightseeing the best highlight of Vietnam and Cambodia. Specifically, you will discover the symbols of the biggest and busiest city of Ho Chi Minh. You also learn more about our Vietnam war by discovering the most complicated tunnels system in Cu Chi to know how we flight the invader. Adidtionally, a quick sightseeing to Mekong delta to enjoy the local atmosphere and know more about heir culture will be a highlight of this package. Coming to Cambodia, it offers you the visiting to Angkor complex, which cannot be missed while travelling to this small country.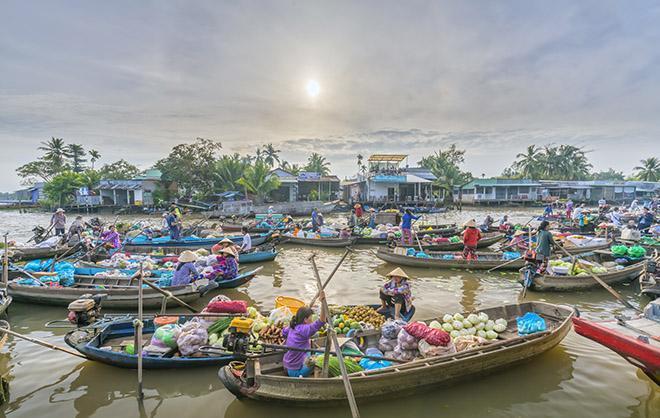 A glance of Vietnam and Cambodia 11 days 10 nights
It's not an overstatement that this package gives you a complete grasp of the South East Asia spirit within just 1 trip. The spectacular nature that will definitely make you hold your breath comes from Ha Long Bay – One of 7 Natural Wonders of the World while the cultural value is highlighted in Angkor Wat (Siem Reap). With various local activities like farming, float shopping, traditional cooking,… you will have enough diverse experience to gain a true insight into the 2 countries.