Coming to Hue, the heritage and imperial city in Central Vietnam, tourists can not only visit historical sites but also have chance to explore the natural beauty of Bach Ma National Park. Hiking through forest, visiting gorgeous Ngu Ho waterfall, Do Quyen waterfall and enjoy a panoramic view at Vong Hai Dai watching tower are the most experiences in Bach Ma National Park.
Bach Ma National Park covers an area of nearly 37,500 hectares, located about 40 km from Hue city. It has a diverse ecosystem with over 1,700 animal species and 2,400 plant species (accounting for nearly 17% of the total number of plant species in the country). Entrance ticket to Bach Ma National Park is 60,000 VND/person.
To explore Bach Ma National Park it would take you a full day from Hue city. The best time to visit Bach Ma is in dry season from March to September.
From the entrance, visitors can drive about 20km to the highest peak of Bach Ma National Park – Hai Vong Dai at the height of 1.450 m above sea level. This is where you will have best panoramic view of Hue province with it's mountains, lagoons, villages, lakes and beaches.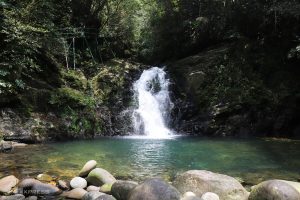 After visiting Hai Vong Dai, you will be taken to the parking area at km 17, the start of the trail to Ngu Ho (Five Lakes) waterfall. It will take about 30 minutes until you reach the destination. Ngu Ho is a system of 5 lakes close to each other and each lake has its own beauty with a combination of springs, rocks and trees.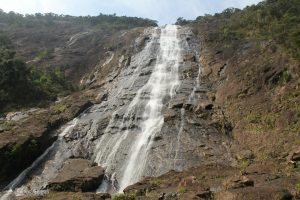 From Five Lakes Waterfall visitors can trek about 2km more, crossing the stream to Do Quyen waterfall. On the way there are many old trees and Do Quyen flowers blooming along the way. Do Quyen Waterfall is 300 m high, located deep in Bach Ma National Park. To get down to the foot of the waterfall, visitors have to conquer nearly 700 steps.
Bach Ma National Park also provides camping service. If you want to spend the night in Bach Ma forest, you can choose the camping area. The rental price for a tent is 250,000 VND plus cleaning fees.