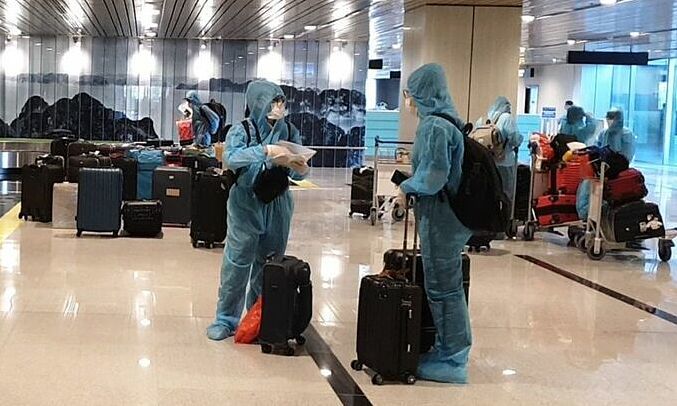 A flight with 297 Vietnamese passengers that arrived from Japan Saturday has become the first to enjoy the shortened seven-day quarantine policy under a trial vaccine passport program.
All passengers on the flight that landed at the Van Don Airport had already received two doses of Covid-19 vaccines, with the second dose administered at least 14 days but no more than 12 months prior to the date of entry.
They also furnished proof of negative Covid tests using RT-PCR method validated by authorities in the host country 72 hours before departure.
After arriving at the Van Don Airport, all passengers were transported to the Novotel Ha Long Hotel to undergo a seven-day quarantine instead of the usual 14 days.
They will have to remain another seven days in self-isolation.
Pham Ngoc Sau, director of Van Don International Airport, said all passengers had to undergo body temperature checks, submit health declaration forms, wear masks and keep a safe distance at all times.
All luggage, carry-on and checked, were sterilized.
The vaccine passport policy will apply for another repatriation flight for Vietnamese nationals returning from the U.S. on September 12.
The government has approved pilot implementation of a vaccine passport program in the northern province of Quang Ninh, home to the nation's first private airport. Vaccinated or recovered entrants will be quarantined for seven days upon arrival.
Vietnam closed its borders and canceled all international flights in March last year. Only Vietnamese repatriates, foreign experts, diplomats, investors, and highly-skilled workers have been allowed in since with stringent quarantine requirements.
(Source: Vnexpress.net)