Wellness travel is the latest trend in tourism, especially in Asia, where traditional medicine has been existing for centuries. If you are a health-conscious traveller and planning to visit Vietnam, don't miss this article.
Let's go back to the history of long-established remedies and Travel Sense Asia will introduce you to the most famous herbal stores in Vietnam.
Traditional Medicine Remedies In Vietnam
The basic motto of Oriental medicine is "save the patient, then treat illness". Traditional medicine physicians prioritize health improvement, keeping the patient's wellness before using any method to control or eliminate the disease. The goal of traditional medicine is to restore the state of "holistic balance".
Therefore, in the course of healing by using herbs or other traditional remedies, you'll find your body to recover and regenerate itself. The physicians attach great importance to the potential of self-healing. Once the body becomes strong, treating the disease is a piece of cake.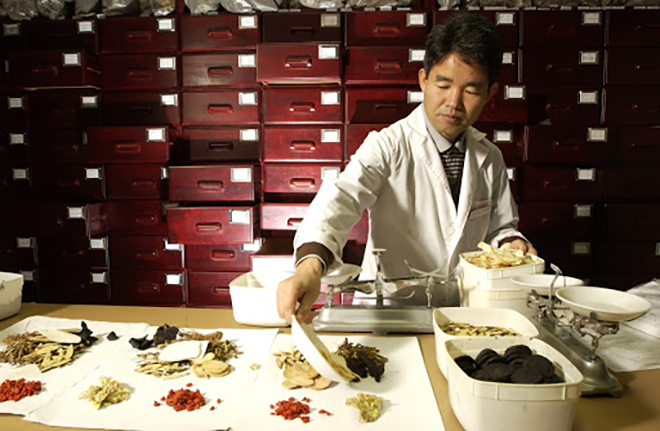 Traditional medicine practitioners diagnose a patient's health condition in 4 ways:
Observing (to examine the appearance of the patient)
Listening (to monitor the voice and the confession of the patient)
Touching (using hand to feel the pulse and practise acupressure)
Questioning (to ask relevant inquiries)
Treatments in traditional medication are various. Some of the most popular are homoeopathy, herbalism, acupuncture, acupressure and even massages.
The Foundation of Vietnamese Traditional Medicine
The root of Dong Y or Oriental medicine, without doubt, grew from the neighbouring country, China. However, thanks to the natural endowments in geography and climate, many herbal medicines are abundant and only found in Vietnam.
This advantage led to the premature appearance of Dong Y in Vietnam. Some artefacts indicated the advent of traditional medicine over 2,000 years ago during Hong Bang dynasty.
Still, the beginning traditional remedies were recognized only in the form of experience. Ancient Vietnamese used available plants like betel nut, ginger, onion, garlic, chilli, galangal to fight the common cold.
Chinese invasion and domination years later resulted in the penetration of traditional Chinese herbs and remedies. Vietnamese traditional medicine became more and more diverse. Yet, the two disciplines stayed distinctive with original names. The original Vietnamese traditional medicine is Northern Herbs (Thuoc Nam), the other is Southern Herbs (Thuoc Bac).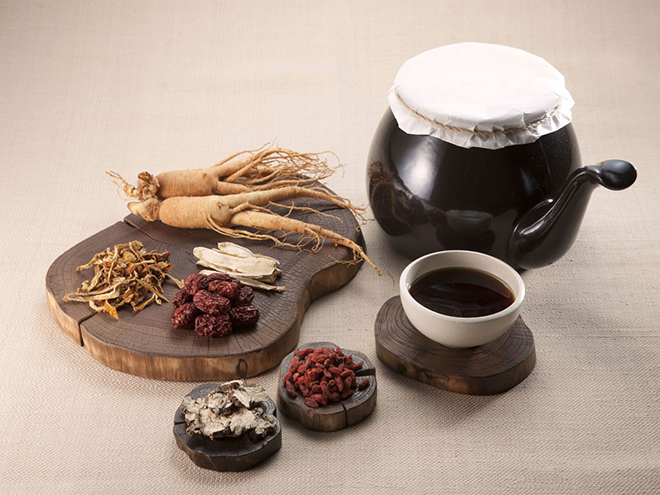 After the Vietnamese regained their independence in 938 AD, Thuoc Nam entered a pivotal period of development thanks to the contribution of the two most critical and revered physicians – Tue Tinh and Hai Thuong Lan Ong (Le Huu Trac).
Vietnamese Oriental medicine culture has been documented since 1010 (under the Ly dynasty). In the 14th century, the renowned physician Tue Tinh scrutinized the Vietnamese medicinal plants to treat diseases (580 medicines in 3873 prescriptions for 10 kinds of medical treatment). Also, he was the first to raise the idea of Great Morality in the Art of Medicine and encouraged the use of local herbs in disease prevention and treatment for the Vietnamese.
In the 18th century, another physician named Le Huu Trac or Hai Thuong Lan Ong compiled a book of Encyclopedia of Traditional Vietnamese Medicine, "Y Tong Tam Linh". The book included 28 volumes with 66 books on ethics, hygiene, disease and basic medicine, pharmacology, pathology, effective prescriptions, medical records and so on.
In the 20th century, Vietnamese medical doctors also compiled over 200 valuable books on Oriental medicine. Vietnamese traditional medicine with a rigorous reasoning system, with effective methods of prevention and treatment, has served effectively to preserve and protect the health of the people from past to present.
Recommended Places In Vietnam To Experience Traditional Medication
Lan Ong Street (Hanoi)
Lan Ong street nestled in the frenzied centre between Hoan Kien Lake and Dong Xuan market. Previously, it was originally called Fujian (Phuc Kien), because a large number of Chinese from Fujian province gathered here to start up their drugstores. They brought the Northern medicine business to settle down and lived in harmony with the indigenous people.
Over time, Fujian street became a street specializing in Chinese traditional medicines and Vietnamese traditional medicines. In 1949, Fujian street was renamed to Lan Ong after the influential physician Hai Thuong Lan Ong, who was honoured as the father of Oriental medicine in Vietnam.
People working on medicine in the streets mostly take their family's secrets as essential for business. Perhaps because of that hereditary characteristic, selling traditional medicine in Lan Ong street is not fading away like other craft streets.
Hai Thuong Lan Ong Road (Ho Chi Minh)
In the Northern hub of Vietnam, there is another Lan Ong where herbs are sold in bulk. Hai Thuong Lan Ong road was actually recognized as the oldest quarter of the city by the Department of Culture, Sports and Tourism of Ho Chi Minh City. It still preserves many houses with old-fashioned architectural styles as well as features from ancient Chinese times.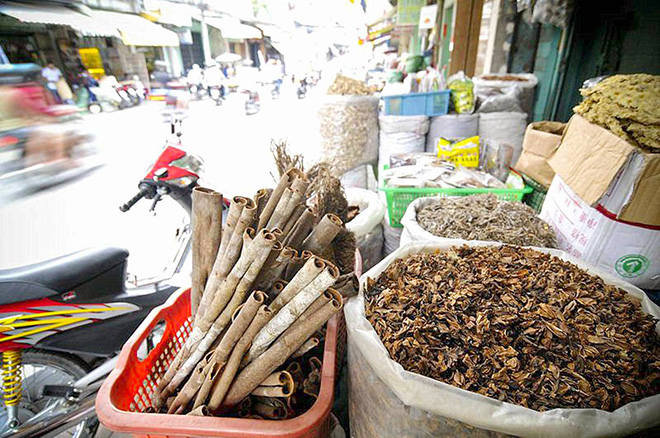 At present, there are about 60-80 shops selling different types of Chinese medicines. Most are of Vietnamese-Chinese families. Coming here, we can easily see dozens of name tags and sacks of herbs loaded on the sidewalk. The apothecaries work right in front of their stores, constantly slicing dried roots, cutting dried leaves. The earthy smell is everywhere.
Museums of Traditional Vietnamese Medicine & Pharmacy (Ho Chi Minh City)
Located on District 10, within easy reach from many popular tourist sites like Ben Thanh Market, Independence Palace, Museums of Traditional Vietnamese Medicine & Pharmacy showcased up to 3,000 items about traditional Vietnamese medicine. Some dated back to the Stone Age.
Visiting the museums, you will feel mind-blowing when encountering special instruments to prepare the herbs like grinders, mortars and pestles, pots and jars. This private museum is also catching up with new audio-visual technology, offering visitors a documentary about the history of Traditional Vietnamese Medicine.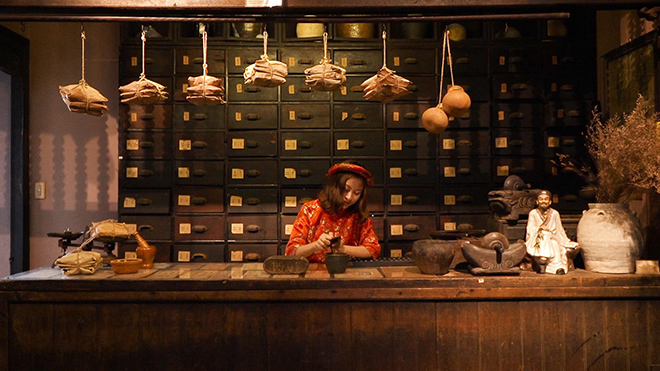 The museum is open every day from 8:30 AM till 5:00 PM. Ticket price for an adult is 120,000 VND (roughly 5 bucks). Children under 120 cm are on 50% discount.
If you feel interested in promoting your health from inside out, remember to visit a Vietnamese traditional drugstore during your next trip to Vietnam. Feel free to contact us for more advice about Vietnam travel. And let us help you put together an ideal itinerary for your wellness