Siem Reap – the ancient capital of Cambodia, is most famous for its two architectural constructions, Angkor Wat and Angkor Thom, the pride of the Cambodian people.
As a tourist capital of Cambodia, Siem Reap is proud with hundreds of attractive natural and artificial attractions. From beautiful temples to unique museums, cultural parks, vast lakes and breathtaking green-covered mountains. So what should you do to make your time and money count while spending 3 days here? Let me help you.
Day 1: Ta Prohm Temple – Tuk tuk around the town – Pub Street
In the morning
Visit temple of Ta Prohm:
Ta Prohm Temple is a quiet monastery built in the middle of the 12th century by King Jayavarman VII in order to commemorate his mother.
There are a variety of courtyards and galleries being preserved here, the walls and paths here were built according to ancient architecture and surrounded by many old trees and vines, making visitors feel like exploring temple surrounded by the forest.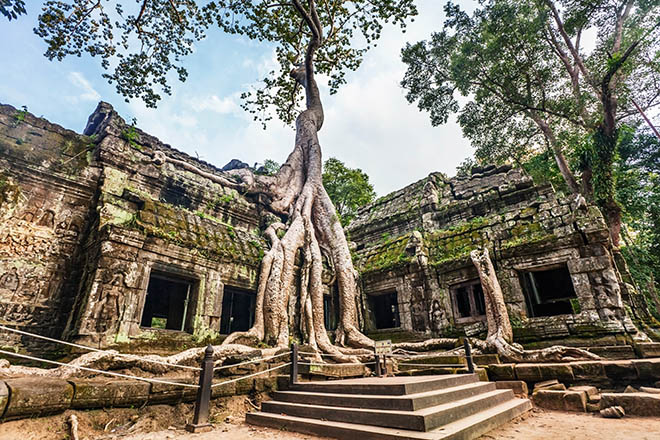 There are enormous fig trees and gigantic creepers which embrace themselves in the stone foundations of the structure giving the impression of man's creation being reclaimed by the powerful forces of nature.
Location: 1 kilometers to the east of Angkor Thom.
Price: 20 USD (1 day), 40 USD (3 days) and 60 USD (7 days).
In the afternoon
Because this is the first day here, it is a very good idea to take the Tuk Tuk (the local transportion) to cruise around the town. Tuk tuk is a very popular means of transportation in Siem Reap. You can use this vehicle to visit Siem Reap and drivers can even become a pretty professional "tour guide" for you.
In the evening
Visit Pub Street
Pub Street is located in downtown Siem Reap and is typical for the bustling nightlife in Siem Reap with rows of restaurants, bars, Western European food shops, and various local food. From 7 pm, this street prohibits traffic, leaving roads for pedestrians. There are even tables and chairs of bars, pubs, cafes put on the sidewalk.
Enjoy the local food at Pub Street
The dishes you should try when coming to Siem Reap such as Amok, Nom Banh Chok, Bai Sach Chrouk, fried crickets with chili, noodles, grilled squid, Khmer curry and Khmer beef. The main drink is Cambodian specialty – Angkorian beer.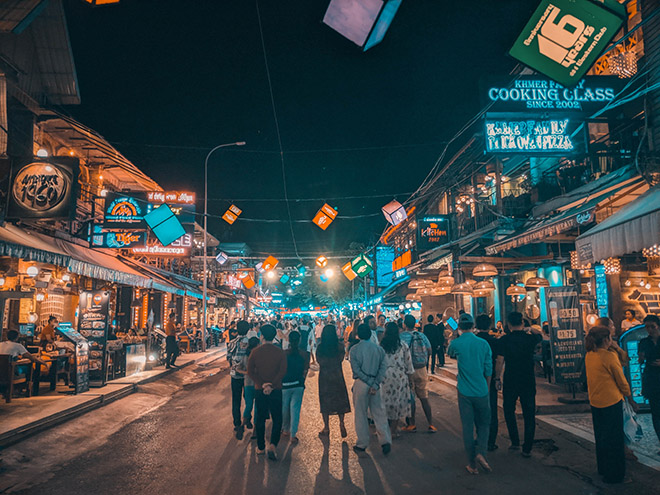 Some recommended destinations: "Khmer Family Restaurant" – a fairly crowded restaurant on Pub Street night with the famous Amok and Red Piano Restaurant.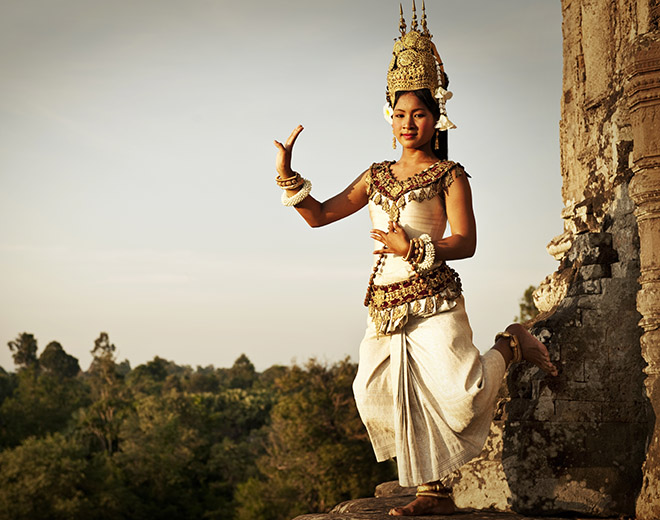 You are also recommended to watch Apsara dance – the traditional dance of Kingdom of Cambodia. However, regular dance is not affordable, up to 18USD / person. There is a cheaper way to enjoy. You can watch the performance in some bars and pubs here.
Day 2: Angkor Archaeological park – Night Market
Angkor Archaeological Park is the best place to visit Siem Reap. Because here you can find the symbol of Siem Reap – Angkor Wat temple, and Angkor Thom. It is also the "home" of more than 50 other Hindu and Buddhist temples built between the 9th and 12th centuries. The entire park was recognize as a UNESCO World Heritage site in 1992.
In the morning
Visit Banteay Srei, constructed at the late 10th century by a Brahmin counselor under a powerking Rajendarvarman. It was loosely translated to citadel of the woman, but it is a modern appellation that probably refers to the delicate beauty of the carvings.
Unlike most other Siem Reap attractions, Prasat Banteay Srei is not usually crowded with tourists because the location is quite far from the center. However, the amazingly detailed sculptures of the epic Ramayana, as well as the legendary goddesses carrying lotus flowers in each hand make this place an indispensable place for travelers.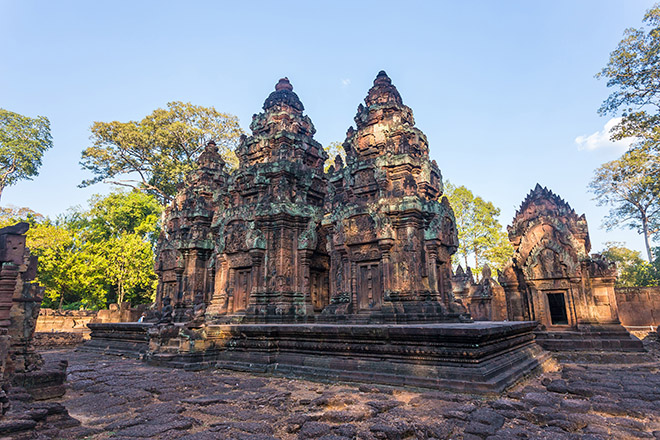 Along the way we make stopover at the Preah Dark village and we follow these with a visit the Banteay Samre Temple adorned with impressive relief's depicting scenes of Vishunu as well as Krishna legends.
Read More: Angkor Off The Beaten Track: 7 Magnificent Temples Tourists Often Miss Besides Angkor Wat
In the afternoon
Visit Angkor Wat, the largest temples in world and covers an area of 200 hectares and surrounded by moat and an exterior wall measuring 1300 meters x 1500 meters. Angkor Wat is the main reason that almost all tourists come to Siem Reap.
Including 5 towers shaped like lotuses up to 65m high with 12th-century Khmer architecture. There are also about 2000 stone carvings of the Apsaras.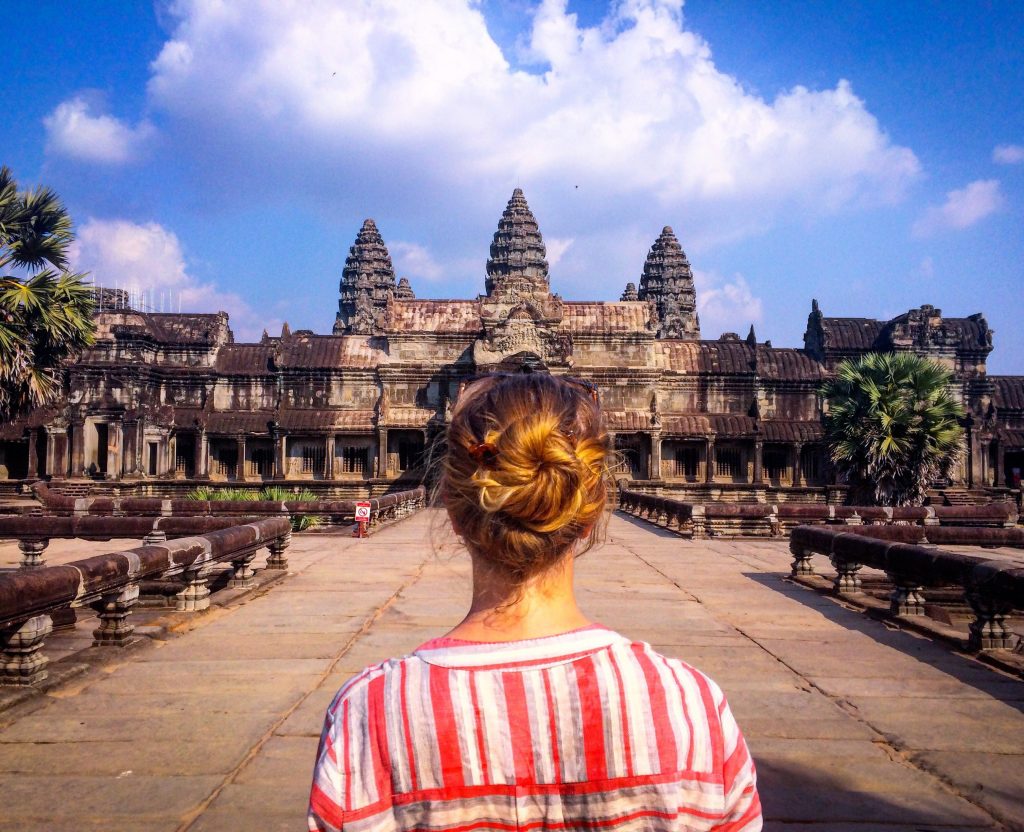 Continue to visit Angkor Thom, the South Gate of Angkor Thom, Bayon Temple, built from the late 12th century to the early 13th century by King Jayavarman VII and consists of 54 towers, the Royal Enclosure, the Phimeanakas, the Elephants Terrace and the Terrace of the Leper King.
Tips To Get The Best Check-in Photos in Angkor Temples
As Early As Possible
While most of the area is open from 7 AM, Angkor Wat, Srah Srang, Phnom Bakheng and Pre Rup can be accessed from 5 AM, so you can take advantage of the low number of visitors to get stunning photos with the Angkor sunrise.
Be Adventurous
Angkor Archaeological Park has a vast area, so it's alright if you go a bit off the beaten track, getting further to mysterious corners beside the temples' gateway where all tourists are taking photos. Try another angle, find the corner where the crowds miss. Just keep the timing in mind so that you wouldn't be lost in the dark.
Stay A Little Late
Not only sunrise but sunset at Angkor is magnificent, so why not waiting some time for the massive visitors to come back to their hotels and catching some tranquil moments at this prestigious tourist attraction? The yellow purple sky of the late afternoon will certainly a wonderful background for your pictures.
Pick The Right Gear
There is no denying that the appropriate gear should be the one to serve your purpose best. Whether you are taking a portrait or taking panoramic photos, you can decide which camera to use. However, as you have to travel for all day long, we would suggest something portable and multi-purpose. A weighty camera body with full accessories may not be ideal for this kind of trip. Instead, even a great smartphone and a tripod can do the job.
In the late afternoon
Visit Phnom Bakheng, which is widely known as the best place to witness the spectacular sunset in Angkor.
Read More: How To Get A Perfect Angkor Trip?
In the evening
Explore the night market in Siem Reap:
The night market, also known as Angkor Night Market, is open from 4 pm.
A fairly famous product here is jewelry. There are many shops selling jewelry in gold, silver and gemstones such as ruby ​​and sapphire, which are often mined in Pailin (Cambodia) or Hanthaburi (Thailand). In addition to jewelry, there are also 3 popular types of goods: clothing, scarves and souvenirs such as Buddha statues, 4-sided Bayon statues, Apsara statues made of stone.
Tips: You can also consider buying a Cambodian scarf, which Khmer people in the South also use, usually only in black – white or brown – white.
Day 3: Tonle Sap Lake
In the morning
Drive to Chong Kneas to visit the fishing village by a private boat. Cruise through the fishing villages of the Tonle Sap Lake to discover the natural splendor and old lifestyle of the country.
Tonlé Sap Lake is the largest freshwater lake in Southeast Asia and one of the most interesting places to visit Siem Reap with more than 300 types of freshwater fish, crocodiles, turtles and otters living here along with 100 other species of birds such as storks and pelicans.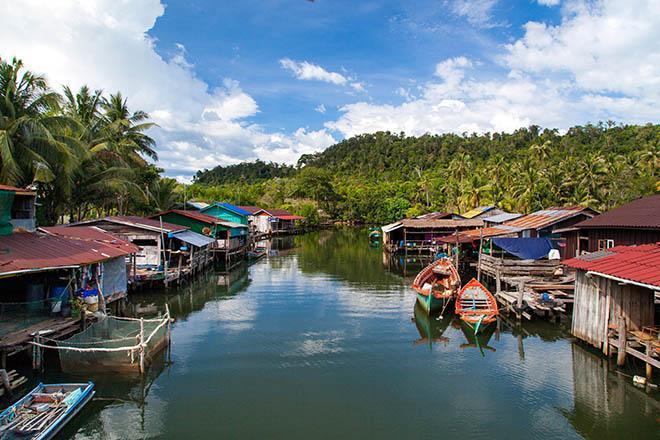 Tips: The best time to visit this place is the rainy season (between June and November) when you can witness and capture the floating villages around this immense lake.
Prek Toal Biosphere Reserve is a place not to be missed when visiting Tonle Sap Lake, a place for you to enjoy a guided boat trip with around $129.
In the afternoon
If time permits, you can also visit the local market and artisan dangkor workshop, a Siem Reap based workshop for underprivileged Khmer people to learn new skills in order to improve their own living condiitons.
Artisans d'Angkor was created with the purpose to revive ancient Khmer arts & crafts and to the preservation of traditional Khmer skills in silk production, stone and wood carving, to lacquering and painting.
In the evening
Free at leisure till transfer to Siem Reap International airport for flight to the next destination.
Traveling to Siem Reap, you can contemplate the history illuminated by many well-preserved stone carvings in Buddhist and Hindu temples. For nature lovers, you can take part in many activities such as hiking, bird watching, picnicking and swimming. Or if you want to experience the indigenous life, there are also many traditional performances and cultural dancing in the heart of Siem Reap.
Generally, there are so many things you can experience in Siem Reap that I believe will all worth your time. I hope you can find the most suitable schedule for your 3-day trip with my suggestions.

---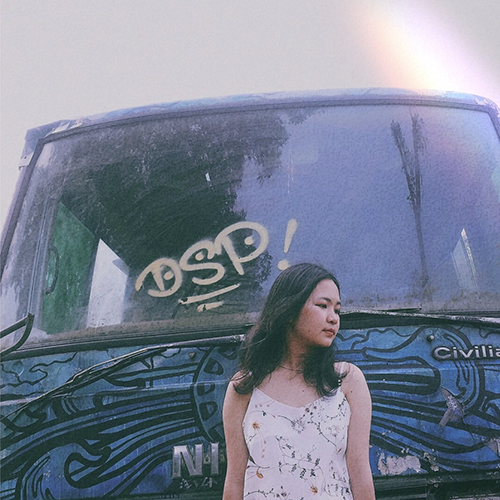 Alida

A wanderlust who is into photography and has special interest in chasing clouds and admiring the sky. Hoping that someday I will be able to see the sky from every part of the world.
Interested In This Itinerary? Travel With Us To Seam Reap: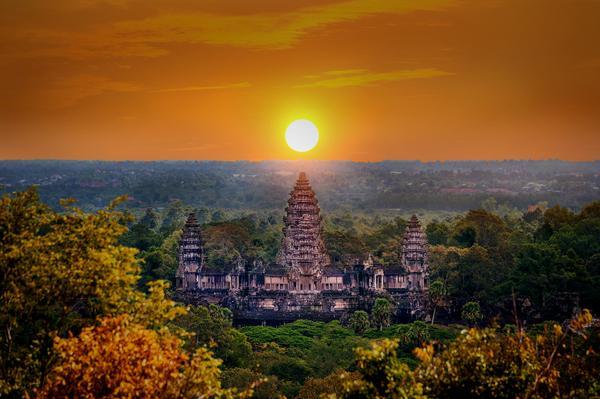 Siem Reap – Angkor Wat 3 days 2 nights
This tour, you have chance to discover Majestic Angkor that is the great place you wouldn't miss in your trip to Cambodia. Discover the largest religious monument ever built, Angkor Wat that is architectural masterpiece of humanity. Beside that, visiting to the stunning royal city Angkor Thom that has many statues with mysterious smile always attract the tourists. Moreover, enjoy special local food, take a Tuk Tuk or cycling to the Roluos Temple Complex or joining to the cooking class are the great emotions you have this trip.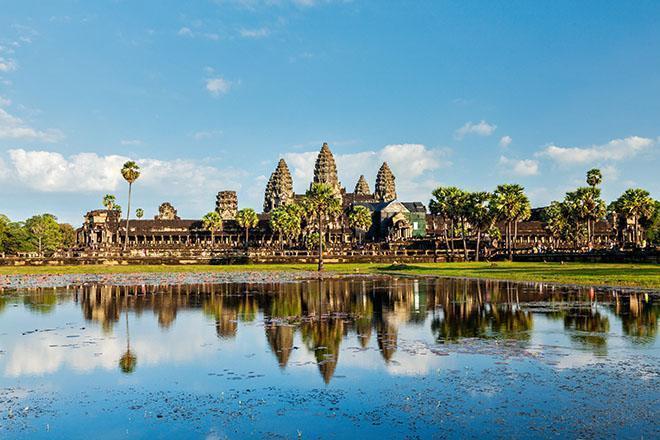 The Best South of Vietnam and Cambodia 7 Days 6 Nights
This 7-day package tour will offer you the sightseeing the best highlight of Vietnam and Cambodia. Specifically, you will discover the symbols of the biggest and busiest city of Ho Chi Minh. You also learn more about our Vietnam war by discovering the most complicated tunnels system in Cu Chi to know how we flight the invader. Adidtionally, a quick sightseeing to Mekong delta to enjoy the local atmosphere and know more about heir culture will be a highlight of this package. Coming to Cambodia, it offers you the visiting to Angkor complex, which cannot be missed while travelling to this small country.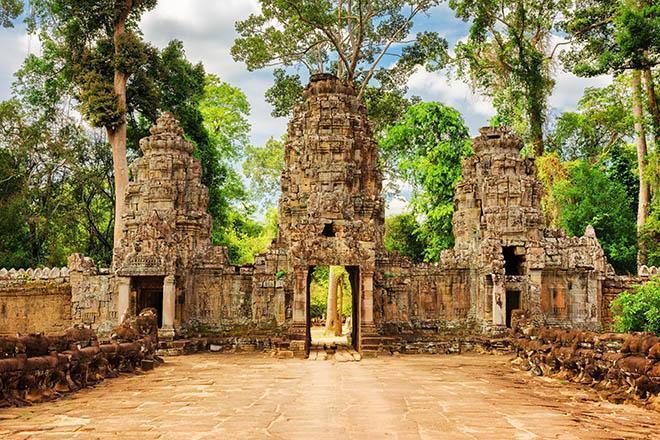 Majestic Angkor 4 days 3 nights
Majestic Angkor is the great place you wouldn't miss in your trip to Cambodia. This tour, you have time to discover the largest religious monument ever built, Angkor Wat that is architectural masterpiece of humanity. Beside that, visitng to the stunning royal city Angkor Thom that has many statues with mysterious smile always attract the tourists. Moreover, enjoy special local food, take a Tuk Tuk or cycling to the Roluos Temple Complex or joining to the cookling class are the great emotions you have this trip.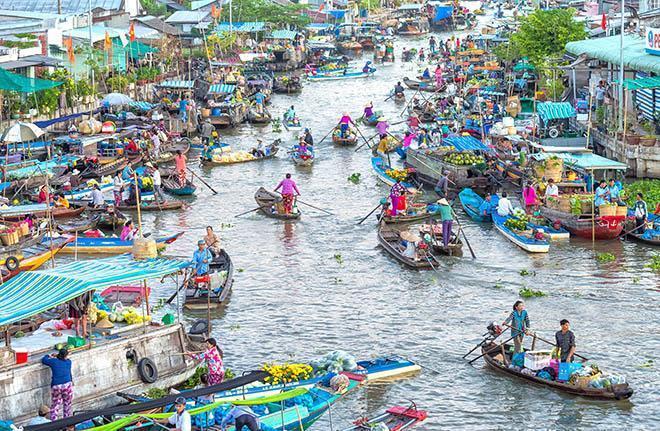 Vietnam and Cambodia Package 15 Days 14 Nights
If you can give us 15 days of your time, we would love to turn your valued time to an amazing vacation of Vietnam and Cambodia that you can enjoy the local culture, historical sites, beautiful landscapes, wild beach and impressive temples. This package offers you various experiences from the North to Centre and the South of Vietnam as well as Phnompenh, Siem Reap in Cambodia. Not only have glimpse of Vietnam and Cambodia, but you also "taste" and "feel" the real life through different activities, stories and knowledge that we provide you from day to day of this tour.
Or more Cambodia Tours.