Being a coastal city and the capital of Khanh Hoa province in the South Central Coast of Vietnam, Nha Trang is one of the most attractive destinations in Vietnam highlights tour. The city attracts a humorous number of foreign tourists for not only its beautiful beaches but also the urban atmosphere of a young city, especially at night. You will find nowhere else in Vietnam that has such a nightlife like Nha Trang.
The best nightlife in Nha Trang offers people with ample reasons to explore this beautiful beach town after sunset. For those who are looking to immerse themselves in the local culture, then Nha Trang will not let them disappoint because this city is home to various cultural spaces, where light shows, colorful puppet shows, and traditional tunes are organized every night.
In simple words, Nha Trang at night is a mixture of both old and new, this moment is perfect for tourists and locals to forget all concerns of a hardworking day and set their mind totally free. There are so many things to tell about and I will give you 10 things to do in Nha Trang at night.
1. 2/4 Square
This area is next to the beach. Residents and visitors come here to focus snacking, watching the beach and the street at night. Opposite is night market which sell unique souvenirs and local products, within the region also serve drinks and food for fairly ordinary night.
2. Nghia Bia Hoi
Whilst many backpackers seem to give this city at night spot a miss in favor of the close Why Not Bar, Nghia Bia Hoi is a great place to mingle with local people. It is not like "bia hoi" in Hanoi, the capital of Vietnam. Here, you will be able to enjoy a light lager and a darker brown beer along with snacks.
3. Nha Trang Night Food Market
Nha Trang night food market is located in the center area of Phu Dong Park. You will discover hundreds of typical familiar dishes of Vietnam countryside at low prices here. Enjoy the local food at Nha Trang night market will bring to you a totally different experience. How comfortable it is when sitting at the city center and sampling great local dishes. You will feel as you are in a peaceful rural area while still enjoying gentle breeze of the sea.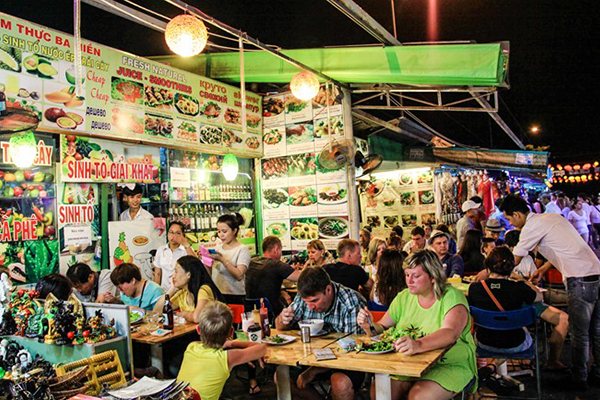 4. Nha Trang Water Puppet Theatre
This is one of the most traditional activities in regard to Nha Trang nightlife. Nha Trang Water Puppet Theatre showcases the everyday life of Vietnamese farmers through colorful puppets, traditional tunes and light shows. It takes places at Tran Phu Cultural House, from 4 pm to 8:45 pm. The performance is live and runs for about 45 minutes, depicting 15 scenes, including fishing, frog-catching, kids' games, and rice-planting. This activity is highly recommended for those who are looking to immerse themselves in something really local. Nha Trang Water Puppet Theatre also hosts some spiritual dances, and boat racing. Tickets' prices range from VND 100,000 for children to VND 150,000 for adults.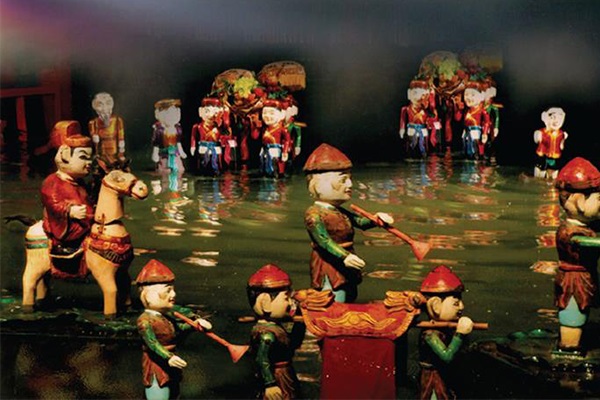 5. Pool Pub
This prominent location is located along Tran Phu, making it one of the best Nha Trang nightlife spots. The two-story establishment is al fresco, featuring with wooden communal tables, a rooftop terrace, neon lighting and good quality audio systems. Yet, actually, the best seats in this building are upstairs, at the spacious pool-side bar. Besides, the central swimming pool is also popular. So if you want to enjoy a dip, then do not hesitate to bring swimming gear along. Beverages here are good and the prices are reasonable. There are various choices for guests, from the usual range of wines, beers, cocktails and spirits. The music played here in Pool Pub is mostly EDM, techno music, deep house. Yet unlike the majority of Nha Trang bars, guests could still have conversations out right on the terrace.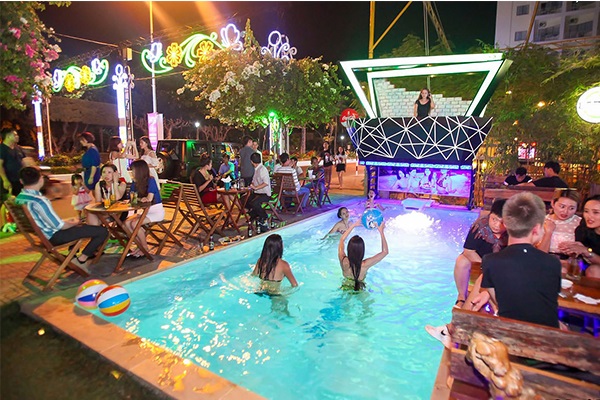 6. United Bar
United Bar is a favorite place for expat community in Nha Trang. It plays live traditional Vietnamese tunes nightly. This vibrant bar is nicely decorated with flat screen TVs, international flags, live stage, and cozy sofas that overlook the lush garden setting. Beverages compromise of draft beers, cocktails and imported wines whilst hungry patrons could also order a range of Vietnamese as well as Asian dishes from the numerous cooking stations of United Bar.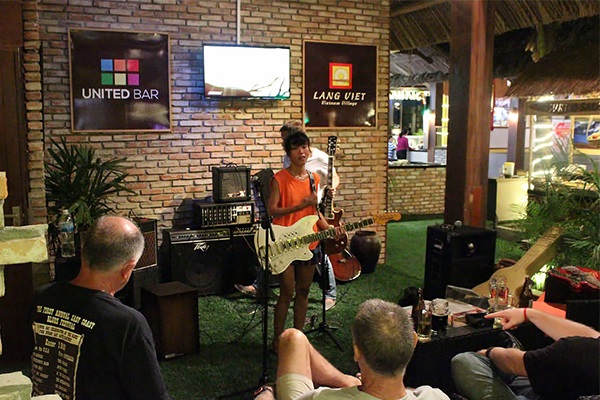 7. Booze Cruise Sports Bar And Grill
Among bars and clubs in Nha Trang, this is the best spot for tourists to watch the latest sport events from all around the world. There are a variety of American-style burgers, sandwiches, pizzas, and Vietnamese fried noodles served from early morning till late night. Booze Sports Bar and Grill also hosts live music performances every Wednesday and Thursday.
8. Sailing Club
One of the definitely Nha Trang nightlife spot is Sailing Club. It boasts extensive alcoholic offerings, great location, lively tunes, and a large dance floor for guests to party with fellows. Located on Tran Phu Beach, the club allows guests to enjoy lively fire shows along with professional hip hop dance performances. Imported beers, wines, cocktails and spirits are diversified and the price range is rather higher in compared with most nightlife spots in Nha Trang. However, the prime beachfront location is absolutely worth your additional expense. Sailing Club is a mix of local people and foreigners.
9. Skylight Skydeck And Rooftop Beach Club
This club is the first rooftop club in Nha Trang, which offers a panoramic spectacular view of the sea, Nha Trang city and its surrounding mountains. Settled on the 45th floor of the Best Western Premier Havana Nha Trang, this nightlife site has three fully-stocked bars, three DJ booths, four event spaces, a swimming pool and a kitchen which serves tasty food from all around the world, particularly Asian foods. The prices range from VND 90,000 onwards. Imported whiskies, wine, vodka, tequilas and rum are available by bottle and glass. The entrance fee to this club is priced at about VND 100,000 which includes a free drink.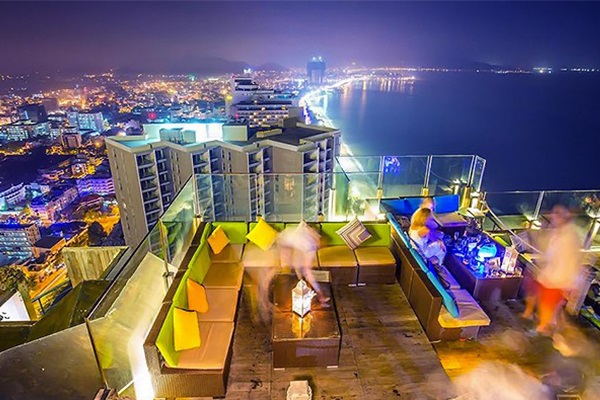 10. Why Not Bar
This bar is one of the few Nha Trang nightlife spots that are opened after 3 am. It is ideal for backpackers and specializes in serving unique drinks with reasonable prices. Guests could sit out on the open terrace to observe the hustle and bustle life of residents. Or go inside to enjoy dancing on the large dance floor. Just less than 2 minutes away from the main road Tran Phu, this bar is crowed after 2 am, when the Sailing Club closes off. With the presented music genres of electro dance and remixed pop tunes, Why Not Bar is fitted with a lovely open terrace with tables out front. The inside dance floor could accommodate over 200 persons. There is no entrance fee.
Hopefully that our suggestions introduced above somehow helps you decide where to go and what to do at night when visiting the coastal city of Nha Trang.