According to the Association of International Conferences, in 2005, international meetings around the world worth a total sum of 280 billion USD per year. Taking advantage of this huge resource, Vietnam took the lead in nurturing a new form of tourism. The country has put quite a name for a hot destination in terms of incentive travel. Let's see the reasons why Vietnam is an ideal place for your company trip.
Golden Location  
On an incentive trip, the board of management pays great attention to transport. Cities with international airports, seaports, convenient routes are always highly appreciated and prioritized.
Vietnam is located in the center of Southeast Asia. It is an important transport hub from the Indian Pacific Ocean and the Australian Ocean. From Ho Chi Minh city, it takes less than 2 hours to reach the capitals of all Southeast Asian nations.
Thanks to a great latitude coverage, Vietnam is an all-year-round destination. With multiple types of topography, the country meets the interest of many tourists.
Vietnam has a coastline of more than 3,400 km with 125 beaches stretching across 28 provinces and cities, over 20 national tourist sites, 30 national parks, 7 UNESCO World Heritage sites. It ranks 27th out of 156 coastal countries in the world. Ha Long Bay and Nha Trang Bay also help Vietnam become one of the 12 countries with the most beautiful bays. With a beautiful beach and favorable climate, it is a great condition to plan tourist cities, to well serve the needs of a luxury retreat.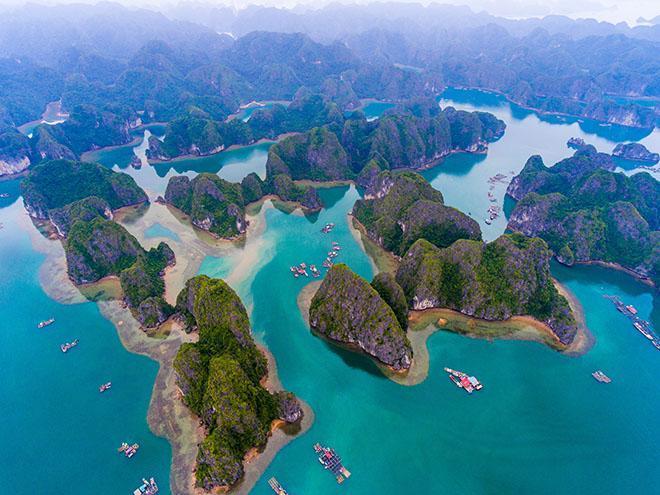 Open Visa Policy
Starting from Feb 1, 2017, citizens from 40 countries (including US and UK) are eligible to apply for electronic visas. Citizens from many European and Southeast Asian countries are also eligible for visa exemption. The duration of visa exemption is different for each personality from 14 days to at most 30 days.
Visa regulation for Phu Quoc island: holding a foreign passport, travelers are allowed to stay up to 30 days in Phu Quoc Island without a visa. In case foreigners enter an international border gate of Vietnam (including air and sea borders), staying in the transit area at that border gate, then forwarding to Phu Quoc island, they are also exempted from visa.
Utmost Conveniences
For large group travel, the top concern will be infrastructure. The location chosen by HR managers is usually the resort city. It features a combination of the hotel system, luxurious accommodation facilities, theater, meeting hall that meet international standards. In addition, there should be shopping centers, supermarket systems, spa services, high-end recreational centers to satisfy the needs of entertainment and shopping. 
Vietnamese cities like Ha Long, Da Nang, Hoi An, Nha Trang, Phan Thiet, Vung Tau, Da Lat are all well-known tourist destinations. Infrastructure, service quality are constantly upgraded and improved. Mui Ne (Phan Thiet) is considered to be a paradise of resorts with 4 to 5-star standard services. Da Lat offers a range of ancient French architectural villas, romantic but ain't less comfortable, luxurious. Da Nang with synchronous and advanced infrastructure satisfying the pickiest visitors. Ha Long, Hoi An, Nha Trang, and Vung Tau have seaports, incredible yacht conference services, adventure games, and adventure activities.
Invaluable Experiences
Vietnam is increasingly participating in many international and regional organizations. Political stability, comfortable climate, hospitable people, the country is gaining more and more recognition. It is trusted to host large-scale events such as APEC Conference, ASEAN Summit in Hanoi, International Hot Air Balloon Festival, International Marathon in Phan Thiet, Carnaval Ha Long, the 2019 North Korea–the United States Summit in Hanoi or the Formula 1 Grand Prix Vietnam in April 2020.
Many famous resorts in Vietnam are selected for incentive programs such as Phu Quoc, Ho Chi Minh City, Da Nang, Hue, Nha Trang, Hanoi … Currently, Vietnam has thousands of businesses operating in this sector and the annual growth rate is about 20%.
With the advantages of resort tourism, mild climate, favorable natural landscapes, many natural wonders of the world, along with increasing participation in international organizations, Vietnam is emerging as a venue for many important international conferences, seminars and events. In recent years, the number of international and domestic visitors on incentive trips has continuously increased. Compared to other countries in the region, it can be said that Vietnam has outstanding potential for incentive activities.
So, why not plan your next company trip to Vietnam?
If you need a boost for your employees, don't hesitate to contact us for more information about incentive travel. Or you can leave a request on the link below so that our travel expert could reach out to your company.
What Travel Sense Asia Offers in term of Incentive Travel:
Prepare Branded Kits
Paperwork support: Visa (Free Visa Arrangements in Selected Destinations, Pre-approved Immigration Clearance), International Insurance.
Free Internet Service and Mobile Number in all Destinations.
Transfer and Pick-up  Arrangements for Attendees.
Express Check-in/Check-out Service.
Tailor-made tour in destinations from A to Z with:
- Crafted Itinerary.
- Local supplier, tour guide and driver.
- Travel expert support 24/7
Media Coverage (Photos, Videos,...).
Preparation of Gifts/Souvenirs.
Themed Gala Dinners and Cocktail Parties. Special Cultural/Entertainment Shows.
Crafted Team Building Exercises with Professional Consultants.
Ellie

I didn't have many opportunities for travel during my early childhood, so I decide to dedicate my young adult years to exploring the world. "Set off with a pure heart". That's my motto for any adventure in my life. And as sharing is caring, I love writing about my journeys so that the audience can gain an objective view of the destination. That's what I do before travelling, set the right, open mind to welcome both obstacles and blessings. So stay tuned for my new stories.