Hanoi cuisine has grown to be the big magnet that attracts many tourists coming to the capital of Vietnam. Here, you can enjoy many special dishes from the local. Moreover, if you want to learn how to please your family with the fantastic Vietnamese cooking recipe, you should join in a cooking class in each place you visit. If you want to find the best cooking class in Hanoi, you can choose one of the following class below:
1. Dương cooking class of Duong's restaurant system
To be one of the high-recommended class in Trip Advisor, Duong cooking class is the reliable place for you to learn how to cook Vietnamese food.
Cooking class is held at Duong's restaurant in both 3 addresses: 2 restaurants in Hanoi and 1 restaurant in Ho Chi Minh City. Duong cooking class in Hanoi is located in Ngo Huyen and Ma May is quite near Hoan Kiem Lake and Dong Xuan Market – one of the biggest fresh food markets in Hanoi.
At Duong's cooking class, it is running by Vietnam Top Chef Hoang Van Duong – Awarded Top 3 Vietnam Top Chef 2014, he with his team will help travelers learn how to cook the best delicious food.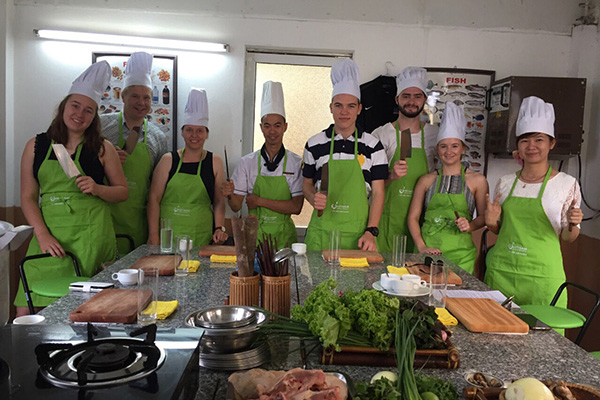 The timing of cooking class is 4 hours and available to be run in either the morning or afternoon. Morning classes will culminate in lunch whilst afternoon classes culminate in dinner, after that, you with your family or friends will enjoy the meal in the restaurant. When participating in the class, the chef shares many his secrets of cooking Vietnamese dishes teaches you how the subtle blend of spices is the key element to creating the outstanding flavors that are found in some of the favorite cuisines.
There are some different menu options available for Duong's cooking class. You can check the menu before coming, but if you want to join the private class, you can request to change the menu.
In the beginning, you will be collected by the guide in your hotel by taxi or motorbike to Duong's cooking class. And then you will take a cyclo trip to the market to prepare the fresh food and material, the chef will guide you how to choose the best ingredients, and come back the class immediately to prepare for cooking the meal. During the cooking class, the Chef will teach you the secrets to creating decorations, to enhance the presentation of your dished, well as some of the basic skills needed to master the knife skills required to be a chef.
Cost (per person in USD): USD 55 for group 1 – 10 pax
You can join Duong's cooking class at 3 address:
Hanoi
Add 1: 27 Ngo Huyen st., Old Quarter, Hoan Kiem Dist., Hanoi, Vietnam
Add 2: 101 Ma May st., Old Quarter, Hoan Kiem Dist., Hanoi, Vietnam
Ho Chi Minh city
Add 1: 27 Dong Du, District 1, Ho Chi Minh City, Vietnam
2. Hanoi Cooking Centre
Hanoi Cooking Centre is one of the best choices for you who love Vietnamese food and want to learn how to make it by yourself. It is located near West Lake and about 3 km from Hoan Kiem Lake. Hanoi cooking class offers a hands-on cooking class, street food tours, and cafe.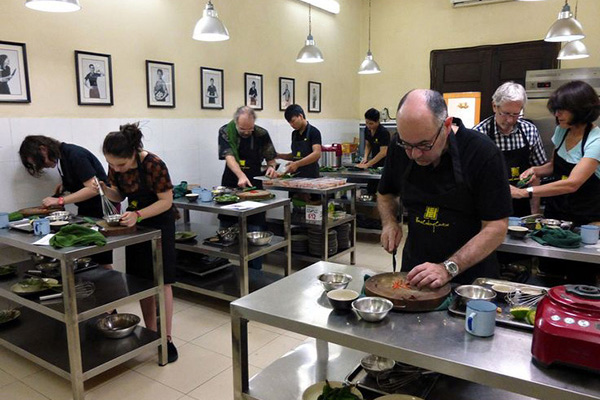 In the class, you will prepare and cook Vietnamese dishes under the guidance of the experienced chefs and after the workshop, you will enjoy the food you have prepared. See, taste and discover the local food at the cooking class in Hanoi by experiencing some of Hanoi's quintessential street food.
Starting the cooking class by visiting the local market and prepare the ingredients for the dishes. If you join the group class, you should check the menu and book in advance. Each style has a different menu, and all dishes are so attractive…, such as Beef noodle soup (Pho Bo), Spring rolls (Nem) and Banana flower salad, as well as lesser-known recipes such as Caramel fish with galangal or Artichoke and pork rib soup, these recipes will delight and inspire lovers of Vietnamese cooking.
Moreover, there are many cooking courses to enjoy in Hanoi Cooking Centre such as Vietnamese cuisine, a cooking class for kids, street food discovery, etc; so you can choose the suitable class for your group and your style.
Cost (per person in USD): US$59 for group from 1-10 pax
You can join Hanoi Cooking Centre's cooking class at 3 address:
Address: No 44 Chau Long street- Ba Dinh district- Ha Noi
3. Old Hanoi Cooking Class
Old Hanoi Cooking Class lets you enjoy cooking in the tropical garden in the Center of Hanoi. Here, you can choose a daily class or private cooking class in Hanoi, depend on your demands. In the class, there are some option menus, you can choose the suitable menu for yourself. Both of them are so interesting and quite difficult to decide what menu is better.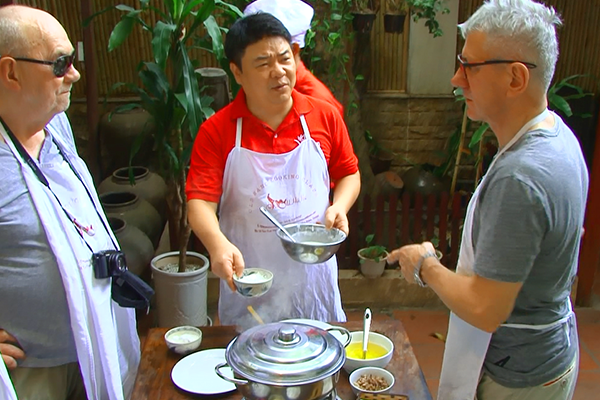 As many cooking classes, you will start your lesson by going to the local market and buy various vegetable, meat, herbs… for a daily class lesson. You can watch the locals pick their daily food and haggle over the price. Then, you will come back to Old Hanoi Cooking class to serve some local refreshments and freshen up before your class.
After that, the chef will explain the ingredients used in Vietnamese cooking then you will start making the dishes by his guidance. Do not worry if you struggle, the chef will always be willing to give you a helping hand. You will have the truly exciting cultural discovery about how to cook Vietnamese food, and can cook after the trip in your home.
Cost (per person in USD): USD 50 for daily class and USD 80 for a private class
Address: 18 Ton That Thiep Street, Ba Dinh Dist, Hanoi, Vietnam
4. Highway4
Highway 4 is famous for not only the restaurant but also the cooking class in Hanoi. The cooking class of Highway 4 has many rave reviews from both the travelers and Vietnamese local.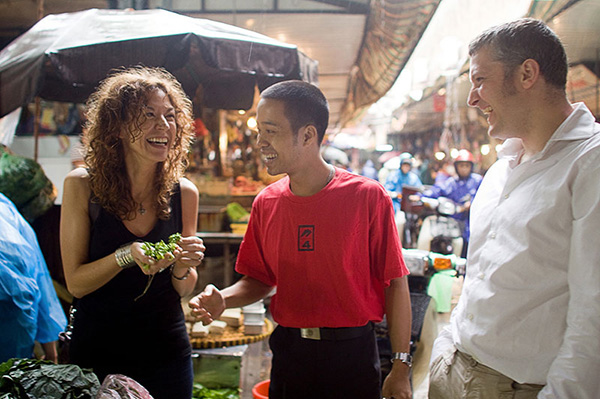 If you come to Hanoi or Ho Chi Minh City, you enjoy the local food and want to how to make it by yourself, it is easy to find a cooking class in Hanoi and join in a class, it will satisfy your curiosity. Highway 4 is the best choice for you, here you can join a private cooking class and the market tour. There are some option menus that you should consider which one is suitable for you. The aims of the cooking class are to give the travelers the special insights about Vietnamese food and make your trip a memorable experience. The cuisine fanciers can attend a cooking class, practice cooking the Vietnamese dishes with the experienced chef, and enjoy them.
Address:
5 Hang Tre, Hoan Kiem dist., Hanoi
25 Bat Su, Hoan Kiem dist., Hanoi
110 Tran Thai Tong, Cau Giay dist., Hanoi
575 Kim Ma, Ba Dinh dist., Hanoi
The article shows you the best cooking class in Hanoi, you should book in advance because it can be full at any time. Hope you have a wonderful moment in Vietnam.