Coming to ancient capital of Hue, you can easily feel the deliberate lifestyle of Hue people blended well with poetic nature, charming scenery. Intriguingly, there are numerous visitor attractions such as famous places for admiring as well as unique culinary culture for experiencing here.
1. Visit Dong Ba market and buy Hue's specialties
Dong Ba is the biggest market in ancient capital of Hue where businesses a wide range of categories from domestic goods to imported products, from fresh vegetables stores to eateries, clothes, and souvenir shops. Although Dong Ba is big market, it is extreme tidy and self-well-organized so that tourists do not need to pay much attention to safety, they can comfortably buy items, instead. Apart from buying products, you might drop in snack stores and try on tasting some foods. In Hue, the popular gifts to buy are Hue's conical hat and Hue sour shrimp box. In addition, the sweet invitation of sellers makes you never hesitate to put in and take a look. One more, it would be uncompleted while visiting Hue in general or Dong Ba market in particular without swooping on cuisine area of the renowned market. Shown with multitude of Hue's specialties, it is to firmly assure that the area is paradise of cuisine for foodies.
2. Discover Hue's excellent cuisine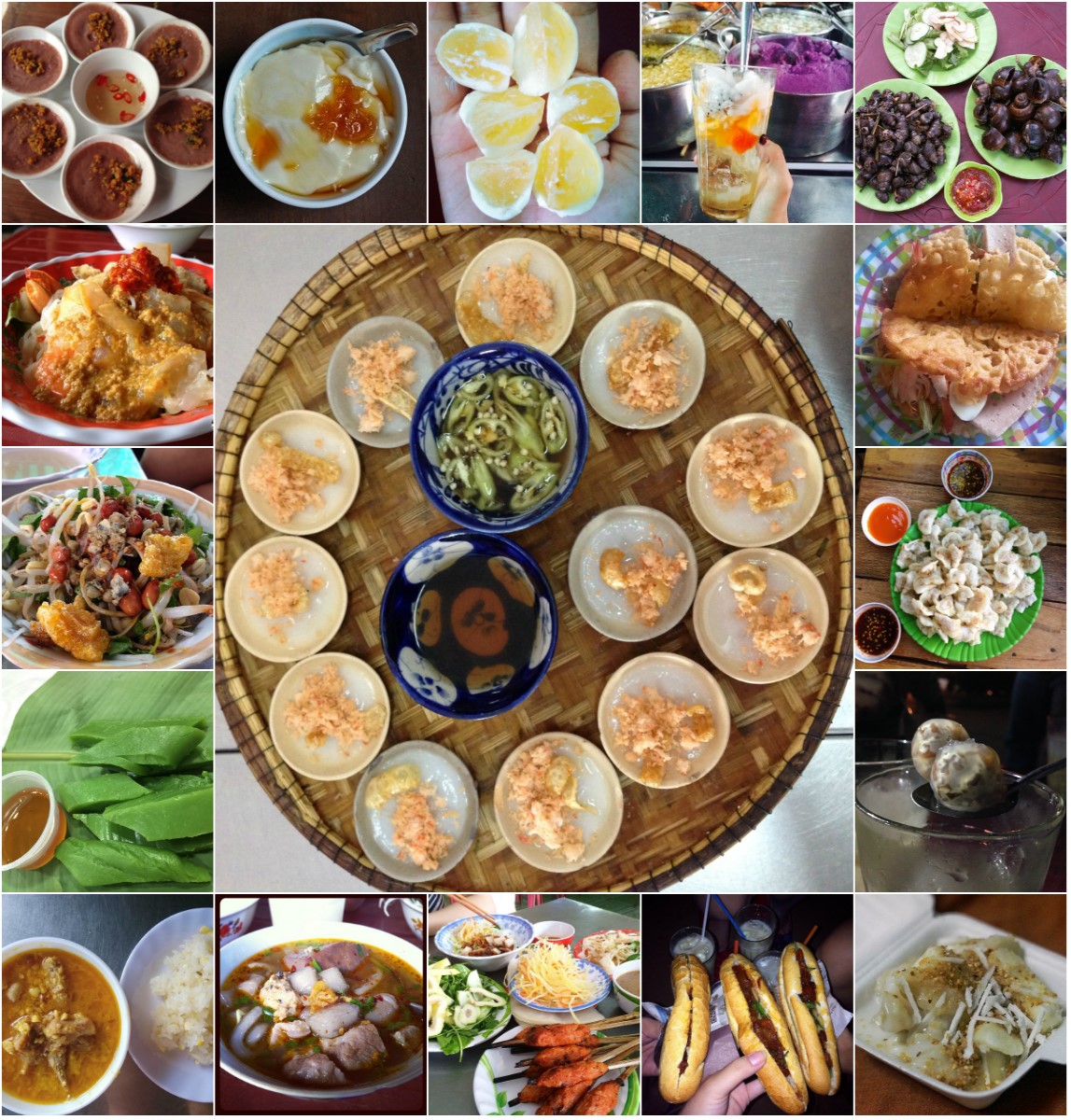 Hue's cuisine is noted for such its rich and diversified that one day is not enough for you to record. Hue's dishes are appealing because of not only eye-catching form but also delicious, enchanted flavor. To be gathered culinary quintessence of three regions of Vietnam, bút Huế's most mouth-watering food are known as Bún bò Huế (Hue style beef vermicelli), Cơm Hến (rice with mussel), Bánh bèo (water fern cake), Bánh canh ( rice spaghetti), Mắm tôm chua (sour shrimp sauce), Chè Huế (Hue sweet soup)
Moreish beef noodle, slight tough of beef, white soft vermicelli, pig's knuckles served with a plenty of herbs like sprouts, lime wedges, cilantro sprigs, onions, and sliced banana blossom is highly introduced tourists for enjoying. Next, you are recommended to taste appetizing flavor of water fern cake which is white in color, sometimes nearly transparent and is covered with savory recipes in center including chopped dried or fresh shrimp, scallions, mung bean paste, crispy fried shallots, fish sauce, rice vinegar, and oil.
3. Experience in Hue's Ao Dai (The traditional dress)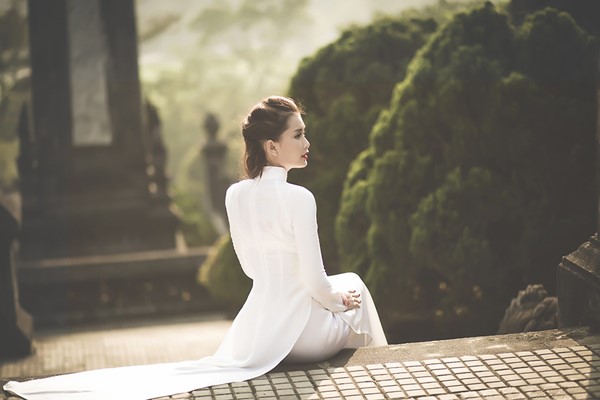 Ao Dai is daily costume of Hue women, tourists are perhaps completely fascinated by the pure and bright beauty of Hue girls in their smooth, charming white dress going to school under green trees in the dawn of new day. Beside specialized souvenirs to buy in Hue, tourists like seeing traditional dress sold here, especially; many tourists order to design Ao Dai for them to keep as a special gift in Hue, to remember Hue people who are gentle, reticent, and elegant as well. If you stay in Hue around 3 to 5 days, that time is enough for tailor-made to complete a dress and bring to hotel for you. Or, if you just stay in shorter time, no need to be confused, tailor's shop will make and send to your address.
4. Stroll by cyclo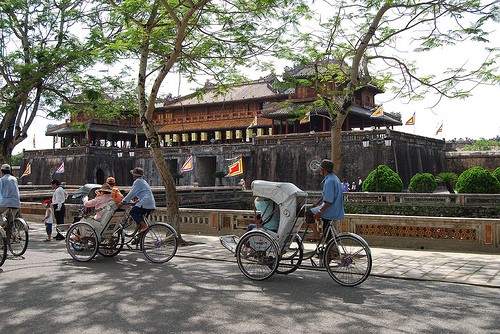 The Hue city is small but hides many interesting things behind the sediments of time. As traveling in Hue, you should once try strolling by cyclo, you will feel peace of life, slowly understand roads remaining beauty from the past. More excitingly, you may be heard attracting stories about Hue's homeland and Hue people that not all of tourist guides know to tell you if you start conversation with cyclo-driver. The journey by cyclo will lead you across historical, cultural relics like Royal Palace, Royal Tombs of Kings, Thien Mu pagoda, Dong Ba market…On the way, you could conveniently call at wherever I want; maybe, a restaurant or souvenir store on roadside to buy snack, watch bracelet, canvas, clothes…
5.Tour in Lang Co beach
Lang Co is truly favorite destination for visitors who love beautiful beaches. Far from Hue center about 70 kilometers, Lang Co brings itself peaceful, pure beauty, oddly! You can freely experience compelling activities as flying kites on the beach, riding bicycle and sightseeing seascape at the same time, or trying on being a fisherman to catch fish… Lang Co beach is not big but really worth visiting and feeling, a lot of wonderful things in Lang Co beach awaiting you. To hire a small boat of local people, self -discover in the pristine beach is so promising. To walk along smooth sandy beach, let out body following bobbing waves, and indulge ourselves in viewing deep blue sky…are great ways to release stress in hustle and bustle life.
In Hue, truthfully, we realize even ordinary, idyllic thing in life would give us emotions of being vague, missing that are unforgettable memories in tourist's mind.