With a total area of around 400 km2, nearly half the area of the island city-state of Singapore, a profound exploration of Angkor temple complex requires a great deal of preparation to lead you to must-see destinations while not wearing you out. Still, don't get too stressed because our local guides are here to give you a hand. Remember the following 5 Things, you can probably have an ideal Angkor trip.
5 Things To Get A Perfect Angkor Day Trip In Your Palm
#1: Best Time For Angkor Trip
Like the rest of the country, there are two seasons in Cambodia's crown jewel: the dry season and the wet season. Both give you a distinctive impression of the ancient ruins.
During the monsoon season from May and persisting till October, the drenching rains turn the path into muddy and rutted and even impassable due to heavy downpours, which usually happen in the wettest month of September and October. On the bright side, you can enjoy the refreshing summer breezes while visiting Angkor at this time. Between May and August, the precipitation is not that high, together with the nice temperature at around 30 degree Celsius, making the perfect time for an Angor expedition.
The dry season in Angkor has its own charms too. Though the months from November to April can be technically called winter months, the temperature here rarely drops below 20 degree Celsius. The mild weather is great for outdoor exploration, so Angkor seems to be packed with hordes of tourist flocking to see the monuments. As a result, the price for all services such as accommodation, transportation is also hyped up.
>>> Best Time To Visit Cambodia
#2: Flight and Hotel Reservation
Getting to Angkor is super easy as Siem Reap International Airport is such a travel hub. If you plan to travel to Cambodia and Angkor temple complex during the dry season, the fare will be added up a bit because this is the peak time for tourism in the country.
So in case you want to save up some pennies, pay a visit during the low season. There are about 21 airlines operating in Cambodia, including some popular names at all class such as AirAsia, Emirates, Cathay Airway for the mid-range, Singapore Airline, Korean Air at the high-end level.
While transportation to Siem Reap is pretty simple, considering where to stay may take you more time to make up your minds. As the site area is huge, perfect accommodation should save you from long transfer to the Angkor area and give you some conveniences for hanging around.
If you want to discover the excellent fusion of Cambodian and French architect, choose to stay around the Old Market. There can you find various miniature sculptures replicating temples of Angkor as well as multiple authentic dishes around the traditional market. Wat Po road, which located by Siem Reap River is another option for a stay within budget. This area is quite quaint and serene with lots of trees and flowers, but it can also get dynamic at night when locals and foreigners gather by the river bank for street activities.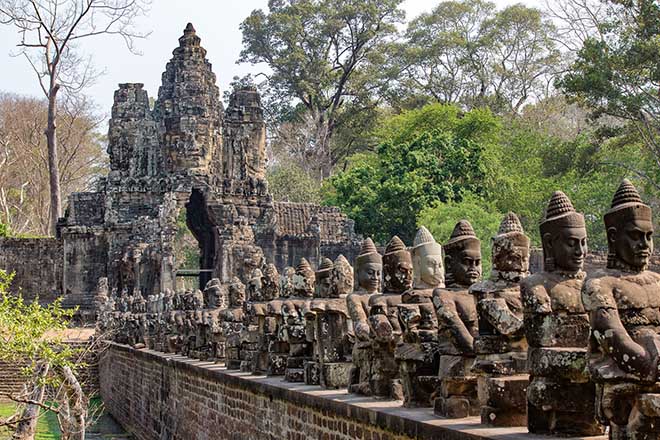 #3: An Ideal Itinerary of Angkor Trip With Must-see Attractions At Site
To be able to access the inside of the Angkor complex, you need to purchase the so-called Angkor Pass.
| | | |
| --- | --- | --- |
| Types of Ticket | Price | Validity |
| 1-day Pass | US$ 37 | Only on the day of purchase. |
| 3-day Pass | US$ 62 | Up to 10 days from the purchase date. Freely to choose 3 days out of those 10 days. |
| 7-day Pass | US$ 72 | Up to 30 days from the purchase date. Freely to choose 7 days out of those 30 days. |
Our recommendation is to buy a 3-day pass so that you don't have to rush while wandering around this UNESCO Site. Here is our suggested itinerary so as not to miss any moments during your trip.
Day 1: Angkor Wat – Ta Prohm – Banteay Kdei
Needless to say, Angkor Wat is absolutely the most popular temple complex, not only in Cambodia but also all over the world. That's why it is on top of the check-in list of every single traveler to Siem Reap. During the daytime, this place will be full of tourists, so you should check it out as soon as possible. Observing sunrise from Angkor Wat is also a memorable experience when the lake water becomes a magical mirror reflecting the significant temple and the dazzling sunshine.
Towards the east of Angkor Archaeological Park, you will find Ta Prohm, a Bayon styled temple dated back to the late 12th and early 13th centuries. The best thing about this stop is the well-preserved structure through the area has gone through many wars and divisions. Set your foot in Ta Prohm, you will be standing in awe of the photogenic trees growing out of the ruins and giant roots covering the roofs of the temple. It's a magical arrangement
Only several minute walks from Ta Prohm, you can reach Banteay Kdei, which literally means A Citadel of Chambers. This temple is also known as Citadel of Monks' cells. The main construction contains two enclosure walls, one after another, two concentric galleries from which emerge towers, followed by a cloister to the east.
Day 2: Pre Rup – East Mebon – Ta Som
The second day of Angkor adventure starts from the eastern reservoir or the south of the East Baray, Pre Rup. Here you can gain a panoramic view of the site with six huge towers built from the combination of laterite, brick, and sandstone. The extensive use of these materials gives out a striking look with a gorgeous reddish tone that is highlighted by early morning and late afternoon sunlight.
Aligned on a north-south axis with Pre Rup is East Mebon temple, another typical building for Khmer construction. There is a central tower on a square platform at the top, four smaller towers surround at the corners. East Mebon is also famous for the detailed sculptures of animals and gods with the heights at about two meters. All were made with great decorative details, making them lively and impressive.

Ta Som is a single shrine located on one level. It has enclosing laterite walls covered with moss and strangely growing ancient trees. The entrance gate is pretty small and rustic. Going inside Ta Som makes you feel like exploring the mystic pyramid of Egyptian Pharaoh but not as dangerous since there is no curse or spell.
Day 3: Bayon – Angkor Thom
Bayon is the last temple to be constructed in the Angkor complex. Wandering from the vantage point of the upper terrace, the most distinctive thing you can appreciate is a multitude of "serene and smiling stone faces" jutted out from the wall and clustering around the central peak.
Last but not least, your journey to Angkor wouldn't be complete without a visit to Angkor Thom, the final and most long-lasting capital city of the Khmer empire. It covers a large area of approximately 9 km2, so it can take quite much time to reach every corner of Angkor Thom. Still, all of your efforts are worthwhile. Going deep inside this place, you will be amazed by the manifestation of large-scale construction. There is a bridge of statues of both gods and demons, two rows of figures each carrying the body of naga with 7 heads.
#4: Perfect Tips To Get The Best Check-in Photos in Angkor Temples
As Early As Possible
While most of the area is open from 7 AM, Angkor Wat, Srah Srang, Phnom Bakheng and Pre Rup can be accessed from 5 AM, so you can take advantage of the low number of visitors to get stunning photos with the Angkor sunrise.
Be Adventurous
Angkor Archaeological Park has a vast area, so it's alright if you go a bit off the beaten track, getting further to mysterious corners beside the temples' gateway where all tourists are taking photos. Try another angle, find the corner where the crowds miss. Just keep the timing in mind so that you wouldn't be lost in the dark.
Stay A Little Late
Not only sunrise but sunset at Angkor is magnificent, so why not waiting some time for the massive visitors to come back to their hotels and catching some tranquil moments at this prestigious tourist attraction? The yellow purple sky of the late afternoon will certainly a wonderful background for your pictures.
Pick The Right Gear
There is no denying that the appropriate gear should be the one to serve your purpose best. Whether you are taking a portrait or taking panoramic photos, you can decide which camera to use. However, as you have to travel for all day long, we would suggest something portable and multi-purpose. A weighty camera body with full accessories may not be ideal for this kind of trip. Instead, even a great smartphone and a tripod can do the job.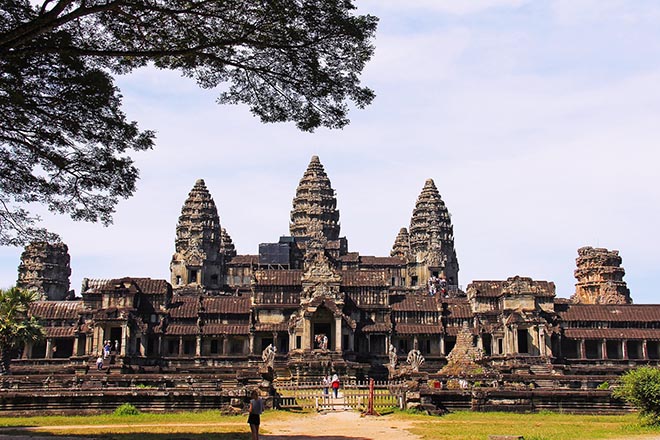 #5: Essential Packing Notes
As Angkor is a religious place, dressing appropriately is of great importance. You don't need to wear like a monk but make sure to put on long pants or skirts and have your shoulders covered.
There can be some climbing, so sports sandals or sneakers are a wise choice. As the paths are mostly bare ground, which can become slippery after rain, flip-flops will cause difficulties. High-heels are only possible when you want to have some kinds of photos only, for most of your traveling, they will be useless.
Depending on the season you visit Angkor, you should bring a hat, an umbrella or a raincoat to avoid the scorching sun or the sudden downpour.
As you will be outside for all day, consider adding some snacks and water bottles in your backpack. Other things such as utensils, hand sanitizers, tissues… are also helpful for your excursion.
Finally, don't forget your ticket, which is purchased in advance. Or else, you won't be allowed to visit the temples.