For most people, Bangkok is the gateway into exploring Thailand both old and new, East and West, traditional and fashionable, blended together in a harmonious way. Unfortunately for budget travelers, tourism prices are rather expensive. However if you want to enjoy the buzz of Bangkok without spending a baht, you can check out the list below are five of the best things to do in the entertaining city of Bangkok, are absolutely free.
1. The Bangkok Art and Culture Center
Opening hours: 10:00 – 21:00, closed on Mondays
Location: 939 Rama I Road Wongmai, Patumwan – Opposite MBK shopping mall
Address: Khlong Pho Land, 107/17 Moo 7, Soi 2, Khlong Pho Rd, Sala Thammasop, Thung Kru, Bangkok 10170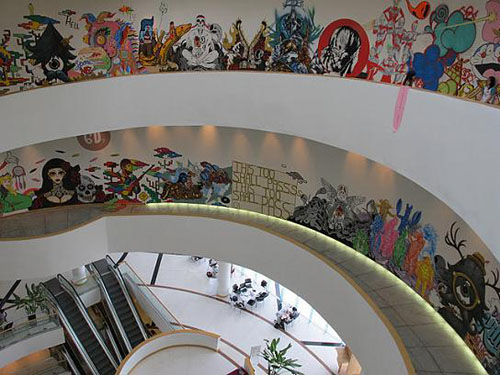 The Bangkok Art and Cultural Center (BACC) is a newly opened (2009) modern art hub and offers the widest range of contemporary art, design, music, theatre and film in the city. It also aimed at a recreational place for people to meet, relax, inspire, educate and to help define and make our contemporary culture. BACC is really cool place to spend a morning or afternoon away from the heat and humidity of Thailand's biggest city.
Both inside and outside the building is reminiscent of the Guggenheim in New York. More specially, it has a huge white curving façade and spiral walkways. From the outside you can get a sense of the curves of the building, but it is only once you step through the doors that you really appreciate the thought and design of the space. Inside, the spiral staircase conveniently and continuously leads visitors to appreciate the works because BACC is a ninth storey building with three top floor 7-8-9 floors which are home to different galleries with theme of the exhibits changing at various times during the year. It also has boutique shops, an art library and a couple of delightful cafes serving coffee and snacks at the lower ground floor. In addition, an art market is regularly held in front of the building every Friday, Saturday and Sunday. Entry is free so you will have memorable time when paying a visit BACC.
2. Lumpini Park
Opening hours: 04:30 – 21:00
Location: Rama IV Road, Pathumwan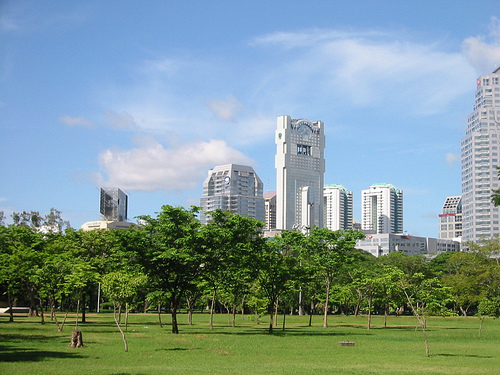 Limpini Park is the biggest and freshest park in several parks around Bangkok with more than half a million square kilometers and the habitat of various flora and fauna. It is said that Limpini Park is the Green Lung of Bangkok and is a multi-purpose park. Many activities are provided for citizens and tourists. Coming here, you can see more than 30 species of birds because Lumpini Park with a rich source of natural food and many large trees becomes home for various species of birds. Smiling Sun Ground in Limpini Park is a recreational ideal place for the disabled with a special playground, packing lots and necessary park facilities. More meaningfully, Home of Hope is place for homeless children where they can have useful advice, consultation, knowledge or even help. After joining in many activities in here, you can enjoy food and beverage which are sold every day from 4:30 to 18:00 such as "pad Thai" and "jim joom". Limpini Park is really a perfect place for city dwellers and tourists.
3. Bangkok Butterfly Garden and Insectarium
Opening hours: 8:30 – 16:30, closed on Mondays
Location: Rot Fai Gardens


Away from the hustle and bustle of Bangkok, you can take time out and relax in Bangkok Butterfly Garden and Insectarium. Within the total area of 2.4 acres, it is home for thousands of colorful butterflies and insects. The entrance consists of a huge and lofty enclosure with rockeries, shady ferns, wild flowers and a cooling waterfall – the insects' natural habitat. You can have an enchanting day of butterfly spotting, picnicking bicycling through the expansive and picturesque gardens. It's an amazing site to see and completely free.
4. The Bangkokian Museum
Opening hours: 10:00 – 16:00, Wednesday to Sunday
Address: 273 Soi 43, Th Charoen Krung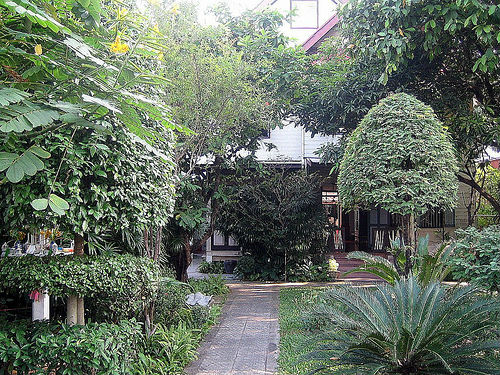 The Bangkokian Museum is also called Bangkok Folk Museum and is a simple, discreet museum but the charm is in the pleasure of discovering this small frozen in time gem. It has three beautiful wooden houses preserved in perfect condition just away they were last century.
The main house where the Surawadee family used to stay, a small house, originally built in the countryside, deconstructed and resembled here in Bangkok. The walls, floors, and ceilings are made of dark reddish teakwood with a lot windows and little wall space. The downstairs has a living room and dining room. The upstairs has three bedrooms with a spotlessly waxed floor. Most of the furniture and household items are very similar to what would have been found in a western home, within that period.
The second house was built for Dr Francis Christian, but he passed away before moving in. The house was built elsewhere but moved to the current location when the Surawadee family inherited it. This house has many windows that look out over the garden area. Next to the bed room is a small consulting room that was never used. There is a medical cabinet and some other items.
The third house is more of traditional museum downstairs with a library and exhibition area upstairs about Bangkok and its people in the past, with images and writings on display boards giving the visitors information. The Bangkokian Museum is more of a charming stop than a real museum visit if you are travelling on tight budget.
5. Silpa Bhirasri Memorial National Museum
Opening hours: 8:00 – 16:00, Monday to Friday
Address: The Fine Arts Department at Silpakorn University, Na Pra Lan Rd, Bangkok, Thailand.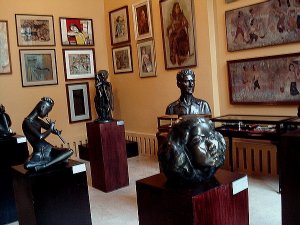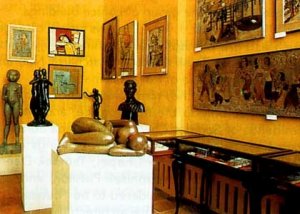 Silpa Bhirasri Memorial National Museum is a modern art museum, consists of two parts, one displaying contemporary arts and the other belongings of Silpa Bhirasri, the father of modern Thai art. Coming to museum, you will see not only photos and other memorabilia, but also paintings, sketches and sculptures by Bhirasri and some of notable students. It's worth a visit.