As far as is known, entry into a country usually requires a valid passport and a valid visa issued by a competent authority of the country of arrival. However, that's not always the case. With developing nations like Vietnam, the government has loosened its visa policy to a great extent as a push to nationwide tourism. Therefore, if you look carefully at the Vietnamese Visa Policy, you may realize that you don't need to apply for a Vietnamese visa at all. Or else, at least you find a way to reduce the time and effort and money for the visa application process.
All About Vietnamese Visa Policy
Visa Exemption Policy Of The Vietnamese Government 
Vietnam allows citizens of 23 countries to enter Vietnam without a visa for a different period of time. Most of them are members of ASEAN.
The most important thing is the term of residence and the validity of the visa exemption policy. If you stay longer than the maximum days, you are residing illegally in Vietnam. If the policy has been expired, you can't even go on board.
So, we have helped you a bit by making the following table. Look for your country by birth to see if you are eligible for the Vietnamese visa exemption or not:
Citizens of the countries listed above are exempted from visa when entering Vietnam if meeting the following conditions:
Have a valid passport issued by the competent authority of the country of which that person is a citizen and the passport is valid for at least 6 months from the date of entry.

Entry date in Vietnam must be at least 30 days from the exit date from the home country
Visa Exemption For Phu Quoc Island 
Foreigners who enter, exit and reside in Phu Quoc island are exempted from visas for a temporary stay not exceeding 30 days. This is also applicable in case of transiting at an international border of Vietnam (including airports and seaports) and then arriving in Phu Quoc Island.
Phu Quoc Visa-free policy for tourists with foreign passports
In accordance with the Decision 80/2013 / QD-TTg of the Vietnam Prime Minister, foreigners will receive visa exemption with temporary stay on arrival in Phu Quoc under 30 days since March 10th, 2014.
If foreigners enter an international border gate of Vietnam (including by air and by sea), stay in the transit area at that border gate, then transfer to Phu Quoc island, they will be exempt from visa as prescribed. This has created more favorable conditions to attract international tourists to come here for tourism.
However, this exemption can't be used for onward travel elsewhere in Vietnam. If you have this visa waiver and wish to travel from Phu Quoc to the Vietnamese mainland, you'll need to get a Vietnamese visa from the Phu Quoc Immigration Office. 
Vietnam Electronic Visa (e-Visa)
In the face of increasing tourism demand, the national authority has given permission to pilot the issuance of electronic visas to foreigners. Vietnam officially started using the electronic visa system on February 1, 2017. Up till now, there are 80 countries all over the world that are eligible for Vietnam e-Visa.
Find out if your country is on the list:
Electronic visa applicants are registered at the Vietnam Immigration Portal (https://evisa.xuatnhapcanh.gov.vn). The cost for it is $25 for single entry up to 30 days.
Requirements for obtaining an e-Visa:
Foreigners residing one out of 80 foreign countries in the list above;

Having a valid passport with the validity period 30 days longer than the e-Visa validity period

Not included in any cases of limited entry or entry forbidden under the Vietnamese laws
Step-by-step instruction to apply for an e-Visa
Step 1: Materials needed: 
One 4×6 passport photo in .jpg format with a white background, without glasses

One photo in .jpg format of your passport data page

Valid passport

Your temporary address in Vietnam and places of entry and exit

Debit or credit card for online payment 
Step 2: Click to the link https://evisa.xuatnhapcanh.gov.vn/web/guest/trang-chu-ttdt, scroll down to the "Selections" part, choose "For outside Vietnam foreigners, click here"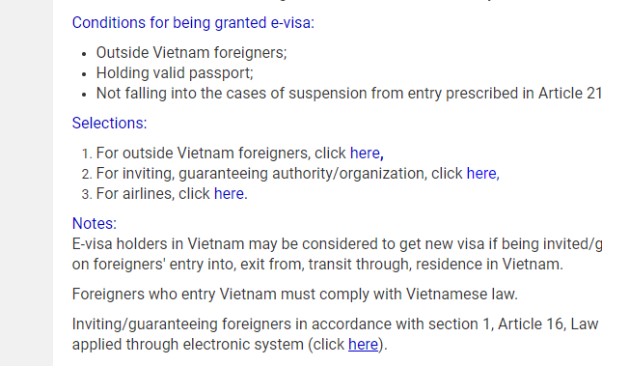 Step 3: A short guideline will appear before you enter the main interface. There, upload your images (passport data page and passport photo) and fill out the required fields on the form and submit.
Step 4: Pay the e-Visa fee of $25. Save the document code provided.  
Step 5: After three working days you should receive notifications of your e-Visa application via email. If not, you can also run a search on the "Search" tab.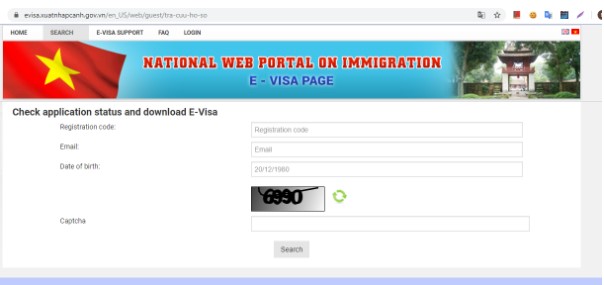 Step 6: Use your document code to locate your e-Visa online. Download and print the e-Visa in at least copies for extra safety. 
The e-Visa takes three working days to process from the receiving date of sufficient information and the payment of necessary fees. You can go directly to immigration counters at their point of entry and ignore the Visa on Arrival counters.
International checkpoints For e-Visa
E-Visa holders can enter and exit Vietnam through any checkpoint in the list below.
International Airports

Land ports

Seaports

Cat Bi International  Airport (Hai Phong)

Cam Ranh International  Airport (Khanh Hoa)

Can Tho International Airport (Can Tho)

Da Nang International Airport (Da Nang)

Noi Bai International  Airport (Ha Noi)

Phu Bai International  Airport (Hue)

Phu Quoc International Airport (Phu Quoc Island)

Tan Son Nhat International  Airport (Ho Chi Minh City)

Bo Y Landport (Kon Tum)

Cha Lo Landport (Quang Binh)

Cau Treo Landport (Hà Tĩnh)

Huu Nghi Landport (Lang Son)

Ha Tien Landport (Kien Giang)

Lao Bao Landport (Quang Tri)

Lao Cai Landport (Lao Cai)

La Lay Landport (Quang Tri)

Moc Bai Landport (Tay Ninh)

Mong Cai Landport (Quang Ninh)

Nam Can Landport (Nghe An)

Na Meo Landport (Thanh Hóa)

Song Tien Landport (An Giang)

Tinh Bien Landport (An Giang)

Tay Trang Landport (Điện Biên)

Xa Mat Landport (Tay Ninh)

Chan May Seaport (Hue)

Da Nang Seaport (Da Nang)

Duong Dong Seaport (Phu Quoc Island)

Hon Gai Seaport (Quang Ninh)

Hai Phong Seaport (Hai Phong)

Nha Trang Seaport (Nha Trang)

Quy Nhon Seaport (Quy Nhon)

Ho Chi Minh City Seaport (Ho Chi Minh)

Vung Tau Seaport (Vung Tau)
If you don't meet all the requirements for applying an e-Visa, the visa on arrival can be an alternative to save time.
Vietnam Visa on Arrival
Here are the materials you will need:

A 4×6 passport photo with a white background and no glasses

A filled-out visa application form

A passport valid for six months from the date you plan to enter Vietnam

Payment ($25 to $50) for visa fees

A Letter of Approval from a Vietnamese embassy or consulate (this document can be obtained via a travel agent in case you are  short on time or unable to reach a Vietnamese embassy)

After you have all the required documents, you can be ready for boarding. Then, on your arrival in Vietnam, bring them to the Visa on Arrival counter. Besides the visa fee, you will need to pay your visa stamp fee of around $25 to $50 depending on the number of entries.

Ellie

I didn't have many opportunities for travel during my early childhood, so I decide to dedicate my young adult years to exploring the world. "Set off with a pure heart". That's my motto for any adventure in my life. And as sharing is caring, I love writing about my journeys so that the audience can gain an objective view of the destination. That's what I do before travelling, set the right, open mind to welcome both obstacles and blessings. So stay tuned for my new stories.