Sandwiched between the long pretty white sandy beaches of Quang Nam province and the Thu Bon river, Hoi An is a small ancient city that was one of the most magnificent cities of Vietnam in the previous centuries. Hoi An city is commented to be a perfect destination for you to ride a bike to explore the hidden beauty in each corner of this city.
If you still hesitate about that, let local experts of Travel Sense Asia discover the excitement of cycling in Hoi An.
Why cycling in Hoi An?
When traveling to Vietnam, there are so plentiful of destinations you can experience cycling to visit but Hoi An is a special place that you just feel nowhere except for this city.
Bustling with hidden beauty just explored by bicycle
Known as one of two biggest trading port of Vietnam in the last centuries, Hoi An now remain many traits of a prosper city where there are plenty of famous places easy to touch by any kind of vehicles in many fields such as special architectural buildings, regional places of Japanese and Chinese, historical places; however, if you just take a taxi to get the destination, you will have less time to enjoy the beauty of surrounding landscapes as compared to slowly ride a bike; you will appreciate the atmosphere of an old town; stop at anywhere to sightsee the unique architecture of stores there.
Besides, some places lie in the outskirt of Hoi An such as Cam Kim Island, Tra Que vegetable village which is not too far to reach by motorbike or cyclo but not too close to have a walking tour so cycling trip is the best choice for you to visit those. Hoi An also includes in many traditional stores in narrow and deep alleys that you just reach by bicycle.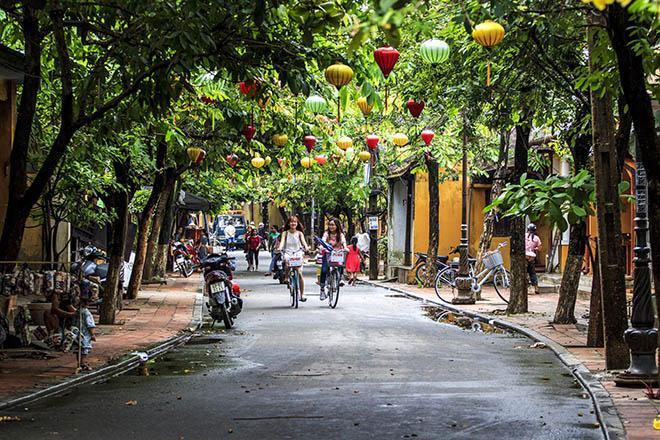 Small enough to cycle around
With the total area of Hoi An city – 60 km square, the old town of Hoi An – a piece of Hoi An city is small enough for tourists to take a cycling tour around the city. The streets in the old town of Hoi An was built hundreds of years ago so the street is more narrow than modern street now; therefore, cycling is the best way for you to experience the trips there without delay of traffic jam in rush hours.
Besides, deeply understand the problem of traffic in Hoi An, the government of Hoi An city take the rules about the pedestrian time for popular tourist streets in Hoi An city; it is the good news for cyclists to visit Hoi An. The tourists biking in Hoi An now can be safer when they can restrict risks from the motorbike and cars sharing the road with them. In 2021, Hoi An's government intends to turn more and more tourist streets to street motor-free and Hoi An central town intends to be a cycling city in 2021. So, why not plan a cycling tour in the cycling city – Hoi An?
Hoi An – the town of cyclists in 2021
In 2021, the old town of Hoi An has the intention to become "the town of the bikes"; all tourist streets of Hoi An will restrict motorbikes and cars in some popular tourist streets there. This is a long-lasting project Quang Nam province which began in 2004. According to Hoi An's government, converting Hoi An to a no-motor town is a way to develop sustainable tourism of Hoi An, the fewer motor vehicles contribute to the street, the safer the town of Hoi An become and the more customer will experience cuisine there.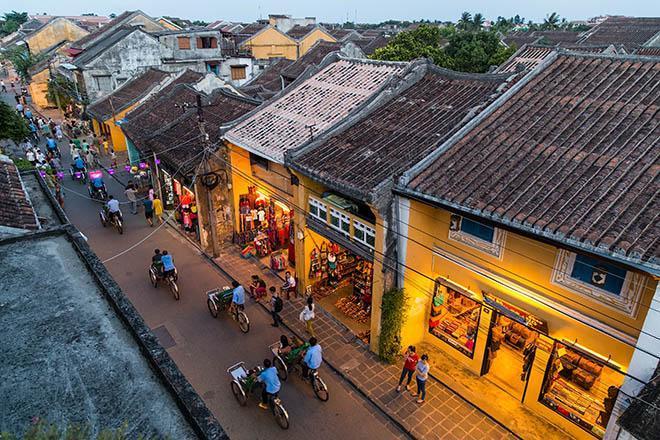 This project continued to spread to many tourist streets in Hoi An city such as Nguyen Phuc Chu street (2015), Tran Phu street, Nguyen Hue street, Cong Nu Ngoc Hoa Street (2017). In 2020, the old town of Hoi An will also continue to extend the pedestrian zones to Phan Chu Trinh street which is a famous tourist attraction of the ancient town of Hoi An and home of many traditional shops, the paradise of traditional cuisine there from 6 pm to 9:30 pm and in 2021, the restriction will be taken action from 3 p.m to 9:30 pm.
Until 2021, the number of pedestrian streets in Hoi An will rise to 5 streets after three-time changes: 2015, 2017 and 2021. After extension of "no-motor town" project, the banning time also makes a little change; the government did not divide the banning time regarding to the weekday and weekends but they divide a day from 9 am to 11 am and 3 pm to 10 pm, they are peak time of the ancient town of Hoi An where the number of tourist pouring to the center of the town reach the peak. Therefore, the motor ban is the best choice to restrict traffic jams as well as confusion in security in the heritage area.
Taking a cycling tour around the old town of Hoi An in the early morning, you will have an excellent cycling trip around this town. You will not only sightsee the ancient landscape of Hoi An but also brings to you about meaningful things to both you and society.
Exciting with various destinations
Although you just need about 20 minutes walking around the ancient town of Hoi An, cycling there is a unique experience. Renting a bike to ride across, you will call on almost tourist attractions there instead of some attractions in walking tours. You can explore many kinds of attractions; religious spots are Quan Cong temple, Tran family's Chapel or Cam Pho Communal House; the historical buildings are Old house of Phung Hung, Old house of Tan Ki or cultural sites are Museum of Trade Ceramics, Museum of Folk culture, etc.
Ridding bike in the streets, you will feel the ancient atmosphere named Hoi An covering you. The atmosphere is made from the existence of the similar yellow houses standing side by side in the streets such as Nguyen Thi Minh Khai street, Tran Phu street from the bustling sight of traditional stores in two sides of the road. Believe us, you just see most lively when you ride a bike leisurely.
The excitement of cycling tour will end up this because you can explore more destinations rather than the old town of Hoi An. Follow instruction strictly, you can be surprised that Hoi An is more interesting than you imagine. With a bike, you can visit new attractions in the outskirt of Hoi An such as the Cam Kim Island, Tra Que vegetable village, etc. It is promised to provide experiences about farming activities with local friendly farmers there.
Farming in Tra Que vegetable village
A good way for responsible travel 
It cannot deny that cycling is more eco-friendly than riding a motorbike to release the fumes into the environment. Moreover, cycling is the best way to preserve the old town of Hoi An. The number of tourists pouring to Hoi An increases higher and higher; as a result, the figure of vehicles serving tourists is more and more and the fumes from them discharging into the atmosphere become more. These fumes in the long term will damage the architecture structure of the old town's area. Besides, the vehicle is the reason of noise pollution which indirectly destroys the landscape of an ancient town.
What is the ideal cycling route in Hoi An for you?
Cycling in Hoi An is never boring because there are plenty of cycling routes for you to discover again and again; however, in this article, we will recommend for you to two main kinds of routes for cyclists exploring Hoi An.
Central Hoi An bike route
The old town tour should begin in the morning at 9 am when the weather is quite cool and some streets of the ancient town are in restricted time. The starting point of this tour can be Song Nhue square, you can ride along Nguyen Thi Minh Khai street to call on Cam Pho Communal house and after that is old house of Phung Hung. Passing the Japanese Covered Bridge, you will turn to Tran Phu Street where are the home of famous assembly halls such as Quang Trieu Assembly hall, Fujian Assembly hall in the left-hand side; whereas in the right, you can call on Old house of Duc An. If you have a long time, you can turn to Nguyen Thai Hoc street to sightsee the old house of Tan Ki or turn to Bach Dang street to discover museums there: Museum of Folk culture, etc. Besides, you can experience shopping in Hoi An market to observe the daily life of local people and taste some yummy special foods such as Cao Lau, Quang noodle or observe the colorful lantern with various patterns in the market.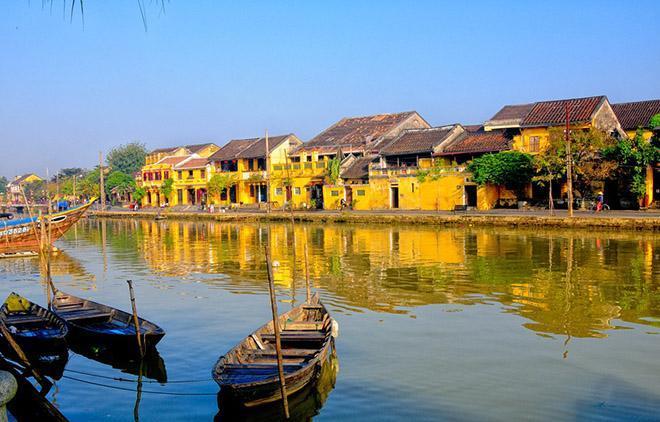 Hoi An outskirt bike route
This route is further than the central Hoi An route because you will ride a bike out of the center of Hoi An to enjoy the peace of outskirt life. From the old town of Hoi An, you will cross over the Cua Dai bridge and across the rice paddies to breathe the fresh air and sometimes the smell of young rice. On the trip to the countryside of Hoi An, you will have a chance to visit the Tra Que Vegetable village which is well-known for delicious fruit and vegetables. Moreover, you can ride to the Cam Kim bridge to take a boat to Cam Kim Island. On this island, you can observe historic homes of master carvers in the village named Kim Bong and buy some wood carvings as a souvenir of your trip.
Tips to have a memorable cycling tour in Hoi An?
You are ready to have a cycling trip around Hoi An on your next holiday, we will recommend some useful tips for your excellent trip on a bicycle.
How to rent a bike
There are numerous bike-rental stores on the streets of Hoi An for you to choose your suitable bike; however, you should decide which kinds of bike is suitable for your trip at first. In Hoi An, there are two kinds of bikes for you: fixed gear town bicycle and mountain bike. If you just explore the old town of Hoi An, a fixed gear town bike is a good choice for you; whereas, if you plan to go away the suburb of Hoi An, you should rent a mountain bike for your journey.
When renting a bike, there are two important things: the quality of the bike and its rental price. You should test this bike before renting them, you ought to check bike lock, brakes, gears and tires to ensure that your bike is in good condition and runs smoothly. The rental price is a consideration; the gear town bike renting fee is often 1 USD per day, which is surprisingly cheap. However, you must pay at least 3.5 USD per day and somewhere they will require 250 USD along with your passport for a deposit if you rent a mountain bike.
Useful tools in your cycling trip
Like many cycling experiences you participated in, you should bring a local map in hand, a bottle of water to refill your energy and the mobile phone to contact your hotel or travel agent in case you miss it. Besides, when cycling in the hot weather of Hoi An, you should wear a hat and sunglasses before beginning the trip; sunblock cream or sunblock clothes are also recommended for you to prevent you from the harm and the burning of the sun.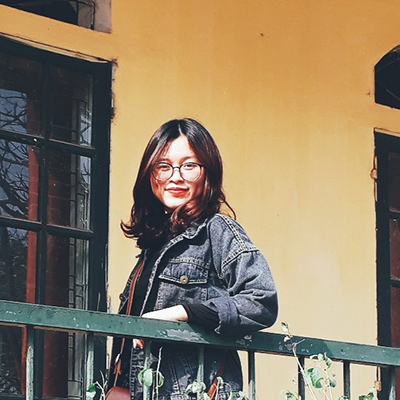 Tracy Luo

After my long trips to the strange lands, I really understand the meaning of the Alfred D'Souza's quote 'Happiness is a journey, not a destination'. My happiness is journeys that let me explore the new lands, new features of the culture there and new colors in your soul and now I want to share this happiness with you through my article about my experience in the trips. Hope that they will give useful things to your next trip…
Travel With Us to Hoi An: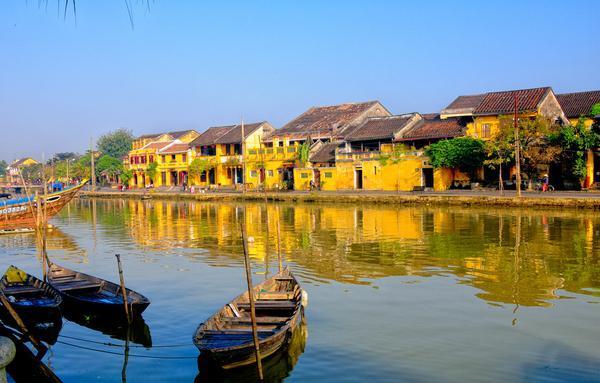 Vietnam Highlights Package 10 Days 9 Nights
The most popular destinations in Vietnam with all the highlights — all in Vietnam itinerary 10 days. Discover Hanoi with many foods, structure architecture and the stunningly beautiful UNESCO World Heritage Site of Halong Bay. Moving to culturally-rich Hue then spend time in incomparable and lovely Hoi An – one of the world's most charming towns. Finish the comprehensive Vietnam highlights tours in the South after Floating through the lush Mekong Delta, seeing vibrant Ho Chi Minh City. With same destinations in itinerary but you can start this trip from Hanoi or Ho Chi Minh city.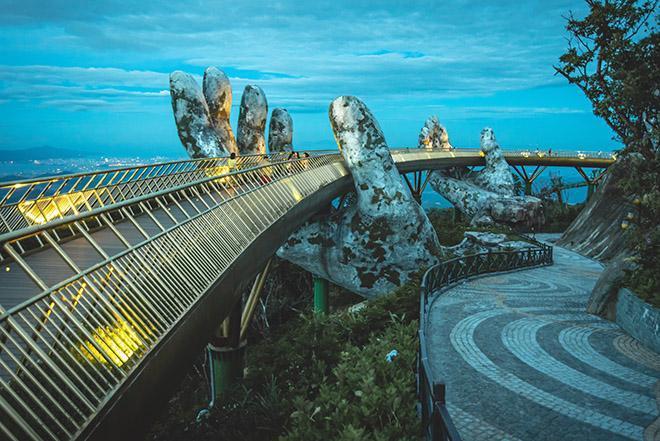 4-day be real local people in center Vietnam
This 4-day tour will offer you to the most famous highlights in the Central Vietnam. You enjoy the beautiful My Khe beach in Danang city, which is one of the most famous one in the world and spend time enjoying the atmosphere of Hoi An ancient town.
Or more Hoi An Tour Packages.