When it comes to Cambodia, most of the tourists automatically think that Angkor Wat is the only great thing to see in this country. If you are one of them, let's think again! Although this temple complex is really a big magnet, there is so much more to see and do in this little-traversed country. If the spectacular temples give an insight into Cambodia's past, then the coastline, enormous rivers, paddy fields, and even floating villages do bring a nice glimpse of its present. The joy of traveling to this country can be found through ox carts, open markets, pepper plantations, and colorful Khmer groups. So, for those who just visit Siem Reap for the epic temple complex, it seems a real shame to miss out the most sparkling of Cambodia highlights. You can discover the country by different means of transport, such as a boat, tuk-tuk, bus, or even on foot. The suggested itinerary below can help if you are planning a trip to Cambodia within 6 days and 5 nights.
An In-Depth Plan Around Cambodia Highlights
Cambodia Highlights For The First-Time Visitors
As mentioned above, although Cambodia gets top marks for the reputation of Angkor Wat and the richness of its history and culture, you're going to miss out on a lot when focusing on these things only. There are several wonderful options and interesting activities here, whether you wish to discover Phnom Penh or Siem Reap. This is totally up to you – the tourist, so think carefully about what you want to do!
Today, let me share with you the 6-day itinerary in Cambodia highlights to save yourself from any waste during the Cambodia trip!
Day 1 – 2: Phnom Penh
Phnom Penh is a wonder in its own right. However, in comparison with Siem Reap, there is not much to see here. So, 2 days is an appropriate amount of time to explore the real beauty of the capital. In general, Phnom Penh gives a unique opportunity to enjoy the real Cambodian life through its crazy tuk-tuks, lively and hectic markets, imposing French colonial architecture, as well as its gorgeous museums and palaces. While Siem Reap is considered a town for tourists to discover, Phnom Penh is a town for both the locals and watchers to experience.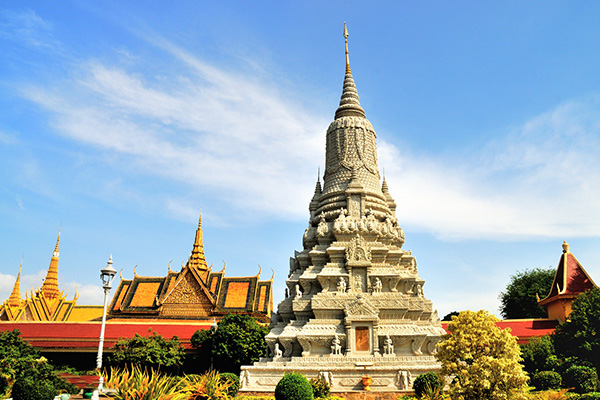 In Phnom Penh, the first attraction you should not miss is the complex of Royal Palace in its full golden glory. While you are here, don't forget to give the Silver Pagoda a try, which may be found in the complex of the Royal Palace itself. Then, head toward the National Museum, next to the palace. In fact, this is the largest museum of cultural history as well as the leading historical and archaeological museum in the country.
Continue the trip to Wat Phnom that can be understood as "hill temple" – the tallest and most significant temple in the Cambodian capital. If Angkor Wat in Siem Reap tends to monopolize most of the tourism in the country, Wat Phnom is surely a must-see highlight for those who travel to Phnom Penh.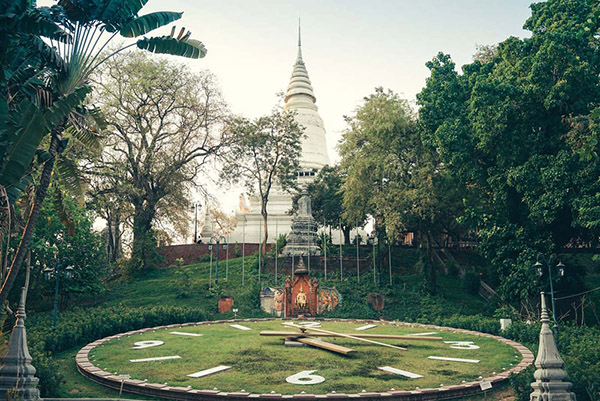 In the afternoon, enjoy the joyful part of the tour by making a pit stop at the Victory Monument, which symbolizes Cambodian Independence from French colonialism in 1953. Especially, the place is amazingly glorious at night when the whole monument lights up in an impressive way.
How about genocide? Though this is not your favorite topic, especially if you are now traveling with kids, the 2 museums in Phnom Penh, namely the Tuol Sleng Genocide Museum and Killing Fields, are still must-visits. While it is not easy to digest, these are also extraordinarily educational, eye-opening, and essential for those who want to learn more about the Khmer Rouge atrocities in the past.
Of course, when the sun goes down, you should also take time to stroll around the Russian Markets for more souvenirs and gifts, since it does not hurt to bring back home a few more, right?

Day 3 – 5: Siem Reap
Siem Reap is probably the main topic in most of the travelers' conversations. And for good reason, this city is chock-full of culture and history, in addition to some wonderful places for shopping. As a result, visitors often spend at least 3 days fully exploring the depth of the city for the more meaningful experience. So, where should I go to see the best of Siem Reap?" "The temples!" Maybe, that can be a common reaction when this question is asked, and it's totally understandable. The destination is practically rich in both history and culture.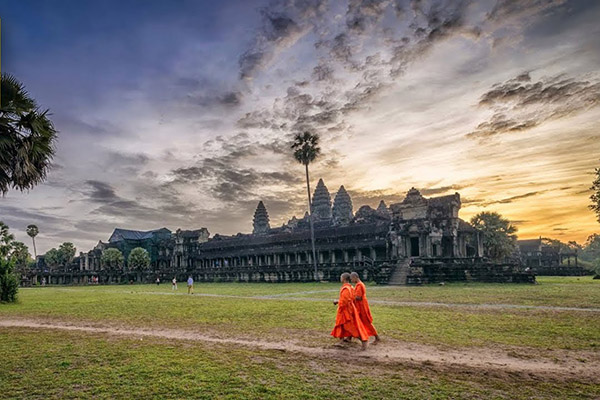 You start the Siem Reap trip by heading toward Angkor Thom (called Great City). Although the temple is less noticeable than its neighbor, Angkor Wat, it is still worth a visit. The temple is generally shielded by a moat and a spectacular 8m-high wall. Its central temple, the Bayon Temple, prominently features all the religions of the Angkor kingdom, such as Hinduism, Islam, and Buddhism. Don't miss getting a bird's eye view of the picturesque layout by ascending to the terraces.
For sure, it is hard to complete the list of Cambodia highlights without paying a visit to Angkor Wat – the world's famous UNESCO heritage. Standing out as the national symbol of Cambodia as well as the subject of worldwide photos and guidebooks, Angkor temple complex is more than just Angkor Wat since you will find other imposing temples and buildings here. Traveling to Siem Reap in late March or September is truly an ideal moment when you might catch the equinox days. During that time, you have a chance to own the collection of unique and gorgeous photos for your Instagram album. If possible, try to stay here late for an impeccable sunset from Phnom Bakheng Hills. Yes, just remember that you are now in a real treat.
Angkor Wat is not the only temple you should see. Change your taste by checking in the tenth-century temple of Banteay Srei temple – the precious jewel in the crown of classical Khmer Art. The temple is widely noted for its intricate and impressive decoration carved in the pinkish sandstone, which wholly covers the walls. The main charm of Banteay Srei is found through its incredible state of preservation and excellence of decoration.
What else? It seems a big pity to overlook Banteay Samre. Though the place is "off the beaten track," its architecture and style become the main draw. While you can find its structural style through both of its neighbors, namely Banteay Srey and Angkor Wat, Banteay Samre is still excellent in its own way, highlighted by the interior moat.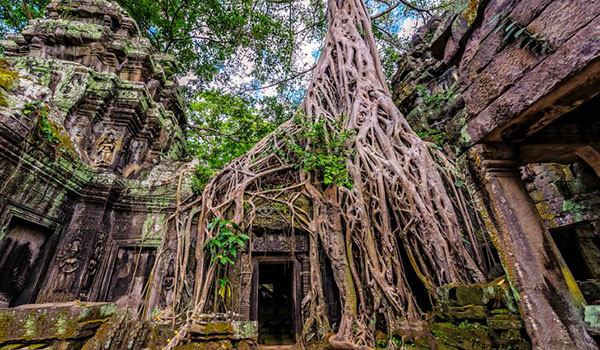 Since the tour to Siem Reap just revolves around temples and temples, it is a golden chance to widen your knowledge. The next must-visit attraction is Prasat Kravan – a 10th-century temple. What makes it stand out from the rest is that the temple consists of five reddish brick towers, dedicated to Vishnu, on a terrace. Other awesome temples that should add to your bucket list are Ta Keo and Ta Prohm.
While staying overnight in the city, you can choose to go shopping at the Old Market or Angkor Night Market. In general, the Old Market is where you can hunt for authentic Khmer souvenirs, fresh foods, and houseware items. And while setting your sights on the Angkor Night Market, you will find a variety of goods which are unique to the place.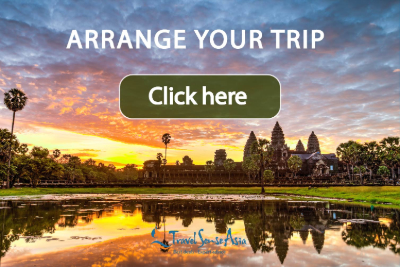 Day 6: Tonle Sap Lake
After seeing a few outstanding masterpieces of Angkor, some of you are wondering what else to do in Siem Reap, right? Let's give the floating village a try. Having a friendly conversation with the locals who live in floating houses, visiting floating schools, and trying dishes at floating restaurants are quite attractions for the many visitors who travel to Cambodia at the first time. Taking a boat trip on an authentic Siem Reap floating village is truly a real treat that you've never experienced the same thing before.
In fact, Tonle Sap is renowned as the largest freshwater lake in Southeast Asia, which is home to about 80,000 residents. Why the floating villages have widely sprung up on the lake is that it provides tons of fish to most of the locals across the country. Along with the floating villages, there are also stilted buildings along the banks of Tonle Sap Lake. These stilted houses are also designed to withstand the fluctuations in the size and depth of the lake.
After all, are you ready to have fun traveling around this special and beautiful country? Hopefully, some information about Cambodia highlights above does help you to plan your journey perfectly, or even inspire you yourself to make a trip right away at least once. Have a nice trip!