Solemnly decorated churches and cathedrals, Christmas-airy shopping malls and centers, new-organized streets with Noel decorative and lines of people flocking to prepare for the Christmas are those you can witness when coming to Viet Nam this December. Many tourists now tend to have their Christmas day in Viet Nam to enjoy the festivity in the airy and cool weather instead of the severely coldness. When visiting Ha Noi on this holiday, you will have a chance to sightsee, explore and of course enjoy a memorable Noel in this capital city. The followings are highly recommended options for you to both experience and enjoy.
1. Experiencing in Saint Joseph Cathedral of Hanoi (Ha Noi Cathedral)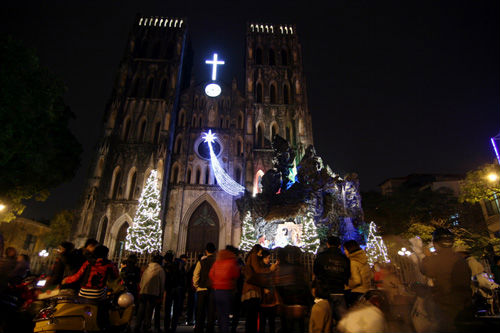 This Cathedral, located at No. 40, Nha Chung Street, Hoan Kiem District, is always the best option for Christmas by people in Ha Noi, especially the young and tourists coming to the capital city. Not only the unique exterior and interior architecture, it is considered as a Christian symbol of the Hanoian's hearts and where to spend their Noel night every year. If you intend to visit St. Joseph Cathedral of Hanoian that day with a good position or at least a stand, you should manage to get there as soon as possible and before evening is recommended because people usually pour to the Cathedral since evening. Places near the Cathedral, the area surrounding Sword Lake or Hoan Kiem Lake are also favorite destinations where gather lots of the young and tourists walking. There are some groups who like spending time in neighbor streets playing, sightseeing and eating before and after the Noel time. In big and luxury restaurants and hotels, it is required to book in advance to get yourself a vacancy. If you have time, you can pay visits to other cathedrals and churches in the city like Ham Long Church (21 Ham Long Street), Cua Bac Church (56 Phan Dinh Phung), Thinh Liet Church (Giap Bat Alley), Hang Bot Church (162 Ton Duc Thang), Nam Dong Church (178 Nguyen Luong Bang). These places are some of the best places for enjoying Christmas in Ha Noi.
2. Enjoying the Christmas atmosphere in parks
On this occasion, Ho Tay Water Park (West Lake Water Park) is decorated more and more solemnly and attractively with fascinating views, big banners, balloons and statues of Santa Claus, sleighs, pine trees and lots of colorful decorative in an exciting atmosphere. With a large space for enjoying and visiting, this is one of the favorite entertaining destinations for many families and tourists, too. The Park also provides with a wide variety of impressive activities, including small musical concerts, gift-giving festival day, and other various programs seducing visitors to come and celebrate. Most attractive activities in West Lake Park are musical and dancing programs, dancing-with –cartoon character item, circus acts, arty ball playing, prestidigitations, team-building game and particularly for children shorter than 0.8 m because they shall have opportunities to get free entrance tickets after 5 pm. Then the second option for you to enjoy the Christmas day is Thien Duong Bao Son (Bao Son Paradise). Located in the suburb that is far from the bustle and hustle city center, this place usually appeals to a large number of visitors who love exploring aquariums, zoos, dolphin performances, and a wide range of interesting kinds of entertainment activities, especially typical programs at the weekends. On this occasion, the park supplies with many outstanding programs and items with lots of interesting coupons, which are specially suitable for tourists to Ha Noi to spend their Christmas.
3. Entertaining in trading centers
One of the best options for you is Vincom Building at Ba Trieu Street. The building has worn a new appearance to welcome the Christmas day since the beginning of December. With its luxury decoration, Vincom Trade Center seduces a number of visitor arrivals who come to go shopping, visit, take photos, and enjoy the exciting and warm atmosphere under the colorful systems of lights, decorated pine trees. There are some special programs provided for children, in which they can get beautiful gifts, paint white stature into vivid ones in accordance with their hobbies, create sand-made pictures and take photos with lovely cartoon characters. Besides Vincom-Ba Trieu, other trade center are also refresh to be suitable for the special occasion like the Noel day.
Picomall, Parson, Vincom- Long Bien are also attractive options for tourists to Ha Noi at Christmas and giant pine trees with careful decoration are highlights of these big trade centers. Therefore, tourists particularly the young and for whom going in groups love spending their Christmas time there taking photos, walking under the fascinating and eye-catching decorative, taking a look around product sections at the same time. Campaigns of sales-off or promotion programs are available and abundant in the special occasion like Christmas as well as to serve the customers' demands at the end of the year.
4. Staying and spending Christmas at hotels
Not as excited as in public places welcoming Christmas time, but the luxurious and elegant atmosphere is one thing you can expect from staying at Ha Noi's hotels like Daewoo, Melia,, Hilton, Sofitel Plaza and Metropole. A considerable number of visitors coming to the city are so attracted by these hotels' solemn accommodation and Christmas views that they decide to spend their vacation right at the hotels where they are staying at Ha Noi. Situated at the center of the city, Metropole-Ha Noi Branch is decorated with millions of tiny color lights, which creates the splendid sights like a giant blanket of stars at the main hall and its garden yards. Not only prepared for the appearances and services, in these big hotels, you can be supplied with a number of fascinating programs, including ethnic culture cross, Christmas carol choirs.
Moreover, in every streets in Ha Noi, especially Hang Ma streets and surroundings, it is decorated with lots of Christmas items like caves with Baby Jesus and the Blessed Virgin Mary and Saint Joseph, Santa Claus riding reindeer sleigh, princess Snow beaming under shimmering lights flashing. Thus, experience your Christmas holiday with exploring Viet Nam best views is absolutely a worth.