Weather places a crucial role in your journey as the nice and sunny days give you powerful motivation for going outside and sufficient exposure for excellent photo shoots. Especially with countries affected by the monsoons like Cambodia, the climate varies greatly among seasons. So, it's necessary to get the overall view of the country's weather so that your decision as to when and where to go will be facilitated.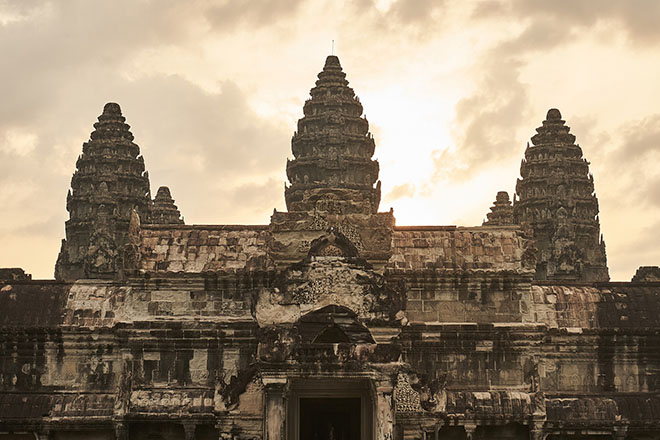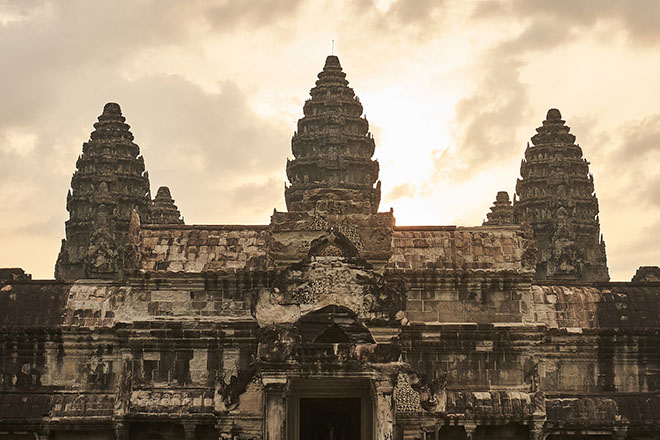 Cambodia Seasons At A Glance
Cambodia is endowed with a simpler weather system with two distinct seasons, the wet and the dry. Thanks to the relatively uniform latitude and altitude throughout the country, the climate doesn't differ greatly among regions. The highest temperature can be more than 35°C while the coolest months hover around 24°C-26°C.
The Wet Season
The southwest monsoon, which blows from May to early October, bring about the wet season for Cambodia during this time of the year. It accounts for 3/4 of the country's annual rainfall. During the wettest month, usually in September, there can be daily rain. However, it is often few hours of raining rather than all-day-long downpours.
Travel Tips For Cambodia Wet Season
Rainy months are absolutely not really ideal for traveling. But on the bright side, you can take advantage of the off-season with low expenses. The rain also pays the way for the bloom of the biodiversity, so you can have a chance to witness the lush greenery while traveling Cambodia. Tonle Sap lake is full of water, making it convenient to have a boat trip and observe the fishing villages residing nearby.
Also, during this time, the sea will get rough, so it's better off not going to the Southern coast.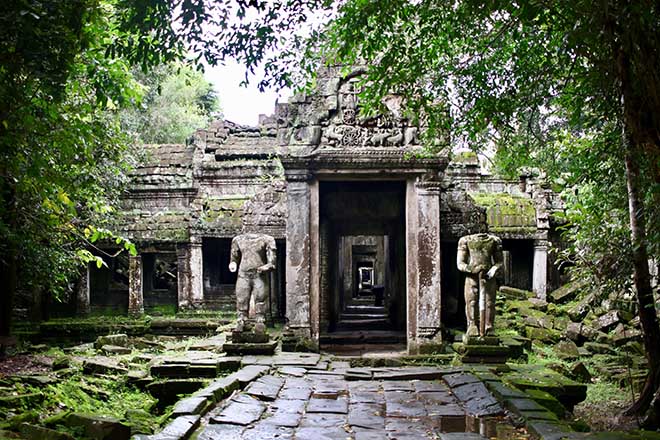 The Dry Season
The dry season in Cambodia starts from October and prolongs to April due to the dusty northeast monsoon arrival. It's like a hair-dryer at the full capacity, ready to dry out the whole country within several weeks. Between the end of this year and the beginning of next year, the weather is super cool though it will soon turn fiercely hot from April. The dry season is, therefore, the peak month for tourism in Cambodia.
Travel Guides For Cambodia Dry Season
As the sun is shining brilliantly, there is no better choice than a beach retreat in Sihanoukville and the south coast. The turquoise sea looks even more gorgeous under the stunning sunlight.
If you plan to explore the temple complex in Angkor Wat, remember to bring enough water, applying sunscreen, wearing a hat or umbrella to avoid dehydration.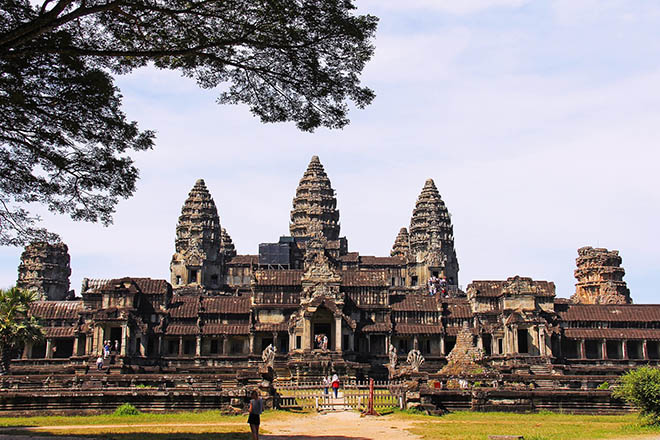 Monthly Weather In Cambodia With Travel Suggestion
Month Of The Year
Weather Features
Places To Go
Festival And Events

January

The driest month of the year. 

An average temperature of 26°C

Comfortable for visiting most places

Lunar New Year

February

Little rain and cool temperatures. 

The level of water in the river is ideal for a boat tour

Most places, especially Tonle Sap Lake

Meak Bochea Day to celebrate the last sermon of Buddha with 1,250 monks.

March

The peak time for Cambodia tourism. 

Temperatures rise to the below 30°C. Water levels begin to decrease towards the end of the month

Most places other than Tonle Sap Lake

April

Temperatures go up sizzling heights, usually exceeding 33°C

Sihanoukville and the south coast

Choul Chnam Thmey or

Khmer New Year

May

A promotional shoulder season

Tourist crowds start to disperse.

A few showers are expected but not very influential

Siem Reap, Phnom Penh and the Southern coast

Royal Ploughing Day, a long-established royal rite to mark the beginning of the rice harvesting season.

June

The quick rains come with plenty of sunshine

Siem Reap, Phnom Penh

July

Rains become abundant

Temperatures begin to fall, averaging at 27°C

Avoid the beaches on the Southern coast

August

The heat reduces further

Precipitation gest higher

making temple exploration all that more comfortable

Most places rather than the coast

September

The wettest month with daily heavy showers daily

Most places rather than the coast

Pchum Ben Day (Ancestors' Day) to pay respects to deceased relatives

October

The rains begin to lessen

Temperatures fluctuate around 27°C

Most places rather than the coast

Cambo Challenge, Tuk Tuk adventure across Cambodia for fundraising

November

Peak season starts

Comfortable temperatures at around 25°C.

Comfortable for visiting most places, especially Tonle Sap Lake

Cambodian Independence Day, Bon Om Touk or Cambodia Water Festival for celebrating the reversal of the flow in the Tonle Sap River

December

Nice weather throughout the country

Comfortable for visiting most places