Whatever we go anywhere in the world, we always buy a gift which is specialty of that place for friends and relatives. Shopping in Sapa is one of the most interesting activities that draw tourist to visit Sapa. So what Sapa has gift that you can buy as a gift for loved one?
Brocade
Being a mountainous area with many ethnic tribes live together, Sapa is the place that expresses cultural features most fully. Once visiting Sapa, you can easily see a lot of ethnic minorities in their colorful brocade cloths. More interestingly, you can buy these brocade cloths which are made by the local minority people.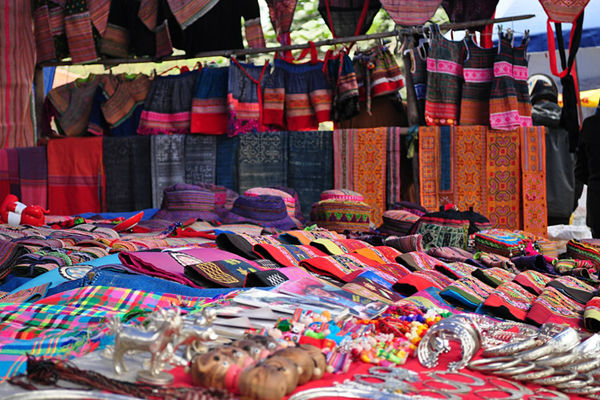 The brocades are sold in markets, souvenir shops or even from the streets. The ethnic women can take two weeks when sewing a one-span piece of brocade. More complex, it takes up to months to completing one traditional brocade dress.  Each brocade clothes represent local girls' sewing skills and all women must know weaving, embroidering and sewing clothing for their whole of family. You may be amazed because the girls embroider their wedding dress by themselves. Sapa brocades are famous for the unique material and gorgeous embroidery patterns because Sapa ethnic women attach much importance to clothes and costumes. Mass-produced brocades and handmade ones are two kinds of brocades available in the market. It is rather easy to realize it: Mass-produced brocade has brighter color and more designs than the handmade one which is dark with many harmonious patterns and containing the high traditional value. Along with brocade clothes, you can buy many other brocade products like bowler hats, scarves, shoulder bags, purses or bracelets with colorful motifs. Especially, there is one thing which visitors should buy in the brocade stalls is blanket cover, pillow cover or bed cover. Using it in your bedroom you can see it cozy, beautiful and luxurious.
Along with brocades, you can buy other local handicraft, souvenirs or silver jewelry such as necklaces, earrings, rings, chain which all ethnic women wear. Everything is beautiful and meaningful souvenirs.
Local fruits
With temperature climate, Sapa has been known as a land of fruits, especially peach. In Sapa, peach has many different kinds such as H'mong peach, France peach and Van Nam peach but "Ro peach" or "mountainous peach" are very popular for the locals and tourists. Peach is not only planted in the garden of the locals but also grow on mountain sides and forests. Sapa's peach is as large as a tea cup, covered by a thin layer of white powder. Enjoying a Sapa peach, you can taste both sour and sweet. People often harvest peaches on May and June and put it a bamboo baskets that help avoiding bruised. Peach is a mountainous gift for visitors who come to Sapa in the summer.
Sapa is very famous for fresh vegetables, especially chayote which has good reputation all over the country. Going anywhere in this "city in fog", you can catch the green chayote. Due to cold climate and suitable soil, chayote is grown all around the year and has good quality. Boiled chayote and fried chayote vegetables will make you feel the flavor of Sapa in the dishes. Chayote is also considered a Sapa specialty which visitors can't miss when coming to Sapa.
Coming to Sapa in any season, you are invited to buy dried mushroom which is the specialty of Sapa's mountain. Sapa dried mushrooms have unique flavor and excellent quality.
Vietnamese medicinal herbs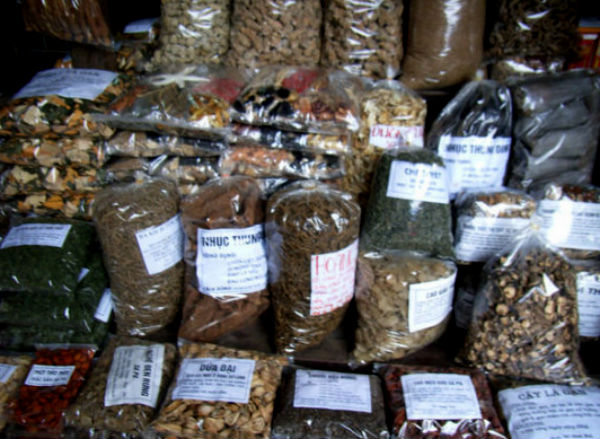 The provinces in the northern in Vietnam have been known as the world of precious medicinal herbs. The ethnic minorities live on the mountain and they are very good at medicine. Their life is closely related to forests and their traditional medicament is made up of medicinal herbs for healthcare.  These medicinal herbs can be fresh or dried but it is still very useful. If you have chance go to Sapa, you will find that medicinal herbs are sold in the markets or the villages of the ethnic minorities. It can be sold separately or packed together for treating many different diseases. In addition, raw honey is also among one of the most favorite specialty in Sapa. Most of visitors coming to Sapa, buy raw honey as a precious gift for their family and friends.
Tips:
– Bargaining with the sellers if you intend to buy a brocade product
– Checking the fruits and vegetables carefully before you pack
– Going with the local friend or guide to choose the right herbs and at reasonable price.
Read more: Things to do in Sapa