In 2009, Tru singing (Ca Trù) was added to the UNESCO's list of Intangible Cultural Heritage of Humanity in Need of Safeguarding due to its huge role in forming the Vietnamese culture values.
Tru singing is one of the most unique and complex genre of folk music in Northern Vietnam according to it's form, lyrics, melody and rhythm, so at first listening, this may be a really challenging experience for you whoever you are, Vietnamese or foreigner. But if you are a true culture explorer, don't miss the chance to enjoy a performance of Tru singing…
Ca Tru originated and flourished in around 15th century, which was widely performed as an expression of worship and a popular form of entertainment for the royal court in the capital of Thang Long.  Depending on the locality and historical period, Ca Tru has different names: Ả Đào singing , Nhà Tơ singing, Cô đầu singing…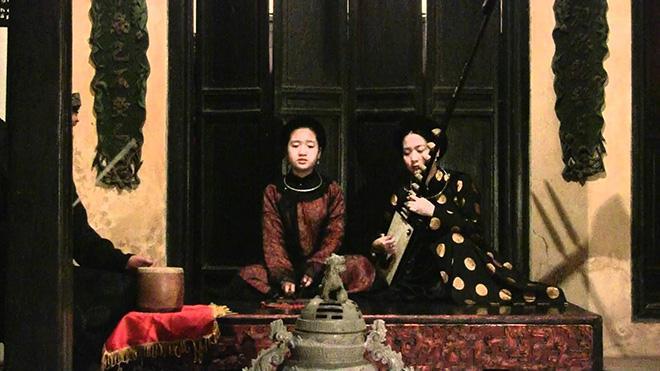 The Performance
The performance of Ca Tru is surprisingly simple, the form of Tru singing generally comprises only three performers with three simple instruments: "phach" (a pair of wooden sticks beaten on a bamboo bar) played by a female vocalist, a 3-stringed lute by a lute-player, a drum by a spectator, and during the performance, they only sit on their stage – a sedge mat.
No need for an orchestra, beautiful outfits, the stage seems super simple but Tru singing itself has very complicated form, it's a complex combination of poetry, literature, melody and rhythm, which require unique vocal methods, and only highly skilled vocalists with strong voice are selected to perform. The female singer must also be elegant and sentimental in gesture, so her mouth mustn't open wide while singing. Two only things she has are her voice and the "phach", so the beating of "phach" should be sophisticated enough to express her feeling. Ca Tru singer needs to learn how to use the phach properly even before learning the vocal method.
Ca Tru symbolizes the rustic but delicate and precise people of Northern Vietnam. Because of Ca Tru's complexity and high requirements, Ca Tru singers are getting less and less. In 20th century – the darkest period of Ca Tru, it nearly died out due to the development of the more modern forms of entertainment, however, it's still handed down from generation to generation, in recent years, it has been rediscovered and developed by some Ca Tru clubs in Hanoi and some other provinces (Phu Tho, Vinh Phuc, Hung Yen, Bac Ninh,…).  They often hold small rehearsals and performances, especially in festivals, so it won't be difficult for you to enjoy this special art.  
Ca Tru is such a picky genre of art that not anyone can become a Ca Tru singer, or even it's audience. To truly understand Ca Tru's value and meaning, listeners need to have a passion for art and comprehensive knowledge of Vietnam literature and culture. Therefore, it is not widely interested, but once fall in love, the listener will be fascinated. So if you've admired the elegance of Northern Vietnamese women, why don't give it a try?