With an area of nearly 200,00 km2, ranked 88 out of more than 200 countries all over the world, it seems extremely difficult, if not impossible, to fully discover Cambodia in one single journey. That's why you probably need a second tour to some of the best kept secrets of Cambodia. If you are already allured with the mythic beauty of Angkor Wat, the following destinations will give you a whole new look at this nation. Keep reading to find out what is awaiting for you during your second visit to Cambodia.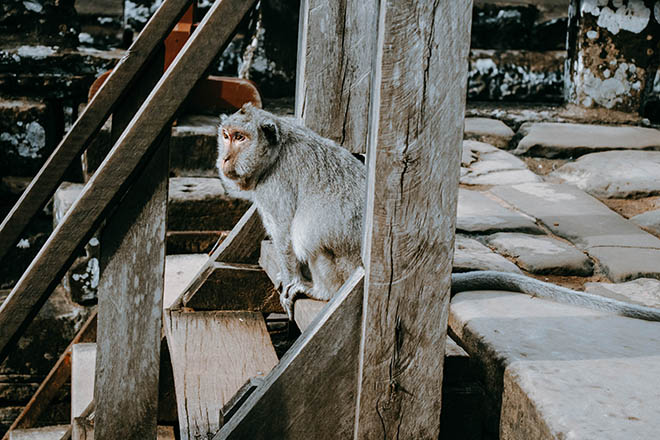 Photo by Kristen Sturdivant
Angkor In A Different Dimension
Angkor Archaeological Park is a huge area, covering up to 400 km2 including some forested areas, so it is likely that you might have missed several milestones during your initial trip. Apart from the world renowned Angkor Wat, Angkor Thom, or Bayon, there are a large number of other magical temples to have a look at.
Preah Vihear
Preah Vihear Temple or Prasat Preah Vihear is an ancient Hindu construction on the mountaintop of Preah Vihear plateau. It settles very close to the borderline between Thailand and Cambodia. It is said to have been built since the 11th century during the legendary Khmer Empire, at the same period with Angkor Wat. However, the location of Preah Vihear is the most outstanding as it was erected along a long north-south axis, rather than holding the traditional rectangular plan with orientation toward the east. 
Preah Vihear consists of a series of sanctuaries connected by a system of pavements and staircases stretching over an 800-meter long axis. Thanks to the remote neighborhood, this masterpiece is particularly well protected. The site is adapted to the natural environment and still serves the religious function of the temple.
Koh Ker
About two hours and a half from Siem Reap, you can reach Koh Ker, religious remains found in the middle of the lush green forestry. This used to be an important location during the Angkor period with more than 180 sanctuaries gathering in a protected neighborhood of 81 km2. During its peak time under the reign of King Jayavarman IV (928–944), this was home to 40 temples with significant design, following a linear plan unlike the concentric constructions in Angkor main site.
Under Jayavarman IV, the culture of Koh Ker was developed and the art of sculpture hit a pinnacle. A large variety of statues were carved. 
Unfortunately, Koh Ker had endured a tragical history after that. Because of its remoteness, Koh Ker was raided many times by looters. Only a small portion of temples can be explored nowadays, but they are all impressive. The famous Prasat Thom or Prasat Kompeng is unparalleled seven-tiered pyramid used to be the staple temple of Jayavarman IV.  The staircase to the top offers spectacular views of the whole area if you can finish the stairway. The Prasat Bram brings about a collection of brick towers adding to the list of treasured ruins in Koh Ker.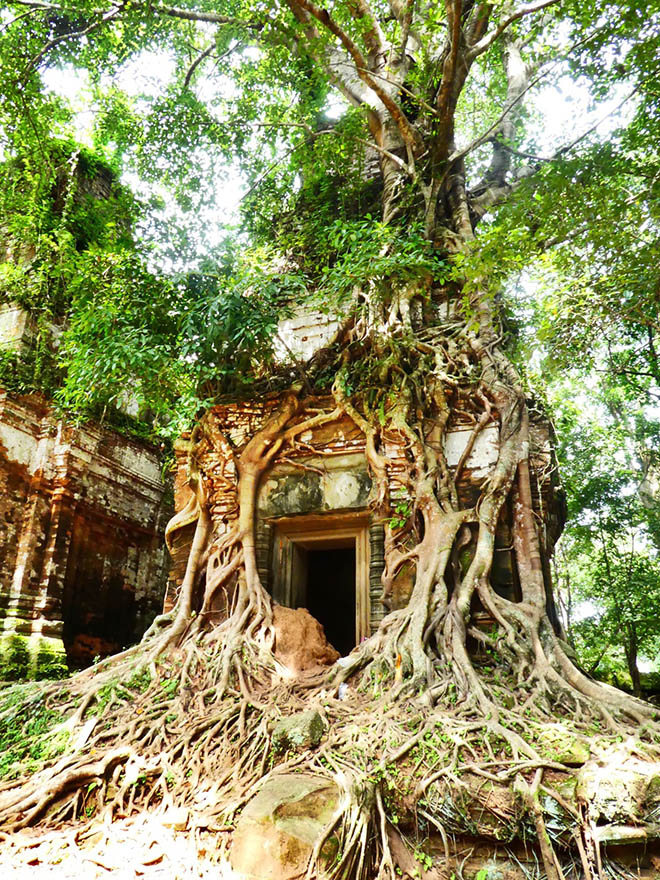 A corner of Koh Ker temple. Photo by Jeanne N
Beng Mealea
Beng Mealea, which can be literally translated into "lotus pond", is a temple locating 40 km to the east of the main temple group in Angkor Wat. However, as there is no direct route between the two sites, it takes approximately 2 to 3 hours to reach Beng Mealea from Angkor Temples.
Despite initial planned as a Hindu temple, Beng Mealea still features some Buddhist carvings. Sandstone was used as the primary material, trees and thick brush thriving amidst the towers and courtyards. The central building of Beng Mealea is oriented toward the east with entranceways from the other three cardinal directions.
In the past, there were three enclosing galleries around an inner sanctuary. However, most of them had collapsed by now. There is a comprehensive carving to depict Hindu mythology, including the Churning of the Sea of Milk and the story of Vishnu being born by the bird god named Garuda. The most stunning scene in Beng Mealea is paths with long balustrades formed by bodies of the seven-headed Naga serpent.
>> 7 Magnificent Temples Tourists Often Miss Besides Angkor Wat
Battambang
Rather than a crowded tourist attraction, Battambang is a laid back city with chilling moments situated to the west of Cambodia. It is connected to the Tonle Sap Lake by the Sangker River, so this is a reasonable stop in between your biodiversity excursion in Tonle Sap Lake. Still, Battambang has in own hidden charm lying in the French colonial buildings set on two sides of a quite street. A boat trip to connect Battambang and Siem Reap is another specialty that this city has to offer you. And like other parts of Cambodia, there are also quite a lot of temples in Battambang. However, prasats (temples in Cambodia) are not ancient or ruined, they are vivid and colorful with full details cravings. It's an ideal blend of relatively urban modernity and small-town hospitality.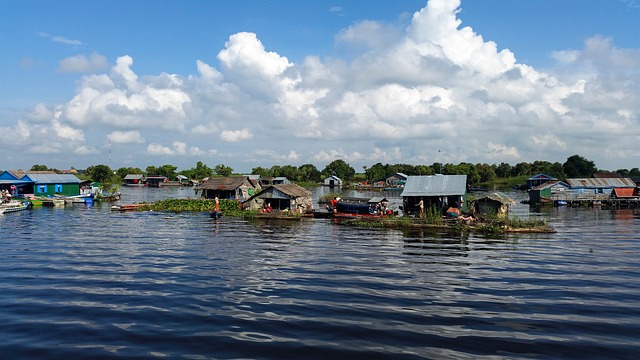 Photo by kolibri5
Koh Kong Island
If you think Cambodia as a country with temple ruin only, it would be the biggest mistake of your travel life. This nation actually has a coastline of around 443 km, sharing the gorgeous Gulf Of Thailand with Vietnam, Thailand. That means Cambodian beaches ain't less magnificent than those of the other two countries. 
Koh Kong Island is well known for being the largest island of Cambodia. It is also very convenient to access due to the 22 km distance from the mainland. With a low population density, Koh Kong Island becomes heaven for an exclusive beach getaway. Getting to the west side of the island, you can find six unquestionably elegant beach areas, each of which possesses a freshwater lagoon traversing to rivers from the towering mountain peak. The water in the lagoons is warm, so you will feel absolutely refreshing after emerging yourself in the beach of Koh Kong Island.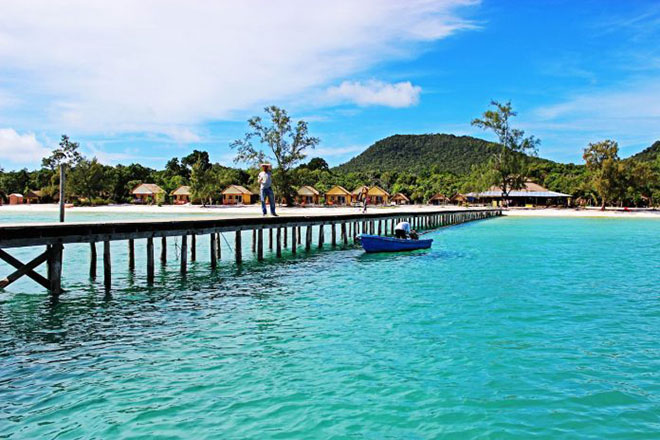 Koh Kong Island is perfect for an exclusive beach getaway
Kep
Unlike other popular tourist site, Kep is a very young province in Cambodia. It has just been founded since 22 December 2008 by Royal Decree. However, this area used be set aside to create a retreat for French elite groups in the early 1900s.
Kep is a coastal province facing the Gulf of Thailand and Phu Quoc, an island of Vietnam. The beach town bewitches visitors with a massive range of boutiques surrounded by lush greenery and tranquil blue oceans. Seafood in Kep is what you shouldn't underestimated. You can find plenty of local markets where fresh crabs, shrimp, jellyfish… are sold and cooked fresh. What can be more relaxing than a seafood BBQ by the beach, watching the purple sky during sunset?
Photo by Richard Mcall
Songsaa Private Island
If you want to go a little bit extra, experience the so-called Maldives of Southeast Asia, we highly recommend Songsaa Private Island. This is definitely the place for a sense of serenity and tranquility. 
Traveling to Songsaa is not very convenient. You have to take a flight from either Siem Reap or Phnom Penh, then get on a private boat to land in Songsaa, which means Sweethearts in Khmer. However, we can assure you all the hardship is worth. There must be a reason why it is given the title "Maldives of Southeast Asia".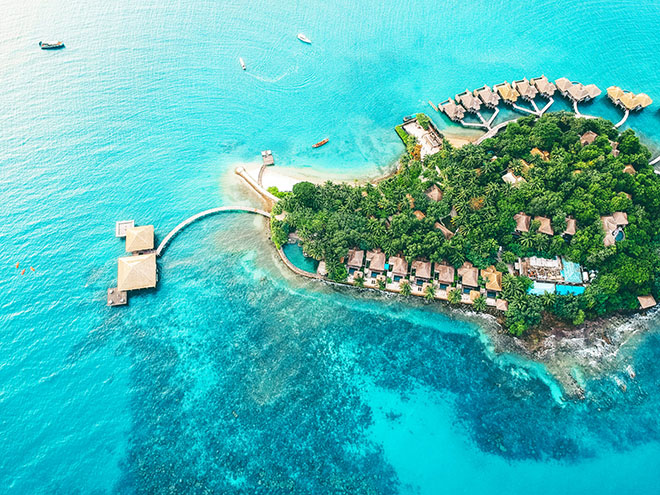 "Maldives of Southeast Asia". Photo by Jetset Christina
This scenic seascape captures the heart of the off-the-beaten-track travelers right at first sight with the transparent sea color surrounding rustic cottages which will be your accommodation in the next few days. Beach activities like scuba diving, snorkeling, kayaking… are extremely suitable as Mother Nature endows the island with an unspoiled sea with little to no storms. A beach stay in Songsaa Private Island will help you release all the tension, delight your mind and heal your body.