There is only 2 weeks left to one of the greatest celebration over the world, Christmas Eve. Although Catholicism is not national religion in Vietnam, Christmas atmosphere still pervades the whole of big cities, especially Hanoi. Let's take a tour to the capital and enjoy the novelty that the Eastern Santa Claus brings.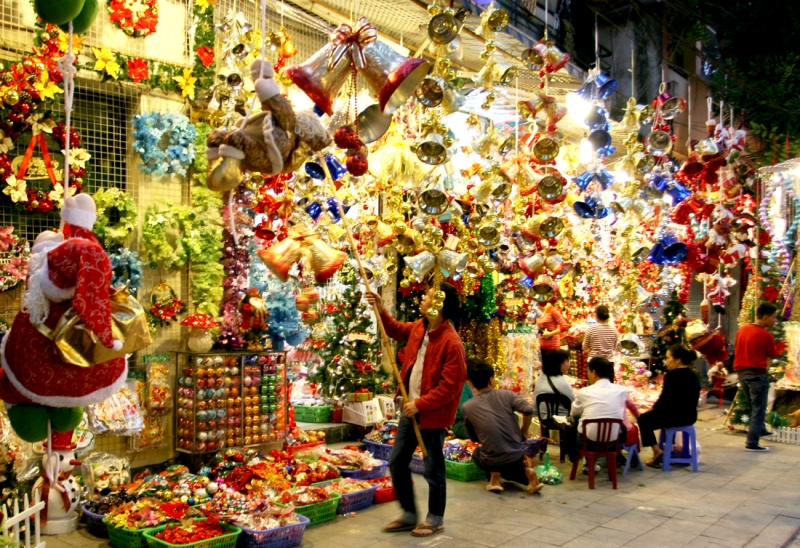 Christmas in Hanoi Vietnam is held like any other traditional festival. Hotels, streets, shopping mall as well as places of interest are all well-decorated with confetti, brilliant lanterns and sparkling lights. Some put a pine tree and snowman at the entrance to attract passers-by's attention. Unlike most of Western nations where Christmas is the time for family members gathering, local people here would prefer to flock to the city center to admire festive atmosphere. The Old Quarters are crowed with people. Some go with their lovers; others hang out with their friends or families. They wander around Hoan Kiem Lake, contemplating fascinating decorations that are only made for special occasion, dropping certain corners to enjoy street food. Hang Ma is the most bustling at this time thanks to a large numbers of souvenir shops decorated magnificently. Visiting here, people can freely take photographs with lantern, pine tree and snowman templates, and even with a Santa Claus. This street is most beautiful only in 2 occasions a year: the Mid Autumn Festival and Christmas Eve so do not miss your chance.
There is a corner so popular with foreigners that it is called "foreign street". Its name is Ta Hien. Ta Hien comprises of many bars and restaurants where guests are able to sit on the pavement without obstruction, chatting with friends and enjoying some delicious desserts. This lane is overcrowded every day but more dynamic in Christmas Eve. All people with no human discrimination as well as social status altogether cheer up when the song is played.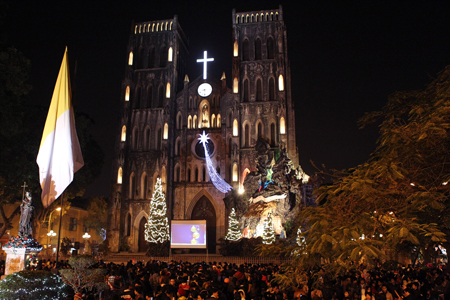 Staying away from noisy areas, the Catholics choose to go to church in Christmas. Nha Tho Lon (the Big Cathedral) and Ham Long Church are 2 most well known churches that is appreciated by not only their architecture but also spiritual belief. At the night of the 24th Catholics gather outside the chancel, worshiping and listening to the speech of parish priests. Candlelight and the harmony of the Church's orchestra make scene a picture which has amazing sound. At precise 24 o'clock, the bell will knoll as the signal of the most spiritual moment in Catholicism; the moment Jesus was born.
For those who stay away from their families, Christmas in Hanoi will no longer make you feel lonely and isolated. Experiences on this occasion will be one of the most interesting party in your life.
Recommended tours