General guide to Da Lat
Da Lat is regarded as "the city of spring" because of its cool, fresh weather through year. Annually, the average daily temperature is around 15 to 24 degree C with ~1.755mm of average rainfall. It separates into two distinct seasons: Dry and rainy season. It is officially dry weather from December to March of the next year; It comes rainy season when starting of April to November.However, Da Lat gets the sun no mater its season is; owing to this naturally favored condition, Da Lat is likely a striking colorful garden with hundreds of blooming flowers around year.
From Ho Chi Minh city, along highway 20 is approximately 300 kilometers to Da Lat. The roads are slow and gradually up but it is not problem amidst such beautiful lush scenery. You could see thick and interminable pine forests when reaching to the beginning location of Da Lat where has Prenn waterfall standing. Going further into Da Lat homeland, tourists will have chance to discover such a museum of imposing waterfalls, wonderful lakes and lots of verdant grass and flower valleys. Other way, traveling on the route 27 via Phan Rang, Dinh river to Da lat, tourists can admire historical relics of Cham Pa-the old country was in the past and year-round dry fields before stepping into Ngoan Muc mountain pass with breathtaking view. Da Lat has long been a popular centre for both domestic and oversea tourism attracting millions of tourists a year. In fact, Da Lat is so famous for a series of thrilling views, waterfalls and pine forests. More interestingly, Da Lat is said to be attractive for peaceful atmosphere, poetic roads, and beautiful lakes connected closely with long-standing legends. Coming to Da Lat city, tourists have excellent choices for reveling in sightseeing beside enjoying specialties here such as fresh, fragrant fruits ( plums, peaches, avocados…), special ethnic cuisine or buying original Da Lat's products. Moreover, Da Lat draws tourists everywhere to enjoying kinds of nice flowers like roses, cherry blossom, orchids, white narcissus, camellia…Specially, Da Lat Flower Festival is held every year which is really a great occasion for those visitors love flowers.
Other useful information
The art tunnel in the Tuyen Lam lake is getting the latest tourist site in Da Lat and very popular. It is an underground sculptural work of 1.2 km long, describing Dalat from the early days through a unique sculpture on basaltic soil that possibly brings newfangled experience to you.
Taking a tour to Da Lat railway station is also recommended guide, dubbed the 'princess of the mountain city' with many unique records as Vietnam's highest railway station at an altitude of 1,500 m above sea level, the most beautiful railway station in Indochina, and the oldest in Vietnam would probably be persuasive reason to drop in.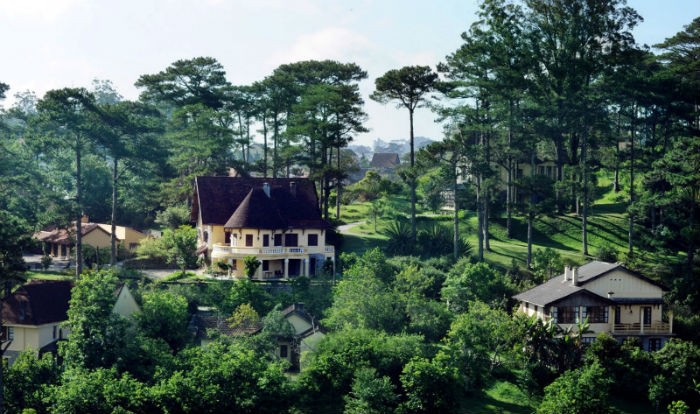 Along with many great sites for your exploration in Da Lat as the Love Valley, Mong Mo Hill, Than Tho Lake, Da Lat Cathedral, Bao Dai Palace, Elephant Falls, Pedagogical College of Da Lat, you are advised for adventure trip to the Liang Biang mountain which of hiking leads you to a traditional Lat village by four wheel drive from where you walk the steep hill to the top of the mountain for stunning views over Dalat.
For being on the back of a motorbike or hiring one during an excursion day around local areas, you should visit Chicken Village, a Koho minority people's village where a huge concrete chicken stands above the wooden houses, depart for a silk factory where you can watch the whole process of producing silk scarves. All are valuable things to do in Da Lat and certainly give unforgettable impression to you.
Besides charming and natural architecture, Da Lat has the grand variety Ethnic Minority People's cultural life. Many culture festivals of Ethnic Minority People celebrated at the Ethnic Minority villages in outskirts are highlights of Da Lat's tourist attractions.
With cool temperature and lovely scenery, Da Lat is deserved to be one of Vietnam's well known vacation destinations and a place like no other in the country. Da Lat of eternal spring, picturesque landscapes and hospitable people are awaiting your adventure!
Please contact us to have free assistance on Dalat tours: sales@travelsense.asia