Apart from beautiful, pristine beaches like Ninh Chu, Ca Na, Binh Tien; Ninh Thuan is also regarded as the cradle of the original Cham's culture from architectures, festivals to traditional handicraft villages…
To be located in South Centre Coastal region, as one of place in Vietnam highlights tour, Ninh Thuan is the home of most Cham people living in Vietnam. While traveling around Ninh Thuan, tourists will be likely to step in a fresh space which comprises a complex of Cham' age-old towers with highlights as Hoa Lai, Poklong Garai and Po Rome.
Cham tower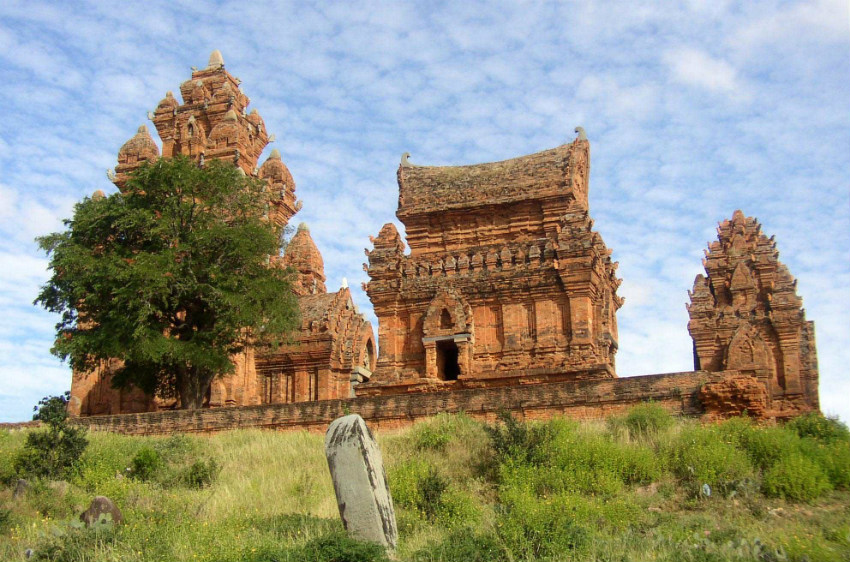 Poklong Garai is known as the common name for a cluster of the most beautiful, majestic Cham tower remains in Vietnam- that was the kingdom of Champa's capital in the past and is Phan Giang city today. The tower was built in the end of 13th century, first years of 14th century and situated at the top of Trau hill, 9 kilometers far from city centre in the Northwest. Strikingly, you may admire the panoramic view of Poklong Garai with brick-red colored matching harmoniously with the blue sky. When entering to the tower, it is possibly a surprise for you by its unique architecture; exquisite sculptural motifs on the arches, buttresses, roof edging kept intact even after the ups and downs of time and the ravages of climate. Moreover, the hidden beauty of the tower tinged with nostalgic mark of moss will definitely give unforgettable impression to each visitor as reaching here. If you have time, you should not miss out on visiting Hoa Lai tower in Hai Ninh district which is far from Phan Giang 14 km in the North, and Po Rome tower (25km from Phan Giang) in order that you could study further about Cham people's art, religion as well as a part of ethnic culture.
Traditional handicraft village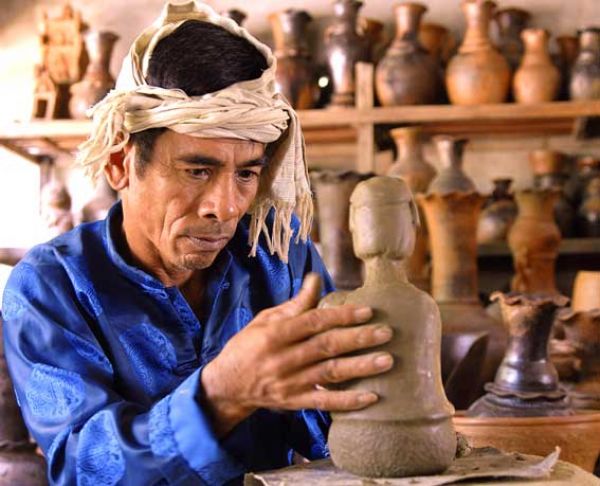 Beside incomparable architectures, traditional handicraft villages are worth seeing in the trip of discovery Champa. Bau Truc pottery village is along highway 1A of Phuoc Dan town, Ninh Phuoc district; it is considered as one of the most traditional pottery village in Southeast Asia. For almost visitor's experience, the work of making vivid pottery items by scrupulous and skillful craftswomen without support of mould that is perhaps loved very much. Interestingly, pottery in Ninh Thuan is such a special manufacturing that everyone always wants to witness once as traveling in Champa land. Also, You may understand why Cham's skillful women keep the role of preserving and promoting traditional cultural values. Lying near Truc Bau, you can visit traditional village named My Nghe where is extremely well-known for subtle, smooth and colorful brocade. Each brocade made by My Nghiep villagers is different from others in terms of patterns, motifs and designs as if each of them is a small part of Cham's culture to make up Cham's diverse cultural land. After all, you will certainly have particular feeling of the rich traditional culture and people life.
Festival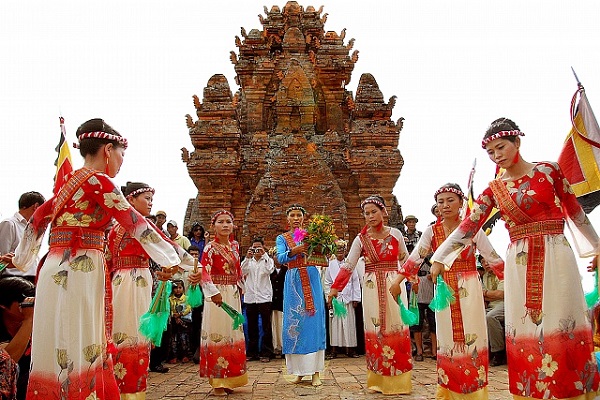 It is not by chance that Cham's culture in Ninh Thuan is bearing a great attraction to tourist everywhere. It is really because of blending well between tangible and intangible values to build up such a special cultural community. In Ninh Thuan, there are hundred festivals occurred through year such as Kate, Chabun, Ramuwan. Kate festival is annually held in July according to Cham's calendar (the first days of October), It is the most traditional festival so as to memorize Cham people's ancestors and pray for favorable conditions, good harvests. As coming to Kate festival, tourists can not only learn how the local people to show respect and memorize heroes, ancestors, or King who made great contributions to their nation such as: Poklong Gia-rai, Porome…but you also enjoy animated echoes in relation to ritual music of Cham ethnic group with Baranung drum, Saranai clarinet, beautiful and graceful girls in their traditional charming fan dancing…That's so lovely! The Ramuwan festival is known as an important festival for the Islamic community in Ninh Thuan province. It features traditional rituals like worshipping ceremonies, cleaning and decorating of ancestral graves with a series of cultural and sporting activities organised during the festival which promises to attract so many local people and tourists as well.
Cuisine
Beside traditional handicraft village or festival, it will be a mistake if we do not mention to Cham's cuisine which is unseparated part of unique Champa's culture. When you have occasion to visit Ninh Thuan during time of Kate, Rija Nagar or other traditional festivals, you may luckily enjoy very special and famous cake as tapei anung ( glutinous rice cake), tapei coh (spring rolls), Sakaya ( ginger cake), kadaor ( plain rice flan)…One more, you are advised to taste the flavour of goat meat in Ninh Thuan known as a speciality, skillful chef will make you pleasant with mouth-watering dishes cooked of goat meat.
Intriguingly, Ninh Thuan province possesses valuable inheritances with typical example is unique ethnical culture of Cham people. Cham's special cultural values including architecture, handicraft village as well as cuisine are awaiting for your discovering.