A wonderful place to contemplate striking glow of dawn and enjoy very fresh seafood when traveling to Phu Quoc island is Ham Ninh fishing village, naturally. It is known as an attractive destination which is not apart from Phu Quoc. Coming to Ham Ninh fishing village will give wonderful experience to tourists through exploring hundred-year fishing village, immersing in peaceful life as well as tasting delicious seafood dishes…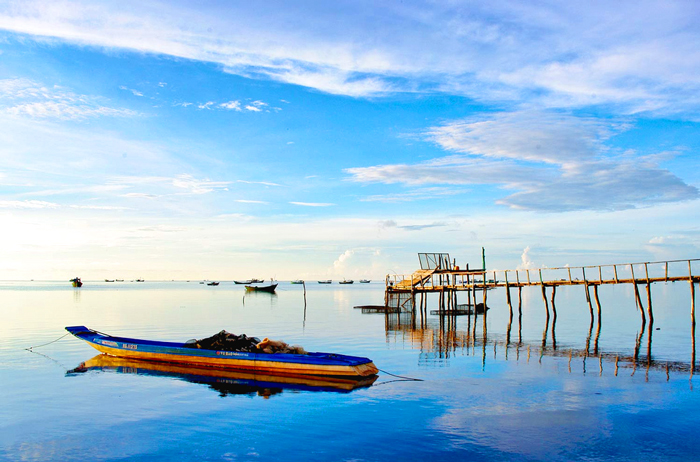 Ham Ninh fishing village belongs to Ham Ninh commune, Phu Quoc district, Kien Giang province. The land of pristine century-old village nearly hidden under Ham Ninh mountain foot is on the Eastern coast of Phu Quoc island, surrounded by imposing mountain and immense sea. No one knows how long has it been established exactly, but people know that long time ago, here was still desolate, fishermen from other places came to catch seafood and built up the village.
For almost tourists, the first impression as reaching to Ham Ninh fishing village must have experience in admiring the 300-m towering mountain with upright cliffs tinted mossy green which are blended harmoniously of cloud, moutain, sky and vast blue sea. Standing on Ham Ninh beach, we can sightsee Hai Tac island from a far distance, a little slanted toward the Southeast that can catch Nghe island hazily under the surface of blue water and the headland of Phu Quoc- Ong Doi top in the south. Interestingly, so many years passed already but Ham Ninh fishing village keeps its unpolluted, inherent simple beauty with plain thatched cottages. Previously, local people earned living mainly on collecting pearl, catching sea cucumber, shrimp, crap… Recent years, islanders have new source of income from food product trading and selling souvenirs. Over hundred years, natured, rustic people here remain courage at sea; in spite of going through hardships, they still love and have strong attach to this beautiful land.
One more exciting thing to do in Ham Ninh fishing village is to get up early in the morning and watch sunrise, the scenery turns most beautiful like the striking watercolour painting at the time of glow of dawn illuminate. The deep sky is gradually waking up,flock of birds are deliberately flying to search for food, and people are animatedly starting a new day…that absolutely bring great restful time and keep impressive picture in your mind.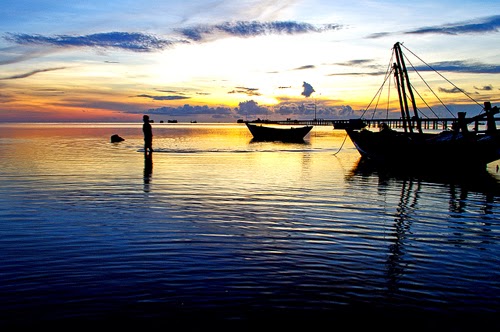 When it comes to afternoon, you should take a stroll along the longest wharf called Ham Ninh in order to enjoy cool sea-breeze and survey the sea scenery in the sunset. Moreover, when tide ebbed away, you may walk along sandy beach, enjoy peaceful space and collect shells, nails to be gifts for friends…
Actually, Ham Ninh fishing village is not only famous for attractive scenery but it also attracts tourists with renowned fresh seafood, specially, that is crab considered as extremely delicious dish in the small but lovely village. Factually, people say that your travel is not completed if you really forget to taste crab in Ham Ninh fishing village. Catching in your own eyes these fresh crabs, boiled with eye-catching red, eating with pepper-salt will certainly give you mouth-watering flavour and unforgettable feeling as well. Besides, you should drop in Dinh Cau market where you can totally enjoy appetizing seafood with cheap price or buy some specialities for family and friends.
As traveling to Ham Ninh fishing village, you have chance not only freely indulge yourself with fresh, peaceful, and very charming like being given a surprising present from nature, visit picturesque seascape here, understand local people's living culture but also experience in going out to sea with skillful fishermen and exploring beauty of coastal life. Truly, just come to Ham Ninh in the morning or moonlight night so you could see how beautiful the place is! Therefore, it is highly recommended not to forget to visiting Ham Ninh whenever staying in Phu Quoc island.