Koh Rong Island attracts visitors by abundant and rich marine ecosystem beside pristine and hidden beauty of nature.
Cambodia is as a beautiful and mysterious land. The ancient temples of Angkor, Bayon and collapse of Khmer Empire are highlights, symbols of solemnity, majesty. Nowadays, these places belong to the world wonder list. Each region, each road in Cambodia bears itself thrilling legend.
Therefore, it is not amazing that the country with countless renowned temples and towers attracts more and more tourists from all over the world.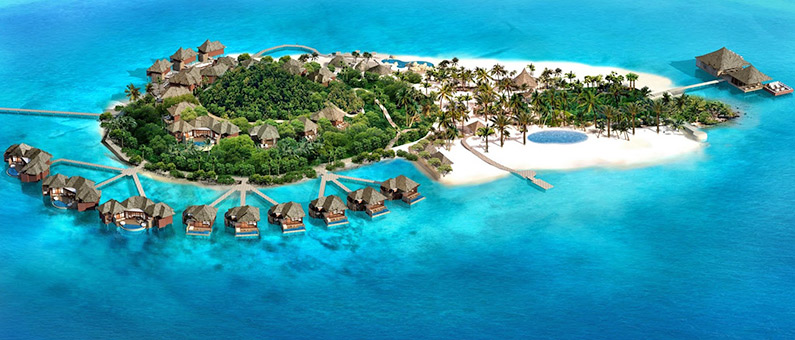 Not only special architecture complex marked by ups and downs of history, tranquil and pristine islands but also friendly, hospitable people are key points to draw tourists in Cambodia . You may experience miraculous sunset in coastal "Sihanouk Ville" city. Especially, you shouldn't miss Koh Rong Island which is voted as one of ten most beautiful beaches in the world by Strait Times New York magazine.
Passionate scenery in Koh Rong
It is no coincidence that Koh Rong island is affectionately considered as "Hawai of Asia". The island is as awesome as quintessential gem outlined against blue sky. It is extremely such a pristine and noble Koh Rong island that it touches deeply people's heart.
While stepping into Koh Rong, you must be astonished at pure and cool water as well. From afar, sea is as same as emerald painting; but in the near distance, you would see white sand and foot under so pure water despite water level reaches to your knee, in fact. Also, the island becomes more attractive with rich marine ecosystem. On the road to the island, if luckily, you can catch dolphin swimming, jumping nearly your boat, striking starfish so as that you might suddenly scream that: how amazing it is!
It is not difficult to find great resorts with reasonable price to relax before starting your discovery of Koh Rong paradise. Interestingly, this island had been a primeval tropical forest. Since being explored, this island has become an ideal place for sightseeing natural beauty and full vitality of trees, mountains as well as forests. To ford springs and cross forests in Koh Rong Island will absolutely bring you wild feeling and most excited experience.
Exciting entertainment in Koh Rong Island
In normal days, when you visit in Koh Rong, you can join in a lot of outdoor activities such as bathing, diving, discovering, firing campfire, playing soccer, organizing group games…Moreover, throughout discovery of the island, you have chance to soak freely in natural swimming pools under waterfall flows. As a result, your body and mood will be relaxed in peaceful, fresh atmosphere, out of stress in bustle life.
If you go to Koh Rong in the full-moon time from November to May of the next year, that will be great time for you to take part in oddly compelling full moon party. During this festival, everybody will have occasion to enjoy spectacular barbecue, jubilantly dance, drink pleasurably at restaurants or bars.
Besides, the trip Koh Rong- Shihanouk Ville – Phnom Penh also take you to the coastal city- Sihanoukville. This town is favoured with the most beautiful beaches by mother nature. Sihanoukville includes a series of nice beaches. Such as Sokha beach- the site of peace, smooth white sand, luxury water sport services. Occheuteal- the beach of animated space and well-known fresh seafood restaurants. Or Victory beach with full of entertainment all days and nights…
Each of Otres, Hawaii, Independence, Serendipity beach has its own charm. Whenever you take a trip to this wonderful destination, you should not miss out on enjoying picturesque seascape. Or sitting on smooth white sand beaches to admire sunset slowly falling down and gradually fading into the immense sea… All are undoubtedly strong impression on tourists.
Important notes
Weather condition– Cambodia belongs to tropical moonson climate. So it usually comes heavy rains from May to October. Dry season is from November to March. Thus, you should visit Koh Rong island in these tim when the temperate is not too high and it is less rainy.
Transportation– The only way to reach Koh Rong island is by ferry or boat. Normally, it takes about 40 minutes from Sihanouk to reach there. You can choose departure time at 8 am, 11 am, or 16 pm.
Currency– Here, USD is used as popular as Riel (KHR). So you can conveniently exchange goods and pay for services in Koh Rong
Eating– Beside traditional food of Khmer people or dishes cooked likely Thais'food (tom yum), do not forget to enjoy fresh seafood in this wonderful island.
Koh Rong is truly a world's gem. Why do not you travel here once? Surely, you will never regret choosing this wonderful place for relaxing after a busy year at work.