Vietnamese summer is full of exciting activities, ranging from exciting adventures on the beach to vibrant cultural shows in a certain destination. Among the top recommendations in the to-do list for an expedition during the hottest months is to observe Danang International Fireworks Festival, which may be one of the most fabulous performances you ever see.
Are you curious about the show?
Join me in the next few lines to explore the most exotic experience in the emerging city of Danang.
Things you shouldn't ignore to enjoy Danang International Fireworks Festival (DIFF 2023)
Some Crucial Information About Danang International Fireworks Festival
As the name suggests, this is a large-scale competition with contestants from renowned countries in fireworks. The festival has been held for 11 years continuous and become a signature of Danang every summer.
This year's theme is "Light up Borderless World" with the participation of eight teams: Finland, Canada, France, Australia, Italy, Poland and England.
There will be a total of five competition nights within five consecutive weekends from June to July. Each evening is the fireworks display by two rival teams with the opening ceremony and the first competition between the Vietnamese team and Finnish team on the 2nd of June. Don't miss out on the special Da Nang tour 4 days 3 nights to enjoy the Da Nang International Fireworks Festival 2023 (DIFF)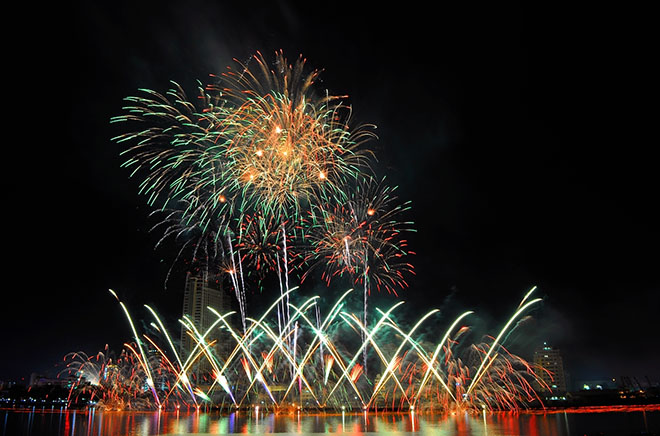 The distinctive point of 2023 festival is the completely renewed format. Every performing night will have a different sub-topic. The schedule is as follow:
| | | |
| --- | --- | --- |
| Date | Sub-topic | Competing Teams |
| June 2nd (Opening Ceremony) | Peace for The World | Vietnam and Finland |
| June 10th | Love without Distance | Canada and France |
| June 17th | Chasing Your Dreams | Australia and Italia |
| June 24th | Embracing Nature | England and Poland |
| July 8th (Grand Finale) | Light up Borderless World | Two best pyrotechnic performances |
The main stage is set up in Tran Hung Dao street, right next to Han River Bridge with seating areas nearby. To get into this zone, you have to reserve a ticket beforehand.
However, we would show you more exclusive places to watch fireworks performance. So keep scrolling down for ultimate guides to Danang International Fireworks Festival.
Accompanying Activities During Fireworks Festival
To promote the festival and enhance the attraction of Danang, there are various activities alongside with the eye-catching fireworks performances.
One of the must-join activities is the lively and spectacular Street Carnival. Every night from June 2nd to July 8th, you can immerse yourself in a colorful showcase of culture and art with the engagement of both local and international artists dressed in splendid costumes. The parade goes through Bach Dang street, one of the most stunning and busiest roads in Danang.
There will be many spectacular, colorful performances held as part of the DIFF 2023 Street Festival, which promises to be a vibrant showcase of art and culture through the summer in Da Nang.
During your stay here, you can also relish the beauty of some of the most gorgeous beaches, explore the wholesome complex for entertainment in Ba Na Hill, the railroad to paradise and experience the superb cuisine of Central Vietnam.
The vibrant displays together with captivating open-air art performances promise to bring not only festive vibes but also memorable moments for your adventure in Vietnam during summer.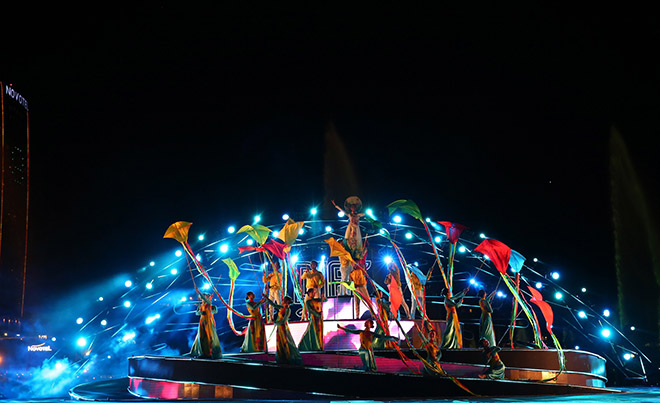 Top Tips To Fully Engage In The Show
Top Location For Best View Of The Fireworks Display
It's important that you have settled down before the show begins to avoid any disturbance. While the stand area organized by the organization committee requires an extra fee, which can be up to several million VNĐ, you can enjoy fireworks performance for free and in a more private area in some other places.
As there are several bridges passing the Han River, the audiences can observe the competitions from one of them. In addition to Han River Bridge, which is the closest to the main venue, you can watch the show from Thuan Phuoc Bridge, Tran Thi Ly Bridge, and the iconic Dragon Bridge. No surcharge required.
To follow the performance from a greater height, the rooftops of luxurious hotels like Sun River, Novotel, and A la Carte will be an excellent option. Not only can you try delicious dishes, but you can also watch the fireworks lighting up the night sky across the horizon. Make sure you book a reservation in advance to get the best view.
Lining up in Bach Dang Street or Tran Hung Dao Street will also give you prime spots of the fireworks festival. Although the government will block the traffic, there will be huge crowds on both streets. So, be prepared.
Another extravagant way is to get on a Han river cruise, admiring the show and feeling the cool summer breeze on the decks. Such a unique experience, isn't it?
Preparation Checklist
This time of the year is in the mid-summer in Danang so the temperature can be very high. Therefore, we have compiled a list of summer essentials for your journey in Vietnam. Check it out here.
Moreover, as you will definitely go out at night, some kinds of insect repellents will come in handy to save you from mosquito bites. You would also like to bring along some snacks and soft drinks to savor during long performances.
For those who want to save the best memories, don't forget to fully charge the batteries of your phone and camera, check the storage and the memory card. You would be regretful to let beautiful moments pass by.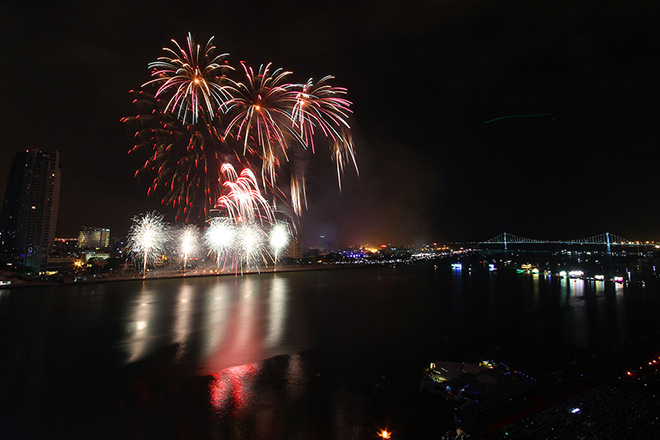 Recommended Itinerary To Explore Danang And Central Vietnam
To take advantage of your time in Danang, you are invited to extend your expedition in some nearby destinations such as Hoi An, Hue, which can be combined to create a peaceful tour in Central Vietnam. Otherwise, we also have many 1-day tours for you to choose. With these three stops, you are granted the chance to devote your time in the glorious history of the last dynasty in Vietnam, tasting the exquisite royal cuisine.
On the other hand, you can have a personalized itinerary just by leaving some information here. We will be contacting you immediately to arrange the best schedule for you.
If you have any further concern, don't hesitate to leave a comment down below or leave a message on the chat box!