About 60 kilometers to the west of Hanoi center, Ba Vi National Park is located in Ba Vi District, Hanoi city. This is a complex area of tourist resorts, with various interesting activities and services provided. It will surely be a memorable experience for you to enjoy ato this amazing place. There are so many things to discover in this tourist destination so if you can, 2-week is long enough for a travel to Ba Vi and enjoy all the best services and beautiful sights of this place.
Fundamental information about Ba Vi for a 2 week trip to Vietnam
Ba Vi National Park was originally called Ba Vi National Forest. It was established on January 16, 1991. Until December 18, 1991, it was renamed into Ba Vi National Park. In 2003, Ba Vi National Park was extended to Hoa Binh Province with a total area of over 10,000 hectares which includes 16 communes in 3 districts of Hanoi and 2 districts of Hoa Binh Province. Ba Vi National Park is a place that visitors would be very excited to take an exploration around.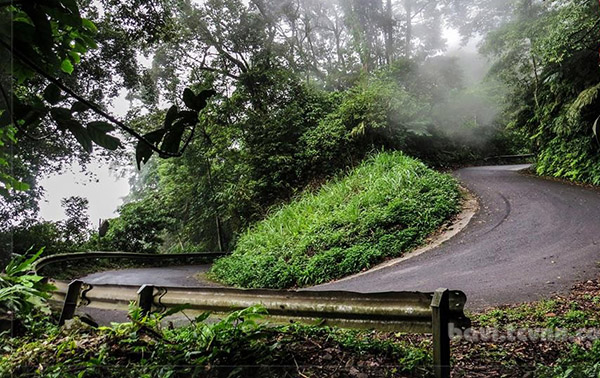 Ba Vi National Park is located between the tourist community of Ba Vi mountain. Ba Vi mountain also called Tan Vien Mountain in Ba Vi district. You can try climbing once to the top of Ba Vi Mount where there is Thuong Temple, Mau Temple and especially, Uncle Ho Temple at the top. From 400 meters to 600 meters high, there is famous resort from the period of French domination. With fresh and cool mountainous climate, Ba Vi National Park has become an ideal destination for domestic and foreign tourists to enjoy.
Singular features for the attraction of Ba Vi in a 2 week trip to Vietnam
Natural resources in Ba Vi National Park are very rich and diverse. Its air is fresh and cool. The flora and fauna forest ecosystems have the characteristics of tropical and subtropical lowland rain forests. There is vegetation that only appears on Ba Vi Mountain such as Ca Lo, Bo Loi, Thu amplexicaul. Ba Vi mountain also has hundreds of precious medicinal plants that the Muong and Dao people collect every year to make drugs.
Especially in the western side of Tan Vien mountain, there are tens of centenary trees with diameter from 0.8 – 1, 2 meters, they have lived thousands of years. There are 44 species of mammals, 114 species of birds, 15 species of reptiles, 9 species of amphibians, of which there are 24 species are listed in the Vietnam Red Book such as pheasant, cheetah, Amur leopard, Melogale, Ursus thibetanus, chamois, Manis pentadactyla, flying squirrel and a black squirrel.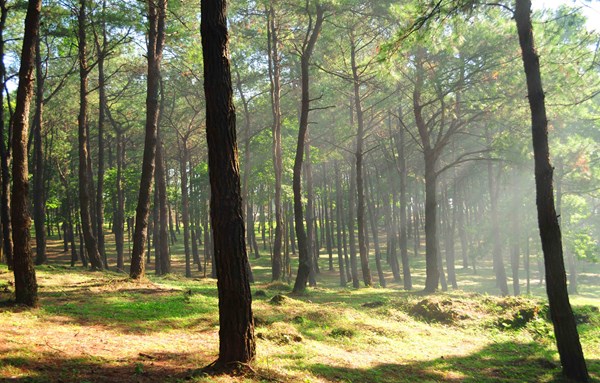 In favor of nature, Ba Vi National Park owns a beautiful charming landscape, and it is considered as "Green lung" in the west of Hanoi. Ba Vi National Park is the area for management and protection of forest resources; protection of historical cultural relics and revolutionary history; preserving, restoring and developing forests; scientific research on conservation and development the buffer zone; organizing ecotourism activities and environmental education.
Visitors can travel to Ba Vi National Park all year round. The sight in every season is beautiful, but the most eye-catching one is in the summer or autumn, on cloudless days. Experience wonderful holidays in Ba Vi National Park, visitors will be immersed amidst the majestic and poetic natural sceneries of mountains surrounding.
Top activities to try in a 2 week trip to Vietnam to Ba Vi
As a nature conservation and development area, Ba Vi National Park has a rich ecosystem with hundreds of rare and precious plant and animal species that need to be protected. Coming here, you will see hundreds of ancient trees, blooming colorful orchid flowers at two sides of the road. Traveling to Ba Vi National Park, you will not only enjoy the fresh air of the tropical and subtropical forests but also enjoy many spectacular natural sceneries. Tourists are allowed to set a campfire, climb mountains, play sports, hold conferences and seminars. You can sing and dance with the Dao, Muong people, join in spiritual activities and enjoy many festivals. You should drop into the localities around the foot of Ba Vi mountain. They were formed from the time when Hung Dynasty built the country.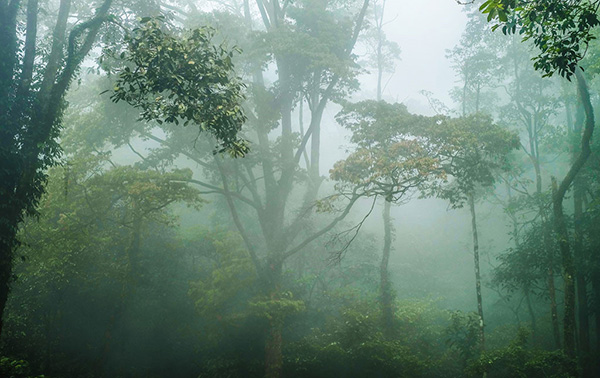 Top destinations to visit in a 2 week trip to Vietnam to Ba Vi
When visiting Ba Vi National Park, the first places you should go to are Tan Vien Temple, Mau Temple, Uncle Ho Temple and Bao Thien tower. These are the spiritual places that most Vietnamese people want to visit at least once. People around the area often come here to commemorate Uncle Ho and Tan Vien Saint while praying for a new year in peace in the beginning of the year. Especially, if you go to the top of the mountain early in the morning or on little sunny days, you will be immersed in fanciful space with clouds drifting, to feel the cold weather early in the winter.
Ba Vi National Park is also a place to keep the historical monument in the period of French domination. The old church, the French army camp, the political prison are ideal and suitable places for those who want to learn about a stage in the history of the country or a useful extra outdoor activity for students.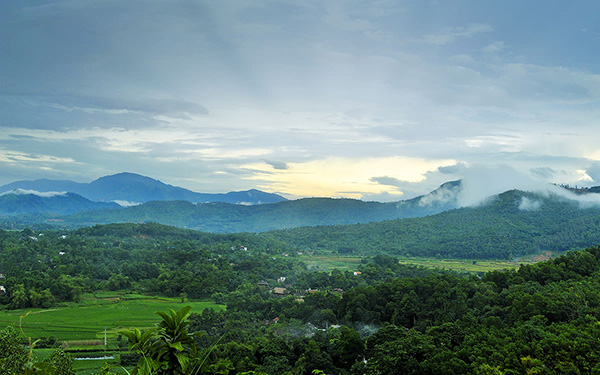 Ba Vi Resort – Coste 400 is the next place on your itinerary to Ba Vi National Park. Ba Vi Resort is located in a quiet and peaceful open space. All of the rooms and restaurants in the service system are overlooking Suoi Hai Lake and Da River. The sceneries are very eye-catching and covered with blue and green colors. There is a harmonious combination between the earth and sky, nature and human. Ba Vì Resort is a beautiful place with romantic pine forest, colorful flower garden and also an ideal place for you to organize activities such as camping, setting campfire and eating barbecue party together when staying overnight. Do not worry about accommodations for your 2 week trip to Vietnam because you will be provided with many choices such as stilt houses, dormitories or private rooms fully equipped at reasonable prices.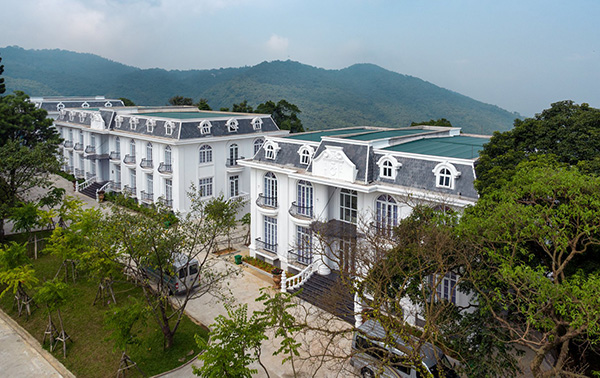 When coming to Ba Vi National Park, visitors should come to Cactus Garden. This place has the function of preserving the development of cactus species, so the interior is a large space with countless species of valuable and rare cactus that need to be preserved. You will be surprised by the beauty of the cactus flowers.
When leaving the forest, you should not forget to enjoy the local specialties such as bamboo-tube rice, royal jelly, tea cake, Ba Vi milk cake, bitter tea or buy a bottle of pollen, honey, bamboo shoots, forest banana as a present. That would be unforgettable memories for your holiday.
In addition, Ba Vi has many other interesting things waiting for you to discover during a day 2 week trip to Vietnam. They are Thien Son stream, Green Bay – a mineral spring, the King Pond, Suoi Hai Lake, Tien Sa Lake, K9 tourist area, Ba Vi Hill and the ancient church on Ba Vi Mountain. Especially, if you come here in the late of October or in early November, you will have an opportunity to watch wild sunflowers. This is a typical flower of Ba Vi National Park. In every sunflowers season, visitors from everywhere gather to visit this place and take some pictures as well as enjoy the cool autumn atmosphere in Ba Vi.
Ba Vi was recognized as Vietnam National Park in 1991. Ba Vì National Park is inscribed in the top five the largest national parks in Vietnam to explore. If you have been attracted with the charm of Ba Vi through the description above, do not hesitate to plan for yourself from now and start a wonderful 2 week trip to Vietnam to Ba Vi in a short time.