Indochina is regarded as a precious crown of Southeast Asia. It features three jewels, in which the other two neighboring countries often outshine Laos. But the Land of Million Elephants never ceases to amaze international travelers with its intact nature and lavish hospitality.
No matter you are wandering for a destination, or you are digging for a reliable source for your Laos travel, this article will show you the accurate picture of the country.
A Brief Introduction About Laos
In the eye of foreigners, Laos appears to be a peaceful land rather undeveloped, a pilgrimage to the BuddhaBuddha(Wiki) Buddhism is the world's fourth-largest religion with over 520 million followers, or over 7% of the global population, known as Buddhists. It originated in ancient India as a Sramana tradition sometime between the 6th and 4th centuries BCE, spreading through much of Asia. In Buddhism, Buddha is a title for someone who is awake, and has attained nirvana and Buddhahood. land.
But the only landlocked nation in Southeast Asia has more to offer. Surrounded by Myanmar, China, Cambodia, Thailand, and Vietnam, the country looks like a neglected oasis with no ocean. Still, that fact doesn't impair the charming side of Laos at all.
Laos has gone through a long-standing era of more than ten millennia of years. As a result, Laos tourism is a lifetime opportunity for you to discover the national myths hidden in between the mountainous terrain and forested landscapes. Furthermore, this land is dubbed as a cradle for extraordinary biodiversity. It marks the entrance of the legendary Mekong river into Southeast Asia. It stretches a wide range of latitudes, covering thickly forested landscape, rugged mountains, and high plateaus.
What language is spoken in Laos?
Lao, sometimes referred to as Laotian, is the official language of Laos. It's closely related to Thai, so if you know some Thai language, you can properly handle well in Laos. Or else, English is also widely used for tourism in this nation.
What is Laos' Currency?
The official currency is Laos Kip. It is very cheap as compared to US dollars, so you won't have to spend a lot when purchasing stuffs or foods. In the airports or in some international tourist attraction, you may find shops allowing US dollars but that's not common, so it's better off exchange your money to Laos Kip before getting to Laos.
All-year-round Weather And The Best Time For Laos Adventures
As a part of the Indochina peninsula, Laos features a tropical monsoon country. There are two distinct seasons throughout the year: the rainy season and the hot, dry season. The transition period experiences very cool and dry weather. Sometimes it is also considered a season in Laos.
The rainy season lasts from May to November, followed by the dry season from December to April next year. This can also be the best time to travel to Laos because it gives access to ethnic villages into the woods where there are muddy roads. At this time, the temperature fluctuates around 15-30 degrees.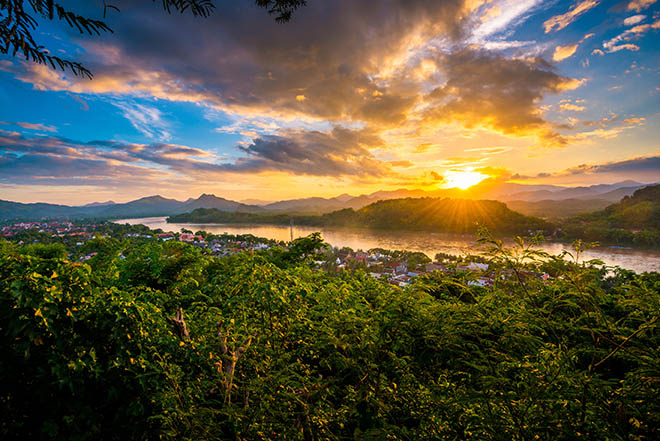 Northern Laos, including the ancient capital of Luang PrabangLuang Prabang(Wiki) Luang Prabang, literally meaning 'Royal Buddha Image', is a city in north central Laos, consisting of 58 adjacent villages, of which 33 comprise the UNESCO Town Of Luang Prabang World Heritage Site.
features a four-season climate similar to that of Northern Vietnam with spring, summer, autumn, and winter. Central and Southern Laos has more severe weather in summer (hotter, drier) and endures far more downpours in the rainy season.
Visa Process And Transportation Within The Country
To promote foreign tourism, it is super convenient to get a visa for Laos. The national authority allows most of other countries' citizens apart from Africa and the Middle East to obtain a a 30-day tourist visa on arrival. Therefore, all you need to do is:
Book a flight ticket
Show up at the customs
Fill in the visa application form
Pay for the necessary fee (about $30 and $42, based on your nationality)
Wait for less than 10 minutes
And receive your visa stamped
If you are a passport holder of ASEAN countries, Japan, South Korea, Switzerland, and Russia, you don't have to pay the visa fee. can get a free visa on arrival valid for 30 days.
Easy as the visa procedure may seem, traveling around top attractions in Laos may be difficult due to the mountainous geography.
Public transports have a super low fare, but the conditions are not good, especially for long journeys. If you wander around the city, you can try tuk-tuk, similar to Thailand. In case you have to move from one city to another, hiring a private van or sharing cab is far more ideal. A boat trip in Mekong river is also a must-do in your bucket list for Laos.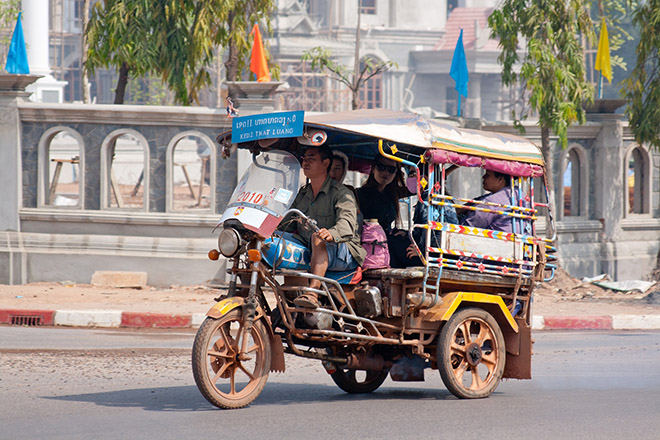 Tuk-tuk
The most popular transportation in Laos is the tuk-tuk. This vehicle is a 4-wheel (or 3-wheel) vehicle with a cabin attached behind. Each tuk-tuk can carry up to 12 people, can easily be rented at travel agencies or bus stations. To save money, you should go to a large group or accompany other travelers. And remember to discuss the price with the driver before you get on.
Bus
Buses in Laos are pretty modern and quite convenient compared to other Southeast Asian nations. From the bus drivers to the bus conductors, they all offer an amiable service attitude. So you can choose the bus as an alternative to the tuk-tuk. The price of each local bus ride starts from 2000 Kip (approximately 0.25 USD) per person. For trans-provincial buses, the ticket can cost 80,000-130,000 Kip (around $9-15).
Bike
In Vientiane, there are many shops for tourists to rent bicycles at a very affordable price. Some roads in Laos often are preserved for cyclists. So sometimes cycling indirectly helps you immerse yourself in the life of the Lao people!
Best Destinations To Visit In Laos
In Vientiane
Located on a curve of the Mekong River, Vientiane, the capital city of Laos, shares a long-spanning history. After becoming the capital of Laos around the middle of the 16th century, the city has been planned to become an essential national monument in Laos.
Patuxai Arch
As an architectural monument to commemorate the unnamed, proud soldiers on Lane Xang Boulevard, Patuxai Arch has similar design ideas with Arc de Triomphe in Paris. However, it is specified with Laos cultural features in details. Patuxai in Laos means Victory Gate or Gate of Triumph. From the top of the Patuxai Arch, you can take in the full view of Vientiane at the moment of light and dark interference by a beautiful sunset.
Pha That Luang
Pha That Luang is considered a world cultural heritage, the sacred symbol of the nation of Theravada Buddhism in Laos. The image of the most significant and most beautiful relics in Laos is also printed on banknotes and national emblems.
Built on the ruins of an ancient Indian temple and the 13th century, Pha That Luang is covered in brilliant gold, notably brighter and more splendid when the sun is up. Every year, in the middle of November, people from all over the country flock here to attend a national-level festival.
Buddha Park
Buddha Park is an extensive garden with over 200 Buddhist statues and Hindu deities sculpted as fantastical works of art. The most prominent garden is the giant 40-meter-long reclining Buddha image. The moss-covered statue is located on a fresh green background, creating an ancient but peaceful space.
Wat Phra Keo
Famous and vital only after That Luang, not only is a sacred and precious temple, Wat Phra Keo works as a museum of artistic works representing the divine beauty of Laos. Here, many sculptures, precious pictures are inlaid with gold, plated with silver, studded with gemstones and many other precious stones. Going in the middle of Phra Keo temple, you will feel like you losing in a peaceful paradise, where there are so many jewels and secluded.
Wat Sisaket
Located on Setthathirath Road, near Lane Xang Boulevard, Wat Sisaket is an unspoiled temple since its construction in 1818 by King Chao Anou. It followed Siamese Buddhist architecture. Throughout the corridor, 2,000 Buddha statues are cast in bronze, ceramics, precious wood, and gilded silver. When counting the total number of Buddha statues in the temple, there are nearly 7,000 statues, large and small.
Xieng Khuang
Xieng Khuang is one of the areas with pristine landscapes, the serene plateau and the freshest climate in Laos.
The Plain of Jars
In Xieng Khuang, the most famous is the Plain of Jars, a cultural and historical area with many exciting hypotheses for both tourists and archaeologists. Thousands of stone jars are scattered throughout the field. Archaeologists believe the jars date back from 1,500 to 2,000 years. The Plain of Jars is also a vestige of the fierce battlefield of the American war of the three Indochina countries.
That Foun
Visiting Xieng Khuang, tourists should not miss the opportunity to visit That Foun tower. Located in Muang Khoun district, which has poetic and charming natural scenery, That Foun is 30m high tower constructed in 1576. It used to be the burial place of the Buddhas brought from India. It contains thrilling myths about the Buddha; it is said that a robber from China has carved a hole in the tower body to claim the golden Buddha image inside. That vestige has created a unique feature of the tower, attracting many visitors and Buddhists to visit and go on pilgrimage.
That Ing Hang Stupa
Located 15 km northeast of Savannakhet, That Ing Hang Stupa is the second pilgrimage site after Wat Phu – Champasak in southern Laos. That Ing Hang was restored and expanded in 1548, at the same time as That Luang. Every year, there is a frantic festival held during the third full moon days of the Lao calendar. 
Heuan Hinh Stone House
Heuan Hinh stone house is one of the most valuable and rare relics of Laos, 65 km south of Savannakhet in the South. It was built entirely of monolithic stones resembling the architecture of a temple. Heuan Hinh stone house was built in 553 BC, according to Cham architecture or pre-Angkor. 
Luang Prabang
Wat Xieng Thong
Built in 1560 by King Setthathirath and under the patronage of the Kingdom of Laos, Wat Xieng Thong is called the most beautiful, most important and oldest of the 65 major temples in Luang Prabang. The temple clearly shows the architectural features of Laos with a sharply curved roof pointing straight to the sky. The interior is a frieze, sophisticated sculpture based on Buddha.
Pak Ou Cave
This cave is famous for hundreds of miniature Buddha statues. Some have the Buddha images doing meditation, or in nirvana. Thereby, you will admire the artworks that have tinted with time but still show the talent and ingenuity of the Lao artisans.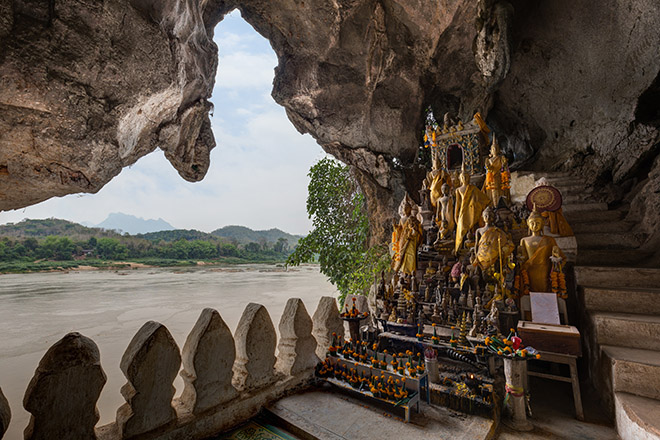 Phousi Mountain
As the highest point in Luang Prabang, Mount Phou Si is an ideal place for tourists to enjoy panoramic views of the idyllic peaceful capital by the Mekong River. To conquer Mount Phou Si, visitors must cross 329 stairs built of red bricks. There is a resting place in the middle of the way to the mountain. So you can complete it.
Kuang Si Waterfall
Kuang Si is a collection of three waterfalls. The highest of all is pouring from around 60m high. Water pressure creates white foam while splashing the fog drafts an impressive scene.
Royal Palace Museum
National Museum of the Lao People's Democratic Republic used to be the Royal Kingdom of Laos in ancient times. Imprinted with sophisticated and modern French architecture, the Royal Palace Museum is a place to keep the statue of Buddha in Luang Prabang, which is considered a national treasure. Beautiful landscape with two rows of beautiful high-pitched palm trees leading the entrance, lovely Royal garden with strange trees, precious flowers, sparkling lake, circling birds, floating butterflies
To the right of the museum is a statue of King Sisavang Vong cast in fanciful bronze, exquisite, majestic and tall. On the left is a temple with a shelf lined with white marble, pure and peaceful.
Social Etiquettes When Traveling With Laotians
Say no to hugging, hand-kissing, or even touching Lao women without permission. Laotians are pretty conservative, especially the older generation. Moreover, touching or patting a Lao head (both men and women a man) is also considered a serious insult, even leading to a fight.
Laotians worship Buddhism very much. When visiting a temple, you absolutely must not behave disorderly. Nor should you wear clothes revealing much of your skin. Remember to cover your legs and shoulders with shawls. To enter the central building of a temple, you may have to take off your shoes. Please pay attention to the prohibition signs here. If people are not allowed to take photos, you must follow.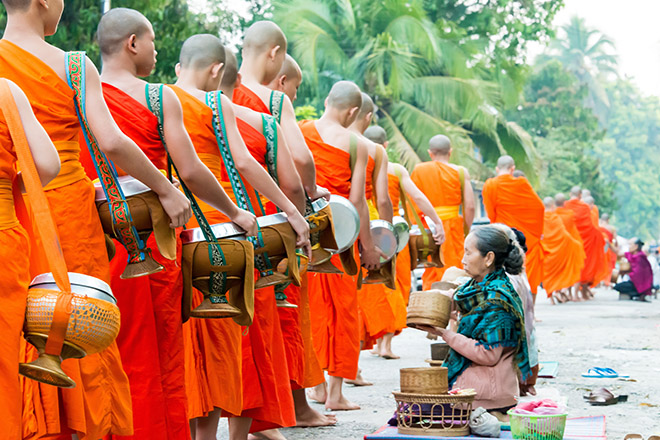 Important Notes For Packing To Laos
Depending on the region of your visit, you should bring suitable clothes. Most of the tourism cities such as Vientiane, Luang Prabang, Vang Vieng, Paks are in the middle and southernmost of the country, so you are not expected to bring super warm jackets. If you travel during the dry season, remember to carry the summer essentials of hats, umbrellas, sunscreens and water bottles. When you enter a temple, make sure your arms and legs are covered.
The nationwide electric output is 230V. Power outlets are two-prong round or flat sockets. Note that if you are having a lot of digital equipment requiring to be charged.
Another thing you should keep in mind is the tap water in Laos, and many other Asian countries are uneditable. However, we wouldn't suggest buying bottled water either as it increases the amount of plastic use. Therefore, you should ask your host if they have purified water and refill your bottle daily.

Ellie

I didn't have many opportunities for travel during my early childhood, so I decide to dedicate my young adult years to exploring the world. "Set off with a pure heart". That's my motto for any adventure in my life. And as sharing is caring, I love writing about my journeys so that the audience can gain an objective view of the destination. That's what I do before travelling, set the right, open mind to welcome both obstacles and blessings. So stay tuned for my new stories.