Finished long-day rain, gentle illuminating of sunshine along with cool rising wind in the superb highland is the time which cues for new winter coming again to the dreamlike city – Da Lat. How extraordinarily stunning Da Lat city is in winter! Simply, that is because Da Lat becomes homeland of colorful flowers in winter. Flowers are flourishing, pine forests are swaying in wind, pure fragrant smelling through Earth and Sky are likely soliciting people's hearts for visiting.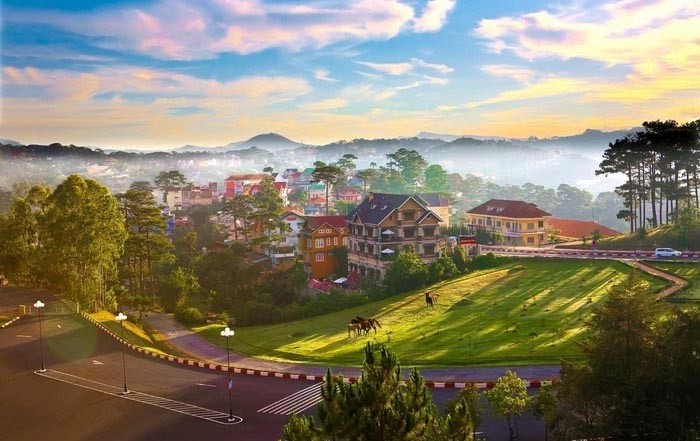 To be named "the worth city for touring in winter", Da Lat is really attractive Vietnam multi centre destination for those people who want to enjoy cold but not nipping weather. In Da Lat, temperature may decrease to less than 20 degree C however; it is most suitable to take stroll around charming roads. Amazingly, just by sightseeing Da Lat in winter, we can feel totally its inherent romantic and melodious beauty. Light wind, little fog, and slight cold as well are enough to retain visitors.
1. Da Lat winter- striking yellow flower, jubilant flower festival
"When Da Lat comes winter, yellow flowers have been blooming" the lovely lyric seems to remind us about highland city would be overshadowed by vivid yellow color of flowers in winter. In the splendid cold-sunshine (the winter sun is not so scorching as summer, in contrast, it changes into cool white color), through other flowers and leaves, plants and trees, wild sunflowers are flaunting everywhere, from roads, hills, to mountain slopes. Hiking on quiet roads colored striking wild sunflower two sides to breathe well fresh air of highland or holding hands in hands to stride along immense pine forest, to admire pine trees are being decorated for Christmas, to listen hissing echo among jungles will let us more beloved the magnificent highland. If you tour in Da Lat in this season, don't forget to hunt spectacular places for taking impressive photographs by wild sunflower. On right the highway no. 20 to Da Lat, we will catch wild sunflowers on roadsides, but more surprisingly, when you are reaching nearer to Da Lat, you will feel innumerable and extensive lively yellow color of this flower covering over hill to hill, endlessly extending both two roadsides.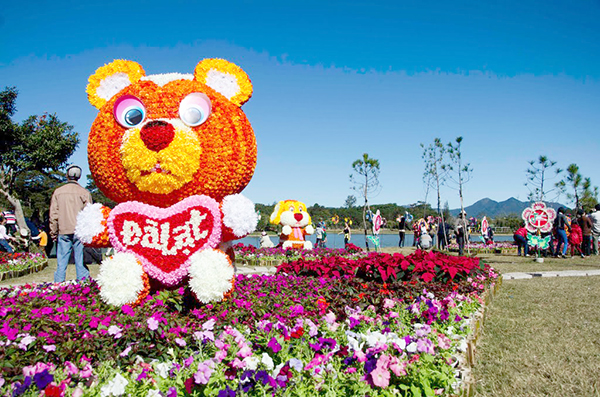 Moreover, you certainly have wonderful experience, amazing feeling while wandering yellow flower way, alternate heavily laden tomato, chilly gardens. From down to up sight, wild sunflower strip looks like a river flowing at hill top, squeezing among pine forests, mixing with paddy fields, vegetable gardens and stretching to roads that brings indescribably overwhelmed feeling. Known as another particular yellow color, the flower called mimosa is not as conspicuous as wild sunflower, it brings to Da Lat winter gentle sketch unusually. Along hill sides, lake sides are snobbish mimosa flower blooming profusely around glorious space. Da Lat has other name called "myriad of flowers city" because all flower species flourish around all seasons of year. However, a special thing of the highland city is when beginning of winter, the weather gets cold permeated into each street, blade of grass, all flowers would strikingly bloom. As traveling to Da Lat on the last days of winter, tourists will have great chance to participate in Da Lat flower festival which exhibits multitude of beautiful flowers, bonsai trees as well as local people's vegetables. Especially, also in last days of winter, tourists traveling in Da Lat would admire very beautiful blooming peach flower on roads. Combination of Northern and Southern peach blossom embellished sparkling and soothing beauty for Da Lat picturesque city.
2. Wandering on Da Lat winter days
It is not exaggerated to suppose Da Lat is the most beautiful in winter. In the early morning, the whole nice land wallows in fog which can be compared to "the foggy city- London". In freezing air of dawn, nothing is greater than to jog around Xuan Huong Lake and breathe fresh air of dawn, watch dreaming sun in early winter. Da Lat is truly an ideal place for winter days because of this reason.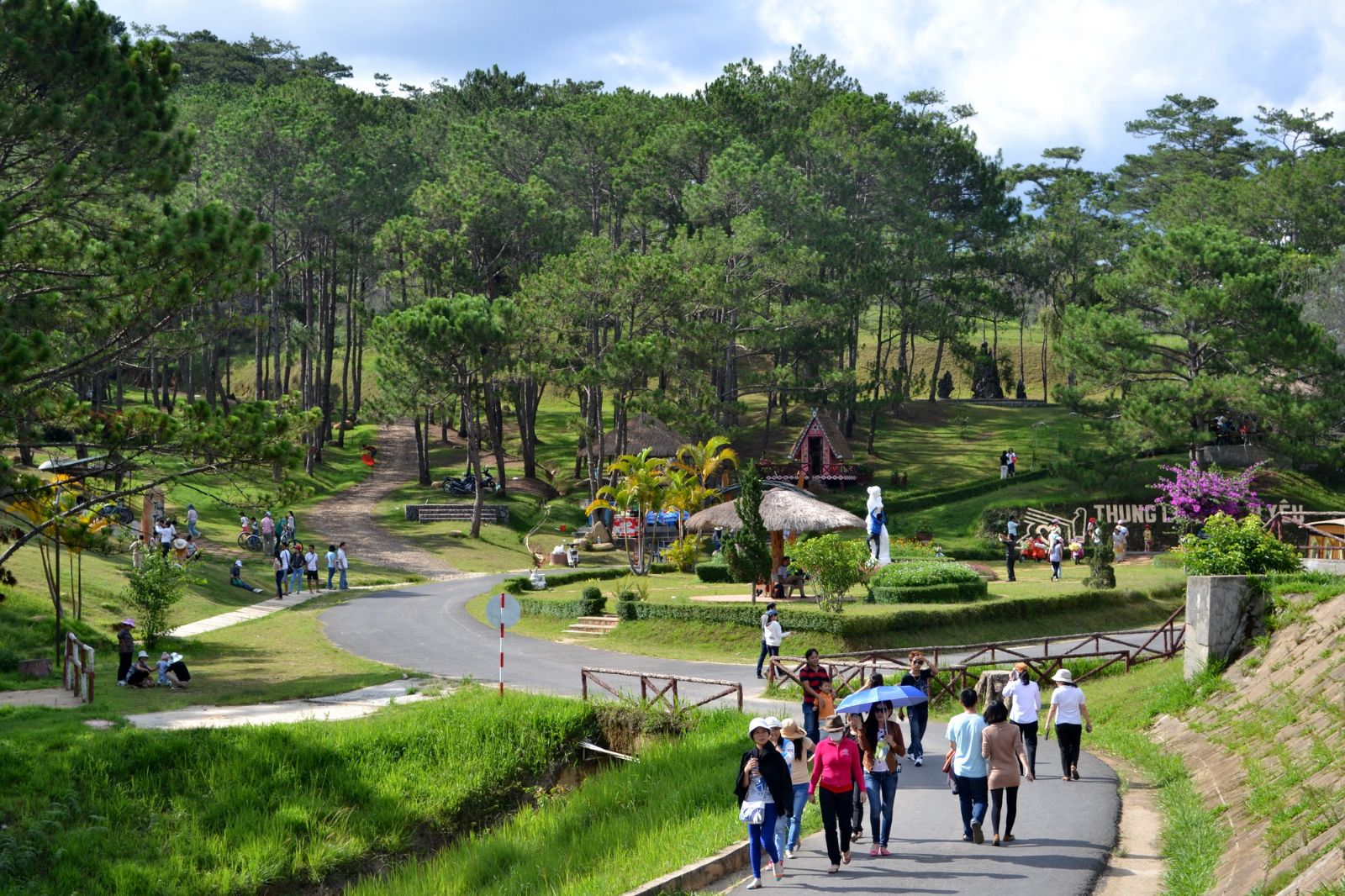 During wonderful winter weather days, the discovery and conquest of famous sights in dreamlike city will be indispensable choice. Interestingly, you can spend all day long wandering on poetic roads of Da Lat, looking in attractions such as love valley, Than Tho Lake, Mong Mo hill, Prenn waterfall, or conquering imposing Langbiang mountain top. If you are a person who likes to understand Da Lat history, you should find way to clay cellar for exploring truthful Da Lat's beauty in the past, to Da Lat educational college for visiting French unique architecture. When night falls down, Da Lat puts on itself charming coat with passionate attraction. Winter nights in highland city covered by lightly spreading mist, chilly wind promises to give fantastic feeling to travelers. In the evening, Da Lat is still noisy and busy as well with a lot of entertainment or cuisine activities at night market. To take a troll around Da Lat night market, you are surely surprised at all!
3. Sipping a cup of coffee or enjoying Da Lat favorite cuisine
Coming to Da Lat on cold days of winter, you are advised to halt in a small roadside coffee shop for sipping a cup of coffee; you would experience its ardent flavor mixing sweetly with scenery as well as romantic atmosphere around you. In case of being keen on both sightseeing Ho Xuan Huong beautiful lake, breathing cool air and sipping coffee at the same time, you are recommended to drop in Thanh Thuy shop, Thuy Ta coffee shop- two most famous of ideal viewing sites. For those people who are connoisseur of enjoying coffee while listening to music, Tung café in Hoa Binh area is true perfect choice. Café here serves only kind of music: classical music concert; about coffee quality, it is appreciated to be better than anywhere else in Da Lat. In addition, Da Lat also has different kinds of café for choosing, each of them bears separated and characterized style but closely connect to Da Lat lifestyle.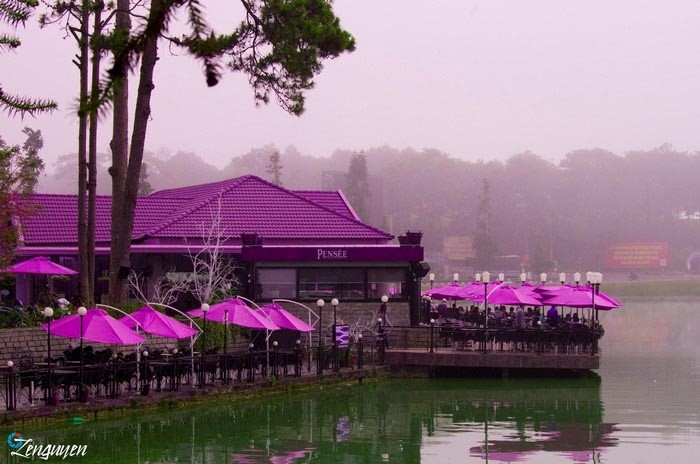 Under coldness of winter, hot dishes are always priority. Ideally, you could easily find delicious food in Da Lat from early morning till very late at night. Xuan An rice spaghetti (cooked with shrimp, crab or meat), Quang noddles in Chung house, Hue beef noodles in Anh Sang hamlet…are familiar eating places for foodies in Da Lat. But, Da Lat cuisine is more interesting and various at night. How great it is if you have chance to visit quiet romantic streets at late night, accidentally catch food stores selling many tasty dishes of Da Lat on two roadsides? The highland city has Am Phu market selling a variety of food from fried corn, boiled snail, grilled squid to noodles, rice gruel, hu tieu (noodle with seasoned and sauté beef) to select. Beside romantic landscapes, Da Lat is well-known for specific specialties; small spicy bread and hot soya milk are highlight examples.
Da Lat is beautiful all year round, probably, winter is the most admirable season, filled with full of romantic feeling. Little winter breeze makes our soul stirred, little cold sun makes us love life, colorful flower make us enjoy life, and winter nights give warm to us. Why do not you readily come to Da Lat in winter days for discovering striking yellow flower fields, conquering superb mountain named Langbiang, tasting highland coffee and mouth-watering dishes of Vietnam Multi Centre area?