More than 40% of international tourists have come back to Vietnam according to 2017 statistics. If you are planning another journey to this precious gem of Southeast Asia, don't ever miss the following experiences. They will lead to to the secret destinations which are usually kept off the radar of massive tourism, giving you an entirely new look into Vietnam.

#1. Dive In A Stunning Beach Holiday In Nha Trang
Thanks to its beautiful clear water and colourful sea creatures, Nha Trang is the central spot for scuba diving in Vietnam. The best place to dive is at the fantastic Ninh Van Bay, which is only 60 km from the center of Nha Trang. You will have a chance to see colorful tropical fish, moray eels, and pufferfish as well as thriving coral reefs. If you're a beach lover, you can check out some of the most beautiful beaches in Vietnam besides Nha Trang. You won't be disappointed.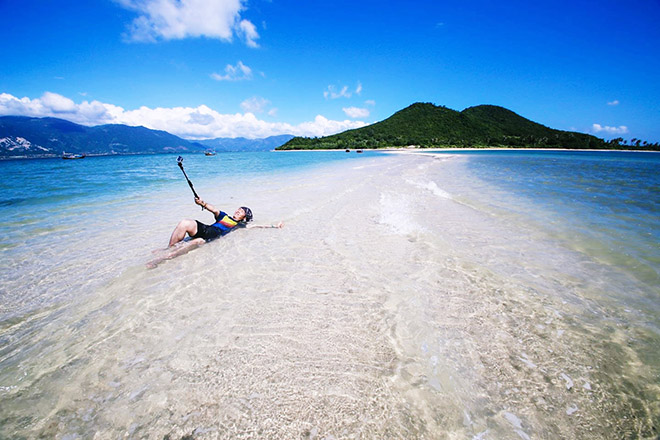 Nha Trang
Also, Hon Mun island of Nha Trang is the most abundant marine ecosystems that have developed into diving tourism. It has many dive sites, concentrating almost all kinds of corals in the world. Coral Bay tourist area with many corals and fish living belongs to Hon Mot island, adjust to the Hon Mun marine protected area. It is famous for glass-bottom boat and scuba diving services. When diving into the seabed, touching the fish and many species of marine life, visitors will have an exciting experience like entering the fairy world.
#2. Relish An Exclusive Vacation In Phu Quoc Island
Gorgeous beaches embracing majestic white dunes make Phu Quoc one of the best beach destination in Asia according to CNN Travel. Situated on the southernmost of Vietnam's ocean, Phu Quoc island has a monsoonal sub-equatorial climate characterized by a distinct rainy season with scorching heat from April to November and a dry season from December to March next year.
Most of the island is covered in lush greenery which has been kept off the hand of industrialization. High-end hotels and resorts located near the coastline, providing an exclusive experience for the guests. The crystal clear seawater is perfect for underwater activities such as scuba diving or snorkeling.
Phu Quoc. Photo: Quang Nguyen vinh/Pixabay 
It seems that thanks to the clear sea, the coral reefs of Phu Quoc (Kien Giang) are incredibly colorful. Coral density here is quite thick. So, just facing down the water, you can easily see them. Coral layers pile up on each other, offering you a feeling of walking in a magnificent city with artistic architecture.
The diversity of corals has created an ideal habitat for reef fish. The more colorful the coral is, the more vivid the fish are. 
#3. Experience The Diversity On Floating Villages Of The Mekong Delta
The Mekong Delta is a vast maze of rivers, swamps and islands, home to colorful floating markets, old Khmer pagodas, mangroves, orchards, and local villages surrounded by lush rice paddies. Hop on a boat which often starts from Ho Chi Minh City or Can Tho to experience this fertile land in a few days.
Not only the large paddy fields, vast melaleuca forests or the productive rivers carrying heavy silt, but tourists on a cruise to the floating markets on the West also have a chance to look closely into the life of the locals. The experience of those who rarely leave their boats.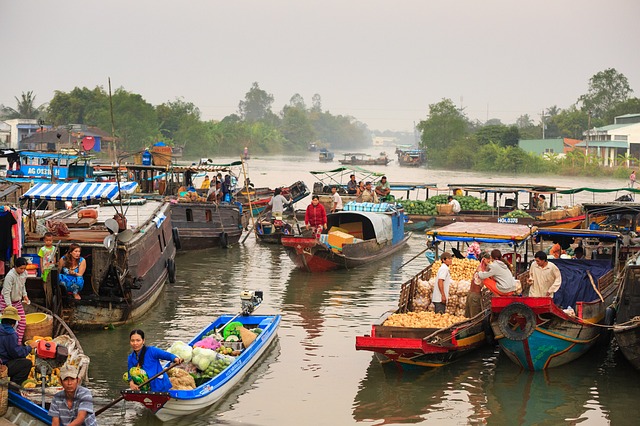 Floating market in Mekong Delta
Floating markets on the West of Vietnam is set on the downstream of the significant Mekong River. The flooding season from September to November when the river water level rises slowly is the best time for a Mekong cruise. 
The most famous floating markets in Vietnam are Cai Rang and Cai Be, but you have to wake up early because the markets will finish at around 9 am. Embark on a traditional wooden boat and get through colorful boats tightly-packed with everything from fresh fruits, aromatic spices to housewares. Every boat has a long bamboo stick which hangs items that it is sold.
#4. Explore The Most Significant Cave Complex Of Phong Nha
Declared a UNESCO World Heritage Site in 2003, the remarkable Phong Nha-Ke Bang National Park contains the oldest karst mountains in Asia. The cave has an incredible length of 7,729 meters long, with around 14 caves. It features a 13,969-meter underground river, so Phong Nha promises to lighten you up with the spectacle of nature. On the ground, the UNESCO site prides itself with more than 800 sq km of primary tropical forest with more than 100 types of mammal, 81 types of reptile and amphibian, and more than 300 varieties of bird.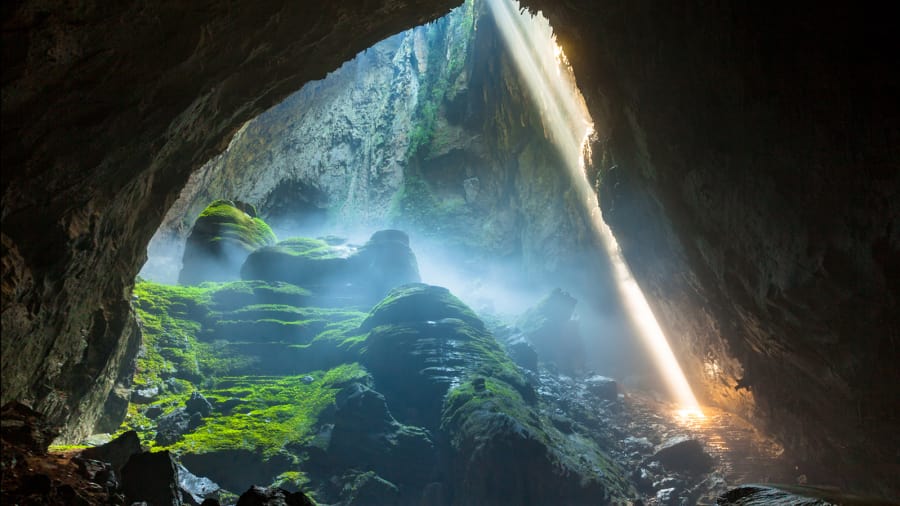 Phong Nha caves
Unlike other destinations in this list, Phong Nha looks quite strange when it comes to Vietnam tourism. Still, the remarkable nature of Phong Nha is gaining popularity and achieving the public attention it deserves. Phong Nha Cave is the most critical site in Phong Nha-Ke Bang National Park. Scientists found evidence that this is the most ancient karst mountains formed in Asia. Phong Nha Cave may be 400 million years old now. Since mass tourism hasn't touched on Phong Nha, most of the internal kayaking routes are dark, which makes you feel like joining a real treasure hunt with a torchlight band on your head.
As the cave is deep and most of the further parts aren't discovered yet, a kayaking tour will lead to the deepest point at about 4 kilometres inside the cave. However, it's more than enough to make you startle in your Vietnam package tour.
#5. Stay With Local Ethnic Groups In Pu Luong 
Pu Luong is a completely untouched attraction. The main area is a National Park with evergreen rainforests with villages of ethnic minorities and their farming areas nestled in between. Therefore, set your foot in Pu Luong, you will feel like escaping from your busy daily routines.
Another reason for visiting Pu Luong during your second trip to Vietnam is the convenient location from the travel hub of Hanoi. It takes only 5 hours to drive from Hanoi to Pu Luong, so this site is super ideal for a short break in the weekend.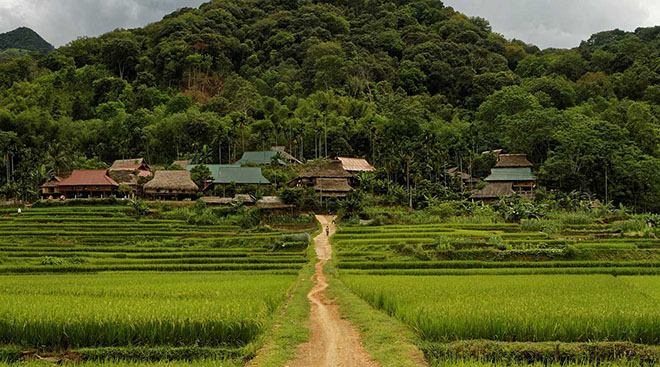 Pu Luong
Pu Luong is also a perfect stop if you wish to experience the life of hill tribes deep in the woods. Residents in Pu Luong are all ethnic people from Thai, Muong, Dao groups. Their way of living is exotic and will certainly arouse your curiosity.
Muong people host Kho Muong village. It is quite excluded from the rest of Pu Luong, but the locals are simple, modest, warm-hearted and very friendly. You can also pay a visit to Kho Muong limestone cave with stalactites dated back to 250 million years ago.
Coming to Don village, you will enter the area of Thai people. Thai cuisine is worth to try with a wide selection of exotic ingredients such as chayote leaves. 
#6. Head To Ha Giang – The Northernmost Of Vietnam
Locating on the northernmost area of Vietnam, Ha Giang has often kept off the radar of massive tourism due to the long-distance and rugged road. However, if you love discovering the hidden secrets of the S-shaped land, it is certainly a must-visit.
This destination withdraws the heart of international wanderlusts by a vast area of meadows covered with dazzling flowers. The colorful fields stretch from hills to hills, mountains to mountains. It seems like endless paradise for natural shades. The bright yellow of mustard flowers, the rich purple of buckwheat fields, and the milky white of the plum blossom.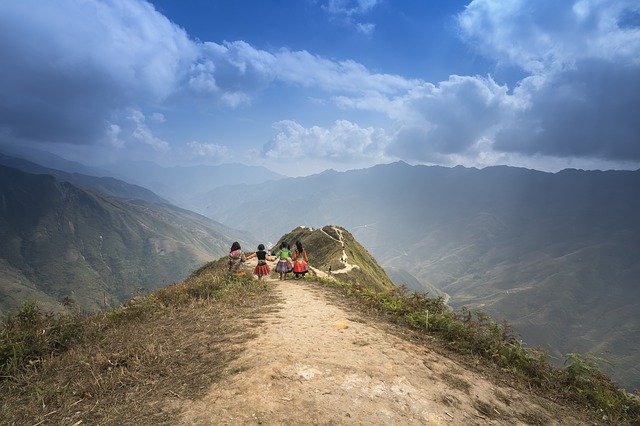 Ha Giang
The first wonder in Ha Giang is the Dong Van Karst Plateau Geopark. Covering an area of 2356,8 km2, Dong Van is one of the most ancient topography on Earth. This site has been listed as UNESCO Global Geoparks Network and Asia Pacific Geoparks Network since 2010. 
The immense rice terrace in Hoang Su Phi is another must check-in destination when coming to Ha Giang. Hoang, The most striking feature of Hoang Su Phi, is the vast space opening up ahead the identical mountains. The scenery becomes more mystic at dawn when the fog shrouds the entire area, hiding the rich color of the ancient tea fields, the terraced fields on the slopes.
#7. Go Parachuting To Admire The Most Stunning Rice Terrace In Mu Cang Chai
Mu Cang Chai is an ethnic village on the north of Vietnam, around 280 km from Hanoi. It is in full bloom during the fall.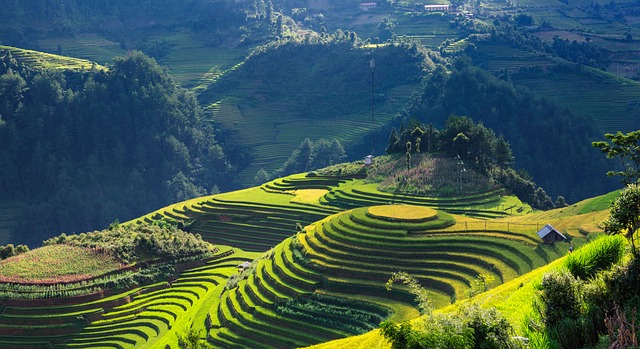 Stunning Rice Terrace in Mu Cang Chai
Between mid-September to mid-October, Mu Cang Chai dresses in a dazzling yellow coat. Thousands of miles are ripening rice terraces that know no bound. If you come on time, you can catch the harvesting festival. Native people carry out a wide range of activities to celebrate an abundant crop. You may see the local hill tribes playing traditional games, playing folk music. But, the most incredible thing to do is to parachute from the sky and admiring the richness made by the hands of diligent people.