Despite newly launched in the middle of 2018, the Golden Bridge in Danang has got attention and captured the hearts of worldwide travelers.
You may bump into the picture of a bridge painted with a rustic shade of yellow, raised by an enormous pair of hands on the social network. But are you aware of the hidden meaning behind this figure? Or do you want to know how to catch the best time to take a splendid photo with the breathtaking Golden Bridge?
In this article you will find the answer. Let's book a trip to Vietnam to admire the Golden Bridge with your own eyes!
What You Should Know About Bana Hill And Golden Bridge in Danang
Bana Hill is one of the earliest recreational centers to be built and successfully operated in Vietnam. What's so special about Bana is the location at the height of 1,487 m from the sea level. This enables visitors to experience temperate weather in a hot tropical area. It is said to give you the feal of the usual rotation of four seasons in one single day.
Moreover, the resort is within easy reach from the city downtown. It takes only half an hour traveling by car from the heart of Danang to Sun World Ba Na Hills. Plus, there are various recreational activities, festivals, and relaxation services within the complex.
Route from center of Da Nang to Bana Hill
The Golden Bridge is a new add-on to Bana Hill complex since the middle of 2018. However, the unique construction style set in a breathtaking nature has made this bridge so popular. No one could visit Danang without checking in Golden Bridge. It connects the mountain foot on the poetic French village to a stunning flower garden on a hill.
The total length is approximately 150 m. The most outstanding feature of this site is the mossy, stone hands lifting two ends of the bridge. It makes you feel like the skillful hands of Mother Nature is holding a soft and delicate piece of silk atop a mountain enclosed by magical clouds and crystal skies.
The Elegant Design Concept In Detail
The legendary Golden Bridge is a successful artwork of TA Landscape Architecture company. Despite being a domestic corporation, TA Landscape Architecture has taken advantage of the local expertise to craft a unique and sleek design of the Golden Bridge.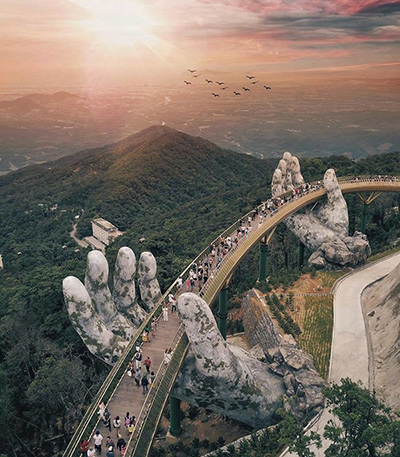 In contrast to the "golden" of the handrails and the floor beams. The two big hands have a mossy gray color, similar to stone carvings but in fact, it's not. The skeleton is actually from steel mesh, finished with a fine layer of well-made fiberglass. Each finger has a 2 m diameter.
The designing team states that the two enormous hands symbolize the mysterious hands of the Mountain Genie. It looks like "drawing a strip of silk from the rocky hillside to help the travelers come to the paradise garden". Whether it is a coincidence or a good deed on purpose, the Golden Bridge does connect the idyllic French village with a gorgeous flower garden named "Thien Thai", which is equal to "heaven" in English.
On two side of the bridge, they grow many rows of Lobelia Chrysanthemum flower. The deep purple shade of the blossoms brings a romantic but somewhat nostalgic vibe to the alluring scenery.
Best Season To Travel To The Golden Bridge
As Danang has a quite moderate climate, it is great for traveling all year round. Still, as there is a myriad of stunning beaches in the city, summer vacation is the best choice to discover Danang and the Golden Bridge.
During summertime, the bridge is even more highlighted under the dazzling sunlight, making a royal polish look. Other outdoor activities in Ba Na Hill resort also becomes more diverse.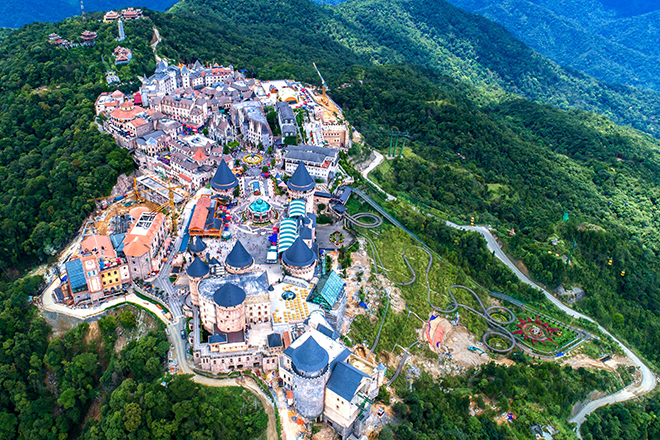 However, if you cannot visit Danang in the hot months, it's still pleasant during winter as the temperature will not drop too low. There can be some slight rain, but if you love the mystic atmosphere covered with mist, there will be no problem. 
How to get to the Golden Bridge in Danang
Ba Na Hill Resort opens every days, so it's a piece of cake to arrange a trip to The Golden Bridge. However, to reach the site, you need to get on the cable car, which was once the world's longest and highest. The cable car ride is approximately 20 minutes. During that time, you can have a panoramic view of Danang city.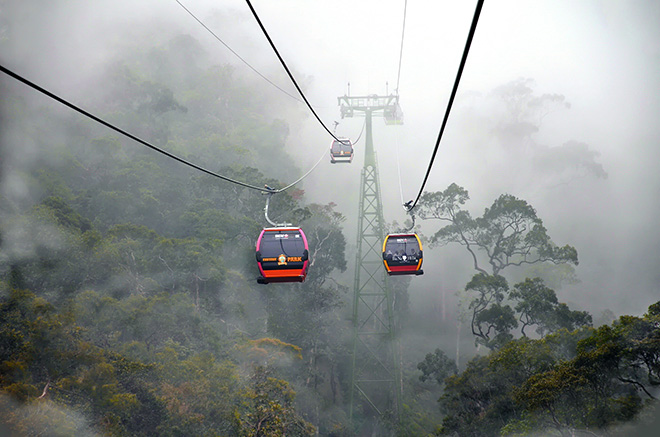 Cable car to Ba Na Stations
When you reach Ba Na Hill, just follow the maps which are placed so many at the site to get to The Golden Bridge.
Ticket fare of Ba Na Hills for visitors
• VND750,000/adult
• VND600,000/child (1m – 1.4m in height)
• Children below 1m in height are exempt from ticket fare.
Top Ba Na Hill Atractions To Check In Beside The Golden Bridge

Ba Na Hill map
Don't worry that you would have to travel a lot because all the destinations are linked together.
Le Jardin D'Amour Flower Garden
At the end of Golden Bridge, you will reach Le Jardin D'Amour Flower Garden. It is comprised of nine distinctively decorated gardens. Each has its own bizarre architectural styles. If you are a big fan of flower, prepare for an awe-inspiring experience in the huge area of the gorgeous Arapang and the elegant Daylily. 
Debay Wine Cellar
Your next stop will be a 100-year-old Wine Cellar built by the French in 1923. The wine cave is 100 meters long with a temperature of 16 to 20 degrees Celsius on average to store the highest quality wine in the best condition. 
Buddhism Architecture
As a sacred land of the Vietnamese, there is an abundance of religious traits on Ba Na Hill. One of them is Linh Ung Pagoda located at an altitude of around 1500 m above the sea level. Here you will notice a giant Buddha statue of about 27 m high in a meditating position on a lotus. Linh Phong Bao Thap is a Buddhist tower having nine floors, from which you can gain a panoramic view of Ba Na complex and the religious area.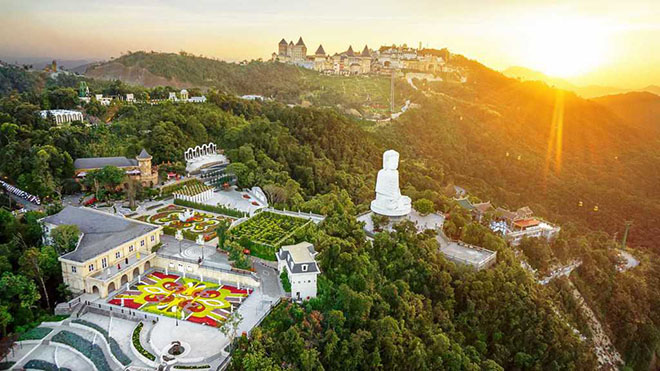 Photo by @mercurebanahills
Fantasy Park
For kids and adventurous souls alike, Fantasy Park is more than fantastic. The park covers an area of more than 20,000 m2, including a great variety of entertaining and adrenaline boosting games. Such as ghost house, free fall, king crash,… There are also plenty of gaming machines for smaller kids and the ticket price is super affordable.
Wax Museum
Another place that withdraws the youngsters' interest is the Wax Museum. You can find a myriad of wax figures depicting top stars in multiple fields like sports, music, cinema… Many people love taking photos with such sculptures because they are so real.
The French Village
Finally, don't forget to have a leisurely walk in the French Village, a majestic place with enchanting palaces and Gothic styled adjacent fences. If you have time, stop by a restaurant or a coffee shop to taste the French authenticity. That's when you know your excursion at Ba Na Hill has been completed.
Suggested Schedule Options When It Comes To Bana Hill And The Golden Bridge
More than just a recreational center, Bana Hill Complex is home to a top star hotel brand which is Mercure Danang French Village, a luxurious accommodation modeling after authentic villages of France during the 19th century. This gives you two options to fully discover Bana Hill: a day tour and an overnight trip.
We will look at the details of each choice and meticulously discuss about both options.
Explore Bana Hill Within One Day
Your trip fbegins with a car transfer to the cable car station operating from 7 AM to 10 PM everyday. So, the earlier you go, the more you can visit. The most ideal schedule is you wander around Bana Hill, joining in most of the games you would like to play in the morning. Then having a buffet lunch with a tranquil cup of coffee in the French village before traveling back to Danang downtown in the afternoon.
The biggest merit is you can take advantage of the sparse tourist population in the morning, avoiding all the waiting or lining up. Your photos are also far more perfect as there is no much human disturbance. In addition, you can spend the rest of your day discovering other tourist attraction in Danang, tasting many other local dishes which are not featured in the French village of Bana Hill.
The downside of this option is it may be a little to rush for you if you desire to try everything within the playing complex. Especially when you are traveling with kids.
Get The Real Vibe Of Ba Na In An Overnight Trip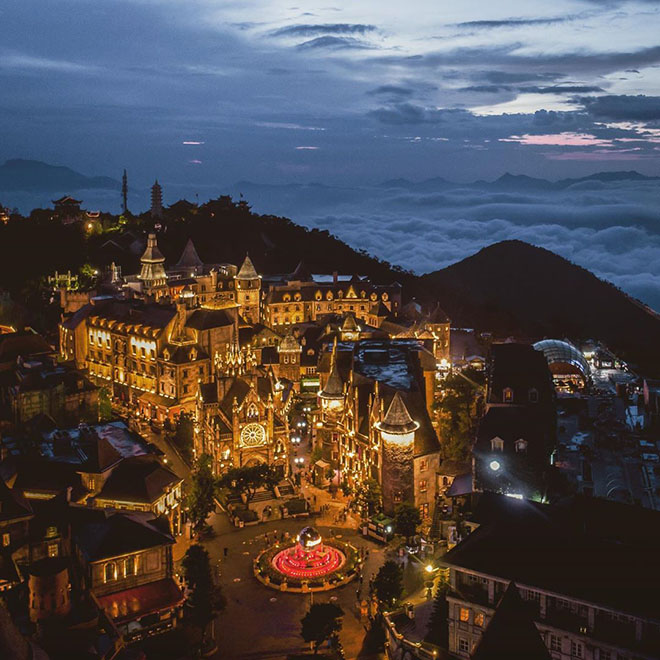 Bana Hill by night. Photo by @songwit_photographer
If you love the serenity, you should properly spend a night in the Mercure French Village. When the sun begins to set, most of the tourist will travel back the city center. Leaving the whole dynamic area a deserted place with only a few guests left and the employees of the Mercure Resort. The French village puts on its genuine clothes, which is quiet and calm.
This is exactly what you need when you are struggling with all the hustle and bustle in daily routines. A chilling night out in a picturesque and ancient place will breathe a new life to your soul, refreshing your mind and releasing all your tension.
Still, if you are very energetic, you want to emerge in vivid nightlife, it can be boring to stay overnight in the Mercure French Village. There are not many things to do besides wandering around abandoned stone streets. 

Experience with us: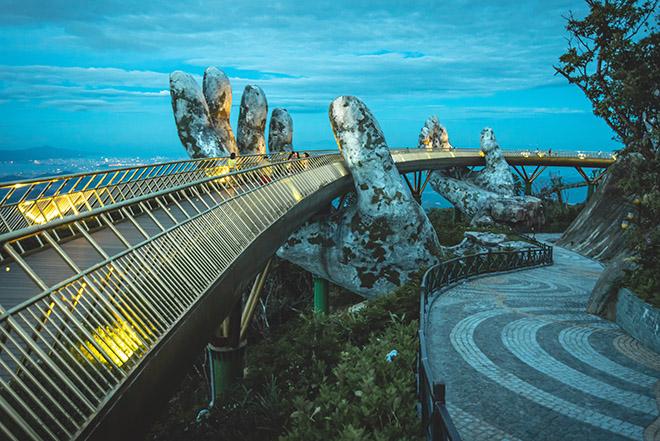 4-day be real local people in center Vietnam 
This 4-day tour will offer you to the most famous highlights in the Central Vietnam. You enjoy the beautiful My Khe beach in Danang city, which is one of the most famous one in the world and spend time enjoying the atmosphere of Hoi An ancient town. Especially, it offers you a day to Bana hills, where you take a long journy on cable car. Definitely, walking along Golden Bridge around this Bana area will be a wonderful experience that you never forget after the trip.
Peaceful Center in Vietnam 4 days 3 nights
Devote yourself to the highlight of the tour — the half-day experience at traditional handicraft village in Hoi an. Enjoy breathtaking mountainous scenery and historical sites in the way from Hoi An to Hue, taste the exquisite life style by wondering in beautiful town, along Dong Ba rivers. Finish this comprehensive Vietnam journey by immersing yourself into the glory history and stories of imperial family in a historic citadel.