From 13 to 15 November 2015, Ha Giang Buckwheat Flower Festival will take place in Dong Van Karst Plateau, Ha Giang Province.
The festival has held for the first time to honor the unique cultural values of Dong Van Karst Plateau, contribute to attracting visitors and developing the buckwheat flower into tourism brand of the karst plateau and also Ha Giang Province.
The opening ceremony themed "The karst plateau – thousand blooming flowers" will be held in the evening of 13 November in Dong Van Town (Dong Van District) with many excellent art performances reappearing the legend of the buckwheat flower.
Besides, many attractive cultural activities will also be organized in the frame work of the festival, such as the night of buckwheat wine with the theme "Karst plateau's love"; display of the buckwheat flower and flower products; photo exhibition on the buckwheat flower themed "Wild land of the buckwheat flower"…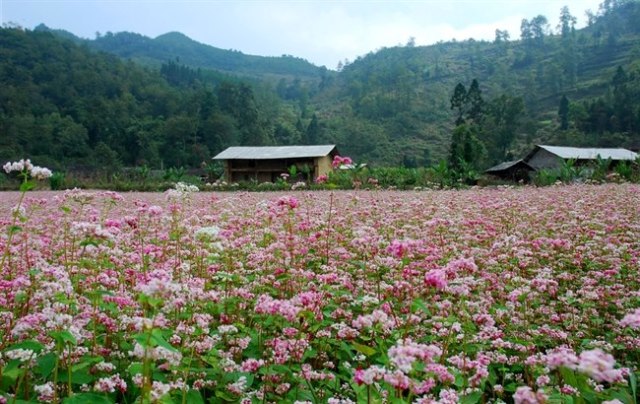 To Ha Giang Buckwheat Flower Festival 2015, visitors will have the opportunity to visit Dong Van Karst Plateau Global Geopark and also admire fields of the buckwheat flower stretching endlessly. From Quan Ba, Yen Minh, Dong Van, through Ma Pi Leng Pass to Meo Vac, the blooming buckwheat flower alternating the imposing mountains and weaving a carpet in the fields or appearing intermittently after the ancient house will leave unforgettable moments for visitors.
According to the legend, in the past, the people in the Northern mountainous region lived mainly on rice and corn. One year, they were out of rice and corn, but harvest season did not still came. They went everywhere but didn't find anything to eat. One day, suddenly, they smelt a strange fragrance in the wind, they followed the ravine then saw a forest of tiny flowers. They brought its grain to eat instead of rice, corn. That flower is buckwheat flower.

The buckwheat flower grows in clusters and usually blooms for about 1 month (late October, early November). When newly blooming, the flower is tiny white, after pinkish and finally dark red. Local people often take flour of the buckwheat fruit to make cake or mix its grain with corn to brew wine. The buckwheat leaf is used as green vegetable and trunk for cattle feed.
Recommended tours: Ha Giang 5 Days
Thu Giang