North Vietnam is one of the interesting highlight for travel adventure in our country. One day, when your legs are tired, when you recognize that a long time you lose something, lose  your feeling , a adventure to North Vietnam is your great choice. You will be deep inside in Ha giang's grandiose mountains or surf in Lao cai's fog. All these things keep your life more  wonderful and more meaningful.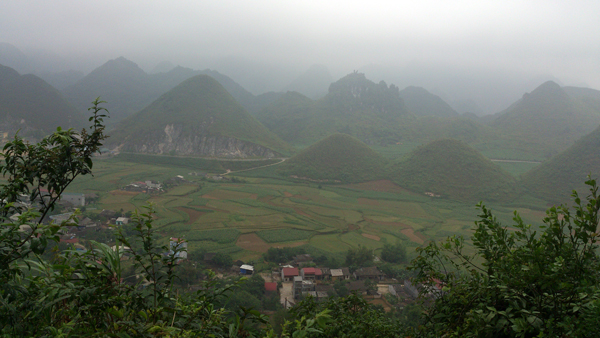 The first place where our feet stopped in Ha giang was Lung Cu flagpole – the extreme North and National pride, about 24km from the center of Dong Van district, was a meaningful tourist destination for visitors. We saw young Vietnamese people came here, put hand near their heart and sang national anthem. Here is National pride which we have  protected a thousand years in country's historical. Moreover, standing in Happiness road where a lot of workers  worked very hard for 11 years to build this road, contemplating mountain range and feeling  Ma Pi Leng's pass majestic beauty and shy of the Nho Que river were the wonderful time in our journey.
A deep feeling and deposition in the morning when we walked along Pho Bang street– which was built a long time ago and features multi-storey houses made of clay bricks and tile roofs. Visiting Dong Van on Sundays, we went shopping in a very original mountain market where all kinds of goods and multicoloured clothes were purchased; so tried  traditional local foods such as corn wine, Thang Co hot pot, Men Men dish beside a big fire with Tay, H'mong ethnic in  Meo Vac. Let's enjoy a simple and warm feeling inside the local people and nature here.
Say goodbye to majestic scenery and highest mountain range in Ha Giang, our journey continuous to the beautiful land like the poem and romantic in Lao Cai. Especially, when we came to Bac Ha market where we saw not only the ethnic people sold and bough their hand made: bag, colorful dress, jewelry but also we tried many delicious local foods such as: Corn cake, Sour noodle, Sui Din dish…
It was amazing to be deep inside a special foggy atmosphere that  embrace our face, our hands in the love market in Saturday night in Sapa. Young people who want to get married come here to find their lover. They play instrument, sing, dance all night.
So this North Vietnam adventure was offer us fond memories of experiencing daily life of ethnic minority, viewing the natural beauty and keeping our peaceful mind.  Enjoying a thrilling feeling in Ha Giang and peaceful feeling in Lao cai was our indefectible during adventure.