Isn't it lovely when someone steps into your life and becomes an important part, giving you love, faith and care? Another season of love is coming, this is an opportunity to say thanks to that special person. Do you have any ideas for that day?
If you think of something romantic, relaxing and adventurous at the same time, then we will suggest you a perfect choice: a cruise trip in Halong Bay.
Why is Halong Bay perfect for couples?
Halong is no stranger to tourists when it comes to Vietnam. It's a little corner of the Pacific Ocean where emerald water touches the blue sky, dotted with more than a thousand grottoes and islets. The further from the shore, the more beautiful scenery is. You'll see the jellyfish fluttering and the crystal-clear water shimmering as the fish pass through.
When you close your eyes on the deck, there is absolutely no noise from traffic, construction sites, markets in the city, only the sound of ocean. On your journey, sometimes we'll pass by some fishing villages floating on the water, meet rustic people who spend most of their life in wooden houses over the waves.
It's no doubt Halong Bay has marvelous view, but to make your Valentine's day here truly special, a night on the luxurious cruise is something not to be missed. Escape from the stressed world outside together, spend one or two nights floating , and you'll totally fall in love once again.
The service in Halong Bay is professional to make sure all your need is met. Private cabin with stunning sea view, scattered rose petals on your bed, romantic dinners with two glasses of wine for you and your love one etc. Here in Halong Bay you'll find the romance that you've been looking for.
Ideas for your romantic trip
Let's make your cruise in Halong a super romantic date, do you have any special ideas for it? If you're still wondering, TSA has some suggestions for you:
1. Watch sunrise and sunset on the deck
When a new day begins and light sunshine makes the water sparkle, or when the sun gradually comes down and the whole bay turns orange. The sun here is way different from the one you can see above the top of city buildings. What better way than to share those magical moments with someone you love … 
2. Dine on the cruise
Of course, your Valentine's Day can not be perfect without a romantic dinner in the candlelight and salty breeze. Some cruises serve meals individually, some serve for a group (of 6 or 10), some serve as buffet, so to ensure a private meal with special preparation, you should ask the staff in advance so that they'll carefully arrange for you.
3. Kayaking challenge
Get ready for an active day as you'll sweat a bit during exciting activities when the ship takes you to the islands, including kayaking.
A kayak has space for 2 people, so you two need a perfect teamwork. Those who have never tries this before are usually clumsy at first and the kayak keeps on spinning round and round. This challenge will be full of laughter and extremely worth it because the sight of Halong Bay discovered by yourselves from the small kayak is out of expectation.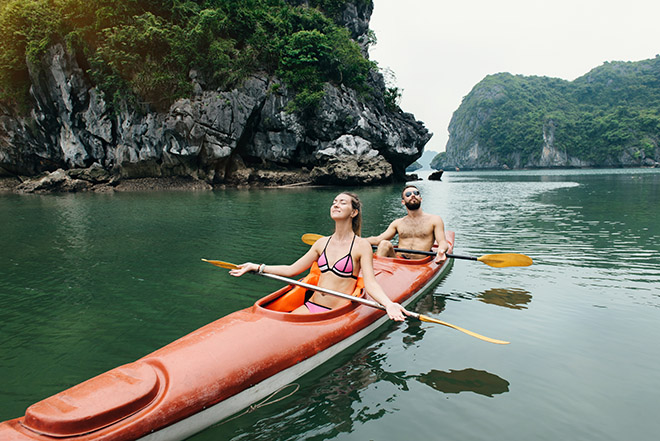 4. A little adventure in the caves
Halong has many limestone karsts and islands, some of them have magnificent secret caves and lakes separated from the sea. After the relaxing hours, it's time to explore something new together, escape from the real world. The caves hide tons of mysterious things, there are caves that you need to climb on foot, there are caves that can be explored by kayak.
5. Something that may ruin your romantic trip
If you plan to book a cruise trip after arriving at Halong, the cruises may be fully-booked or overpriced, it's better to book a cruise trip in advance, TSA will provide you a wide selection of quality ships with great service and reasonable price.
Some ships are booked with unexpectedly low-price, but you'll have to pay very high extra charge for meals, drinks and kayaking etc., TSA's products are always posted clearly in public with detailed inclusion and exclusion so you can consider which ship suits your needs.
In Halong Bay, there are some outstanding tourist spots that are more attractive to tourists than others, such as Surprise Cave, Titov Island… They may be over-crowded during peak season. So check-out the itinerary before you book, there are some different itinerary to select with TSA. 
Visit top Halong Bay cruises recommended by TSA. There are choices of wooden junk boats, modern ships, 3-star/4-star luxury ships, 3 days 2 nights or 2 days 1 night trip,… choose the ship that suits you and your love best.  We hope that the happy moments you have with your special one will be memories to look back on during your lifetime.

---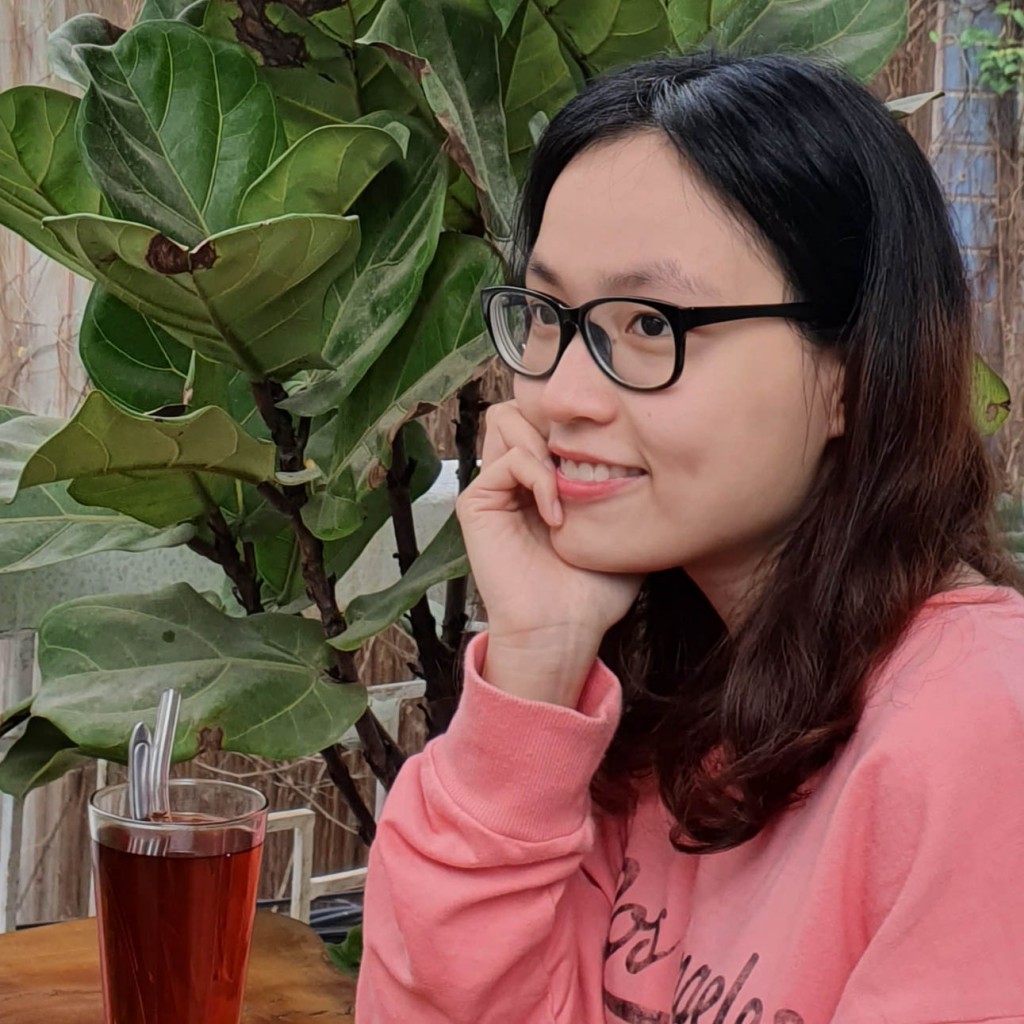 Mia

I was born in the middle of a city where crazy traffic and noise were my childhood's fear. But life is too short to just stay safe in my little home, traveling can not be a dream forever, and so, I stepped outside that door and hit the road...
Discover Ha Long Bay with our tour packages: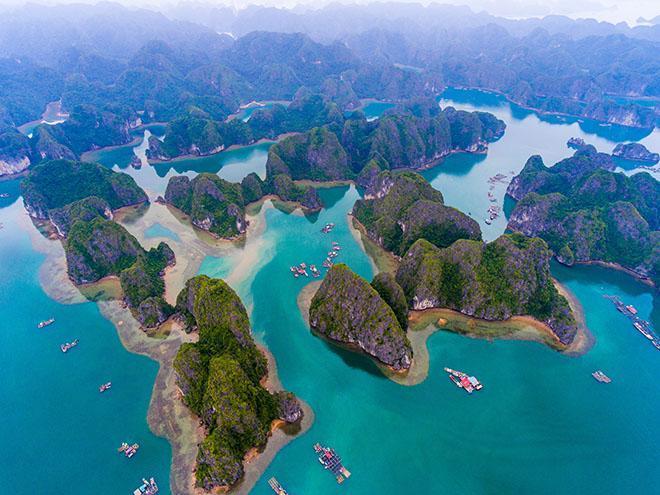 Essential North Package 7 Days 6 Nights
A fulfilling discovery of all Northern Vietnam signatures within a week is totally possible – with this tour. The package offers you a diverse experience of various attractive destinations in the area, from a tranquil mountainous Sapa to the splendid Lan Ha Bay, which will ensure both your natural and cultural exploration.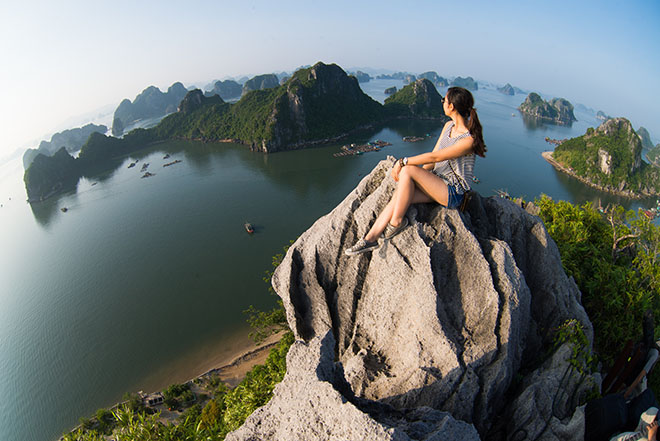 Hanoi and Halong Bay Package 4 Days 3 Nights
There is a Vietnamese saying goes: Halong bay – "Descending Dragon" and Hanoi – the heart of Vietnam. This 4-day private tour (2 days Halong Bay from Hanoi) includes the popular Halong classic wonders and the highlights in Hanoian culture.
Enjoy the deep-rooted cultural and traditional music show in Hanoi, relax at breathtaking karst scenery in Halong bay, taste the exquisite lifestyle by being a guest in a traditional-styled Vietnamese family with 3 generations living in one house. Let's immerse into the rich and diverse Vietnam Hanoi to Halong Bay.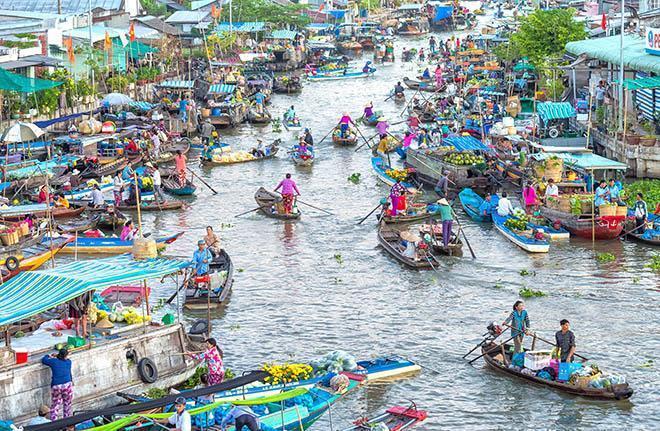 Vietnam Highlights Package 10 Days 9 Nights
The most popular destinations in Vietnam with all the highlights — all in Vietnam itinerary 10 days. Discover Hanoi with many foods, structure architecture and the stunningly beautiful UNESCO World Heritage Site of Halong Bay. Moving to culturally-rich Hue then spend time in incomparable and lovely Hoi An – one of the world's most charming towns. Finish the comprehensive Vietnam highlights tours in the South after Floating through the lush Mekong Delta, seeing vibrant Ho Chi Minh City. With same destinations in itinerary but you can start this trip from Hanoi or Ho Chi Minh city.
Or more Ha Long Bay Tours.