Halong Bay is one of the famous world places located in North area, where anyone shouldn't miss during an awesome trip. Actually, many foreigners have a trouble to make decision Halong Bay how to get there. Nowadays, there are three ways to travel Halong Bay like by seaplane to save time for business, by a car before seaplane to save money and by motorbike. Therefore, you can consider both of pros and cons of four ways in the above.
Getting Halong Bay by seaplane
The most luxury vehicles for traveling to Halong Bay is by seaplane. It is possible to say that this is the most comfortable way for a short time. Instead of 4 hours by car, daily flight from Hanoi to Halong Bay just takes only below one hour. It will be your once in a lifetime experience as you have a wonderful opportunity to enjoy a scenic tour to admire a panoramic view of Halong Bay from a height in the seaplane. The scenic tour will extend during 15 minutes. This is unacceptable the best option for travelers who have a generous budget.
Traveling to Halong by air-conditioned bus
Hanoi is approximately 165 kilometers from Halong Bay, so a road trip between these destinations will take travelers over 4 hours. Currently, it is the most popular way in Halong Bay how to get there because of the price and safe. The main way to get to Halong is by road, which follows Highway 18 that passes by Tuan Chau Island and Hon Gai Bridge. If you travel from Hanoi, most cruise trips will pick up you from your hotel (either cruise bus or private car). However, moving by air-conditioned bus has the disadvantage, you must abide by the schedule of the trip. Currently, you can save road-time by transferring to Halong by Limousine, it takes nearly 3 hours. However, you must pay more cash for the target.
Transferring Halong Bay by private motorbike/car
For tourists who prefer private transportation, rental motorbike and car might be an ideal option. Booking a private car or taxi through your travel agent is undeniably the most comfortable way to get to Halong Bay. The cost of private car and taxi have just been lower than the seaplane. If the driver can speak English, he might be able to give the tourists some travel tips or a good story about the bay. The fare is reasonable, usually around 10,000VND – 12,000 VND (about $0.5 – $0.6 USD) per milometer. There are many options of taxi firms, but tourists should choose well-known suppliers such as Mai Linh Taxi, Thanh Cong Taxi, Grab Taxi and Uber taxi. These firms have many different types of cab with a visible taximeter that would please any customer. Booking a private car, you will pay the full cost for two ways as it doesn't calculate the payment per kilometer like the taxi.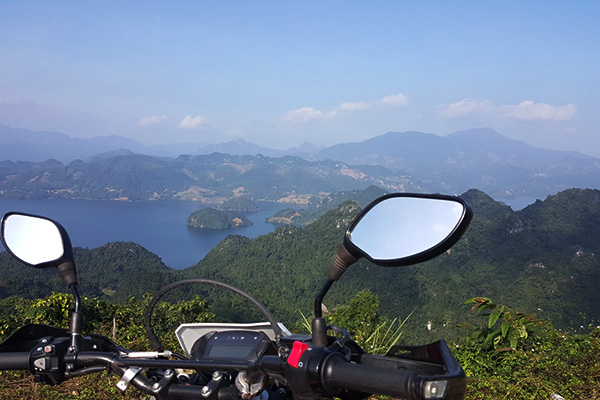 However, the rule moving on the road in Vietnam is complex and it is quite difficult to move from Hanoi to Halong Bay. So if it is the first time you come to Vietnam, renting a motorbike is not a good option for the foreigner who hopes of safe. However, if you want to have more experience, you can choose this method to grace the scenery during the timed moving. Unlike other ways, another advantage of a private motorbike is drivers can active the time and plan. For example, you can arrange the suitable time to visit more landscapes on the road. But if the climate is harmful, you shouldn't continue this plan by it will affect to your safe and your time.
High suggestion for you is to rent cars or motorbikes at their hotels in Halong as it is safer than driving from Hanoi. The price is variously based on distances, time, and kind of vehicles, but generally, it ranges from 60,000 to 100,000 VND ($3 – 5) a day for a motorbike, and from 800,000 to 1,200,000 VND ($ 40 -60) a day for a car. You should remember to buy the enough energy for vehicles before transferring.
To conclude, depending on your situation, you can consider the two aspects including pros and cons of four transferring methods to respond the trouble Halong Bay how to get there. However, if you lack time, let's choose the option like by seaplane. On the contrast, you should move from Hanoi to Halong Bay by bus since the safe and time of trip will ensure.