As an emerging country for incentive travel, Vietnam offers an extensive selection of cities to fit this specialized travel type. In addition to the world-famous Hanoi, Da Nang, and Ho Chi Minh, Halong promises to be the next hit for company trips. Today, we will help you understand the great charm of Halong for incentive travel.
State-of-the-art Infrastructure System
Transport infrastructure is an important factor that exerts a lot of influence on the tourism industry. Recently, to serve and create the most favorable conditions for tourists to Halong, Quang Ninh Province is promoting the development of road construction. Therefore, although there is no airport in Halong, it's still very convenient to travel to this beach city via transit in Hanoi.
The project of Bach Dang Bridge shortens the distance from Halong to Hanoi, from 180km to 130km, the driving time is reduced to 1.5 hours. Besides, the authority has confirmed on turning Van Don airport (approximately 50 km away from Halong) into another transport hub in Northern Vietnam. Sooner or later, it will be the connection point between Halong and major cities throughout the country and around the world such as Korea, China, Taiwan, Japan, Thailand…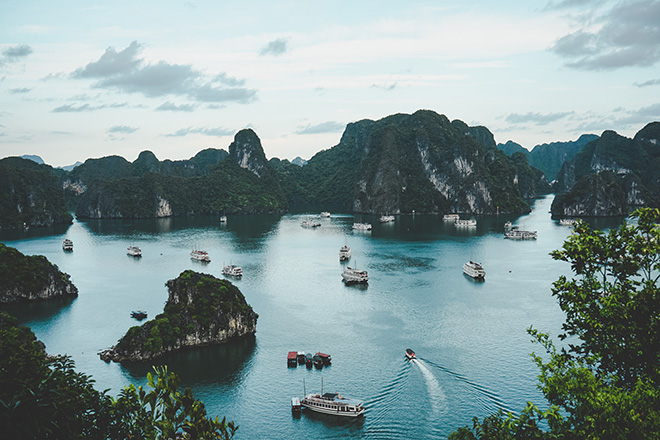 Spectacular Natural Landscape
With an area of 1,553 km2 including 1,969 islands stretching along the coast, Halong Bay possesses many global values. Its most outstanding features have been recognized as a UNESCO Heritage Site and one of the New Seven Wonders of the world.
The beauty of Halong is made up of three main elements: Water, Stone, and Sky. This is the "privilege" of nature bestowed on Halong Bay that has not been found anywhere in the world. With the natural beauty of the emerald water silhouetted in the shape of limestone mountains, magnificent stalactites, pristine beaches in Halong Bay are always particularly attractive to both domestic and foreign tourists.
This site has been the film location of many box-office blockbusters including Kong: Skull Island (2017). Also known as Land of the Descending Dragons, Halong Bay is an island complex with nearly 3000 islands dotted with magnificent grottoes, creating ethereal beauty. An overnight cruise in the Bay not only takes you close to nature but also gives you a chance to witness the daily life of local fishermen living nearby.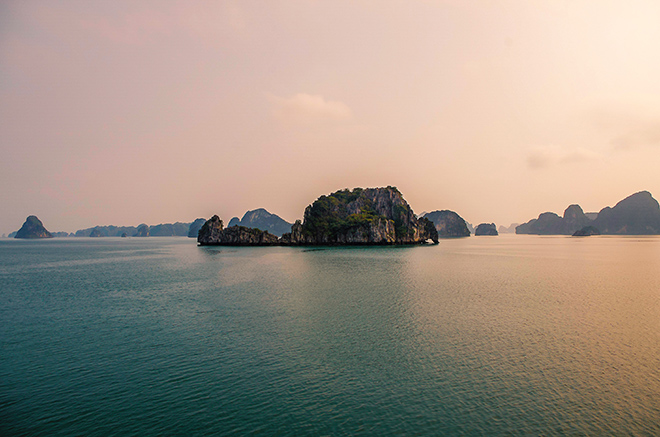 Home To A Wide Range Of Luxury Hotels And Resorts
The system of accommodation facilities in Quang Ninh has also grown quite well, with more than 1,300 hotels and apartments from 1-5 stars. With European-style design, elegance, splendor, the row of commercial townhouses also offers exquisite experience during a couple of days staying in Halong.
In particular, in recent years, Quang Ninh has introduced a series of international-class hotels with full facilities and services such as Vinpearl Ha Long Bay Resort, Wyndham Ha Long, Royal Ha Long, Muong Thanh Quang Ninh. In 2018, the FLC Ha Long tourism complex was put into operation. This is an international convention center with a capacity of 1,500 guests and function rooms, standard hotel complexes, restaurant systems, and ancillary services to meet the needs of large travel size in incentive travel.
Exciting Activities And Festivals All Year Round
Halong City is not only captivating tourists by the beautiful scenery but also because there are many festivals taking place. Recreational activities, events, festivals such as Sun Dance Festival, Sunrise Festival, Halong Lighting Festival 2019 really gives it a hand in creating an all-rounded destination for company vacations.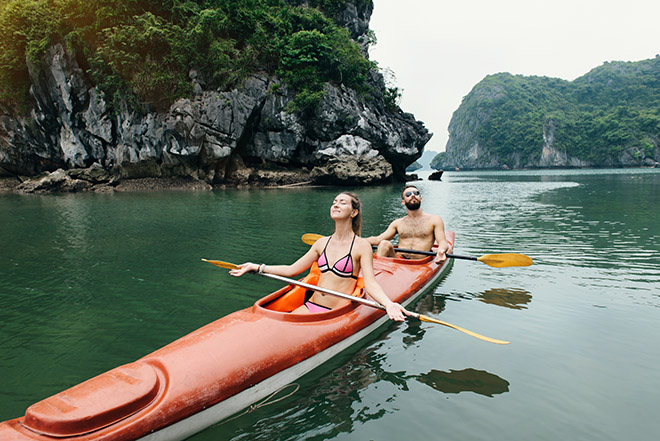 In the past 5 years, the number of business trips that have been brought to Ha Long by domestic and international travel agencies has been increasing, opening up new prospects for attracting tourists in Quang Ninh. This is most evident when many high-level summits, national and international conferences, cultural events, sports have been successfully organized in Ha Long City. APEC High-Level Policy Dialogue on Sustainable Tourism 2017 with about 200 delegates from 21 APEC member economies and ASEAN Tourism Forum 2019 attracting more than 1,500 participants, including delegations of the Ministry of Tourism, the ASEAN national tourism agency, the World Tourism Organization (UNWTO), international agencies, organizations, associations, tourism businesses are obvious examples for the expertise of Halong in terms of carrying out large-scale events.
Grasp your chance to make Halong your ideal destination for a perfect incentive travel by contacting our travel expert. Or you can leave a request on the link below so that our we could reach out to your company.
What Travel Sense Asia Offers in term of Incentive Travel:
Prepare Branded Kits
Paperwork support: Visa (Free Visa Arrangements in Selected Destinations, Pre-approved Immigration Clearance), International Insurance.
Free Internet Service and Mobile Number in all Destinations.
Transfer and Pick-up  Arrangements for Attendees.
Express Check-in/Check-out Service.
Tailor-made tour in destinations from A to Z with:
- Crafted Itinerary.
- Local supplier, tour guide and driver.
- Travel expert support 24/7
Media Coverage (Photos, Videos,...).
Preparation of Gifts/Souvenirs.
Themed Gala Dinners and Cocktail Parties. Special Cultural/Entertainment Shows.
Crafted Team Building Exercises with Professional Consultants.
---
Ellie

I didn't have many opportunities for travel during my early childhood, so I decide to dedicate my young adult years to exploring the world. "Set off with a pure heart". That's my motto for any adventure in my life. And as sharing is caring, I love writing about my journeys so that the audience can gain an objective view of the destination. That's what I do before travelling, set the right, open mind to welcome both obstacles and blessings. So stay tuned for my new stories.