If you have ever come to Hanoi, I sure the things you don't wanna miss is traditional coffee. It's usually a small shop in the old quarter: in the second floor of the ancient houses, in the corner of the street or around the lakes.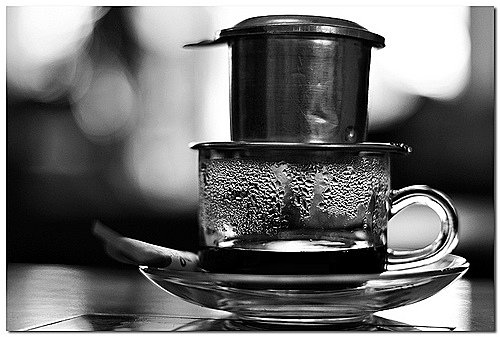 Sitting in the empty small café, listening to the Trinh's musical and enjoying drops of bitter taste coffee are the most feeling that Ha noi brings to you. Relishing coffee each season, you'll have other emotions. Your mod is sobbing, vibrational when the spring is coming, enjoy a cup of warm coffee, seeing the small rains fall on girls's hair, who is cycling on the street and be deep inside into the rhythm melodious. At the moment, apparently all the worries in your life are disappear and leaving only the gentle in your soul. And it also is the summer days, when the ray of sunlight are through and through the old tree and the each trail on the wall, on the porch, you sit there to enjoy a quiet and peaceful when the end of the day coming. Those are the old people do exercise together, the foreign visitors walk around the Hoan Kiem lake. That's wonderful when you see this scene and drink a cup of ice-coffee that will carry away all your stress.


That's more wonderful in the cold day of the winter, sitting in the roof of the old house and enjoy a cup of egg coffee with delicious of egg and bitter taste of coffee. You can feel the coffee's bitter taste full of atmosphere and the coffee's bitter taste full of atmosphere and go deep into your soul. Beside that, sitting silent in the narrow café, smoking a cigarette and seeing the smoke fly on the air, your life seems deposition. Hence, enjoy traditional coffee in each season like a music and yourself is the musicians who write up the track in your life. Let's enjoy and say to me how do you feel.
by Biru/TSA