There are many interesting leadings to travelers coming to Vietnam by the wildly beautiful nature of the country, from the yellow terraces in harvesting season of the North area. Ha Giang in Northern Vietnam owns ethnic tribes, where allows you stay with local people, trekking through terrace field, various villages, really exploring…. One of the best Vietnam trekking tours is Hoang Su Phi in Ha Giang which is attractive the foreigners in the adventure trips. With this tour, you will have opportunities to experience: trekking in a beautiful landscape, meeting interesting hill tribes, stay at homestay of ethnic people, boat trip on a green and peaceful lake.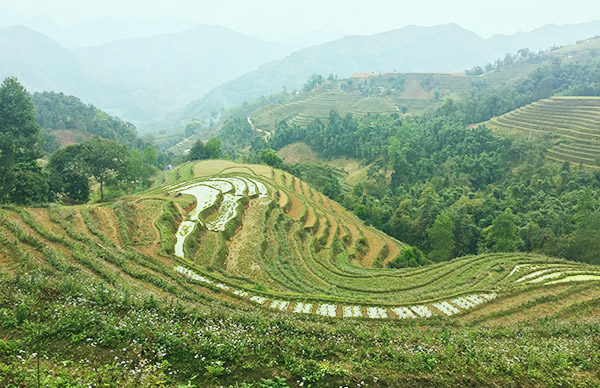 Hoang Su Phi – a mountainous district of Ha Giang province is located in the Northeast region of Vietnam offering some of the most beautiful off the beaten track holidays. Hoang Su Phi is about 70 kilometers from the center city, but to get there through the winding road takes a lot of time. Actually, the tourists will be amazed by the wild mountains and the authentic culture of the locals. Coming to Hoang Su Phi is to hike, trek mountain biking, stay at the homestay and drive motorbike tours. It is even highly sought-after during the rainy season in May, where the green kingdom becomes a whole new landscape filled with water which gives it its token mirror-like impression. Hoang Su Phi is famous not only for its most beautiful terraced fields but also its traditional market where people from the ethnic minority groups of Tay, Nung, Dao and H'Mong gather from early morning to mid-day every Sunday.
Day 1: Visit Thong Nguyen and Nam Hong
You should catch up the bus from Hanoi to Ha Giang at night to have a relaxing time. You will then drive to Hoang Su Phi and stop several times along the way to stretch your legs and witness the changing landscape. You will reach Hoang Su Phi in the late afternoon at Thong Nguyen where is a small village of Hoang Su Phi and got an opportunity to stay with a local Dzao family in Nam Khoa. The way up high got the view of all Nam Khoa and somewhere was there Mr. Kinh's house. The further the trek went, the more magnificent the view got. Certainly, it was just like how people had described it. Maybe I had passed by several viewpoints for terrace rice fields, but it would never be enough. How incredible it is to create such a human-made beauty! With simple accessibilities in a stilt looking house, it was more than enough for me during 2 days stay in a homestay.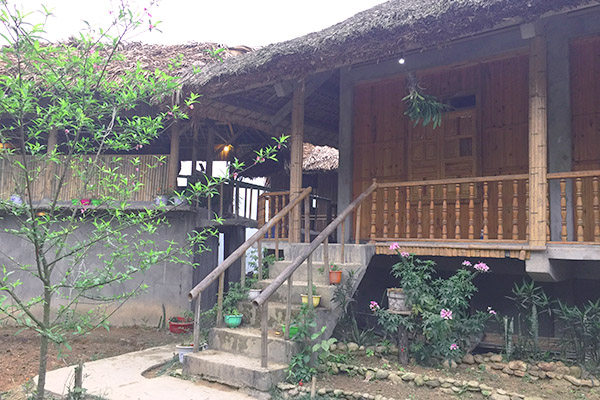 Take 2 hours for a trek to Nam Hong village, a small hamlet in the mountainside by Man Ta Pan (Red Dao ethnic minority group). Nam Hong village has some great roads offering some fantastic rides for enthusiastic mountain bikers. We have a range of road and mountain bike tours around Hoang Su Phi and the region of Ha Giang provides some options for someone who want some mountainous challenges and who prefer long flat rides.
Overnight at a homestay of Man Ta Pan.
Day 2: Hike from Nam Hong to Nam Ai
After breakfast, you will follow trails winding through rice terraces across Nam Khoa village, a place inhabited by the Man Ta Pan ethnic group. It is the good time to admire the stunning views of the terraces and discover the daily life of the inhabitants throughout this trek and you will most notably meet Man Ta Pan and Long Tunics Dao. The trek itself was not hard but the weather condition made it tougher than normal. Therefore, you should search the weather forecast before trekking. That sunbeam created a great exposure on how green the rice fields were.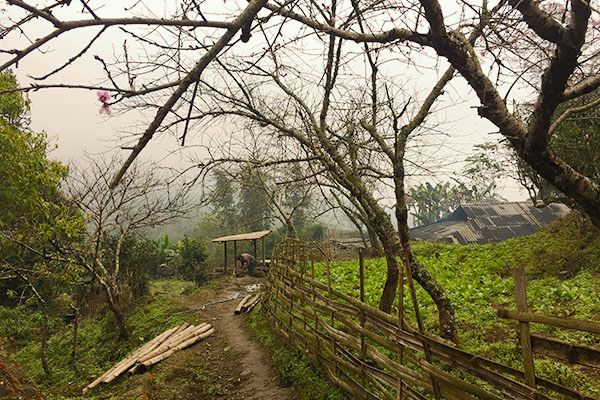 Besides, you can learn about the culture of the Red Dzao and visit tea field nearby in Phin Ho village to learn about the oldest Shan Tuyet tea trees and its importances in their culture and lives. You took a rest before heading for an adventure on the next to Nam Ai, where the Long Tunics Dao settles down. More chance to see the differences between the Red Dao and the Long Tunics Dao as well as enjoy an amazing meal with garden-produced ingredients. At Nam Ai, you will see old tea plant (more than 100 years old) with buds have white hairs, it is called Shan Tuyet tea – a famous tea in Vietnam. And enjoy fresh tea in here.
Lunch with a family of Man Ta Pan ethnic group.
Overnight at a homestay with a Long-tunics Dao family.
Day 3: Discover Ban Phung village and visit local market
Next morning, we hired a motorbike taxi driver to take us to Ban Phung village where the H'mong ethnic minority people are living. As soon as we arrived at the village, many H'mong children and young boys came out to see us taking photos. Ban Phung is home to La Chi. They have interesting cultural and spiritual practices, the custom of the funeral is unique in particular, however, are quite shy being in front of the camera.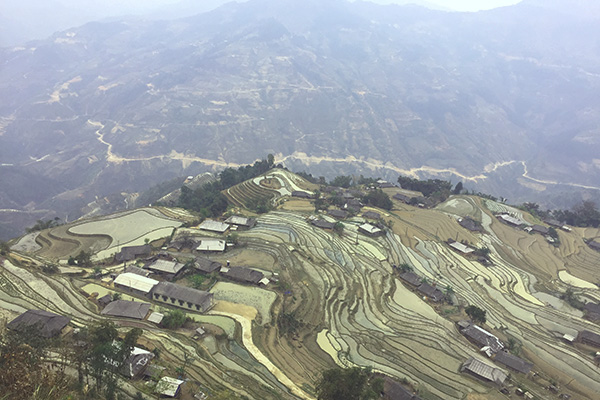 The local market in Hoang Su Phi is held every Sunday and is one of the biggest minority peoples market in Northern Vietnam. Alive with the bright colors and extravagant costumes of the local people, here you meet H'mong Flower, Long Tunics Dao, Nung, Tay, La Chi, C'Lao; sometimes you also meet Red Dao, Phu La ethnic groups. Who come from far and wide to buy and sell a wide variety of goods and livestock, to exchange news and renew friendships. The market opens at around 6 a.m and closes mid-day.
Along with the terraced fields, Hoang Su Phi is home to twelve ethnic groups. Therefore, it mixed culture is highlighted by markets where Tay, Nung, H'Mong and Dao people and know how to make their own cultures stand out. It ensures that Hoang Su Phi is one of the best Vietnam trekking tours, if you have any questions, let's send us to deal these.