If your favorite is the ancient features of oriental culture, or you want to see the glow of the lanterns, when arriving in Vietnam, you cannot ignore Hoi An town – an thousand years of romance. Known as the residence of the Champa kingdom with vibrant culture, opened the golden age for a prosperous trading port and it left many imprints until today.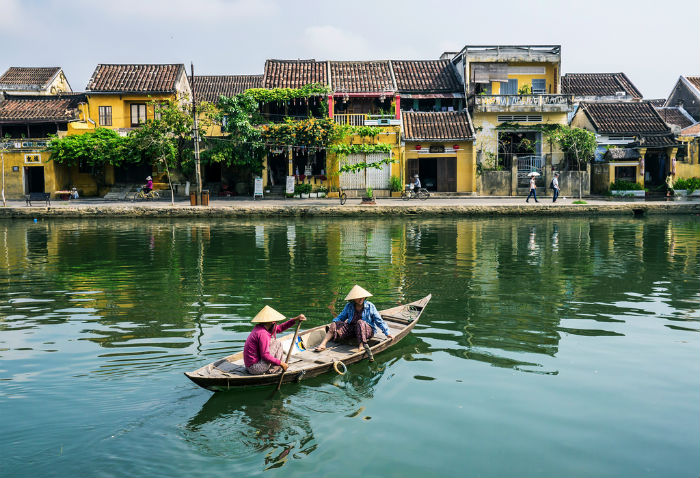 Hoi An is an ancient trading port in central Vietnam, it is the town of Quang Nam province which is in the north of the Thu Bon River. It is about 25 km from Hoi An to Da Nang and 50 km to the city of Tam Ky. Hoi An is estuaries – coastal area and is the convergence of the great rivers of Quang Nam. With its long, romantic coastline, it connects the Cham Islands cluster, which consists of many islands: Hon Lao, Hon Dai, Hon Mo, Hon Ong, Hon Tai, Hon La, Hon Kho Me, Hon Kho Con. Romantic location, the town has old and new urban centers. With a long history of its development, people living in Hoi An has gradually developed various trades like carpentry and ceramics, vegetable, healing, lantern, etc. It becomes a prosperous and bustling port city in Quang Nam.
Do you love to carve the wood, let's come to Kim Bong village, it is considered as one of the most ancient and attractive sites in the town. One of the traditional and rustic villages that many tourists choose to visit. Kim Bong village was famous for a long time with carvings and sculptures. Carpentry village originated from the North. Through the exchange, Kim Bong carpentry artists have absorbed some of the elite of China, Japan traditional sculpture, combined with his ingenious talent made with artistic products and philosophy. The village is famous for its carpentry since most ancient architecture of Hoi An is created by the skilful hands of their ancestors.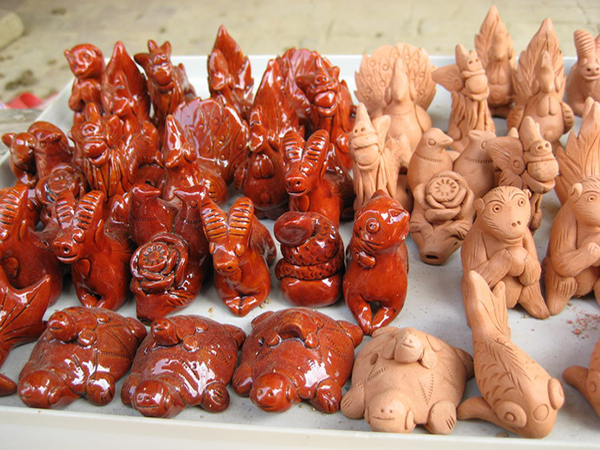 Coming to Hoi An ancient town, tourists can visit the Thanh Ha pottery village with 500 years of development. Located 3km west of Hoi An, this is a destination for guests on a journey from the ancient town of Hoi An heritage. Come to Thanh Ha pottery village, tourists can visit a traditional space with banyan trees, wells, family yard. In addition, visitors can see firsthand the talent, ingenuity and reliefs trained hands of the craftsmen were immersed in creating unique products of the village. With a long history of the ancient town of Hoi An also has left many artifacts and documents of value historical till today. And those can be found in the museum. That is why there are so many museums in Hoi An. Museum, cultural history and a museum was founded in 1989, the museum has the showcases of 212 original artifacts and documents worth of pottery, bronze and iron, paper, wood, etc. It reflects softly the development of urban stage – trading port of Hoi An from the 2nd century to the 19th century between Hoi An Museum and cultural history, visitors will get an overview of the process about history and rich cultural traditions of the ancient town.
In 2011, the famous online travel site – Tripadvisor has voted and announce a list of 10 destinations with the most attractive dish in Asia, where the traditional dish of Hoi An was ranked as number 6. As described by Tripadvisor, the famous traditional dish of Hoi An, such as "Cao Lau", Quang noodles, crispy pancakes, "White Rose" cake very elegant and charming both in taste and in the way they present to attract international tourist. Tourists have not enjoyed this typical dish is said like they have not visited Hoi An yet. There is a fairly important position in the culinary culture of Hoi An, "Cao Lau" – not simply a specialty of Hoi An, but also the pride of any indigenous people living right in Hoi An or any other areas. Such a simple dish but leave a deep impression on all visitors during the tour in Hoi An. On December 19 Asian Record Organization officially recognized "Cao Lau" in Hoi An is one of ten valuable dishes in Asian cuisine. A special feature of this dish is made of rice noodles should be soaked with water locally derived from wood ash Melaleuca at Cham Island. The accompanying documentation will be char siu, stamping peanuts roasted garlic, served with baked rolls, vegetable, water mint, bitter herbs or vegetables. Over time, "Cao Lau" has been modified to suit the varied tastes of diners. I'm sure that no one ignored dishes of Hoi An when they have the opportunity to visit Hoi An ancient town.
The most special thing that people are long lasting to remember is when talking about the colorful lanterns at night. Visitors can walk the streets all night. The space is filled with brilliant light lanterns have many colors and styles. Do not hesitate to get yourself a nice lantern as a souvenir for the trip in Hoi An. Coming to Hoi An, visitors will also have many opportunities to see and participate in the Lantern Festival here. In addition to shopping for themselves pretty small lanterns, visitors can also purchase clothes in Hoi An, It is quite cheap, beautiful and fast. Within hours, the tailor will make your clothes as required. Shoes in Hoi An is diverse and beautiful. Other things such as silk items, wood carving, embroidery, souvenirs and fancy stones has also been appeared in Hoi An.
With those interesting and rustic information above, do not hesitate to spend your 5days to get a tour for discovering Hoi An.