Located on the downstream of Thu Bon River, in the central of Quang Nam province, Hoi An remains as one of the most wonderful ancient town I have been before, where I can find out the beauty from the ordinary and simple things.
I am fond of the cool weather and the fresh air in Hoi An, especially in the early morning when you can see a great lacquer painting with numerous beautiful pictures of the local people's routines and activities.  I walked slowly around quite roads with a few people in the bright and beautiful early morning (5h30).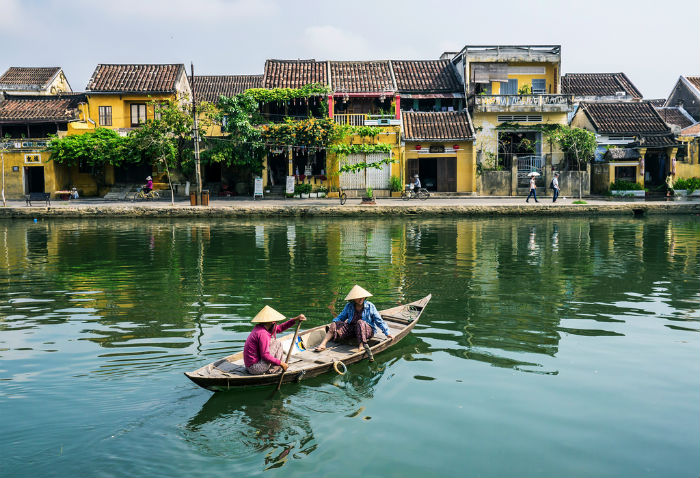 Most of the ancient houses still closed. Scattered on the streets, several woman went to the market or some street vendors who started a new day of their own business. I took a deep breath as if I wanted to fully enjoy this magically fresh air in this lovely town.  In the morning, the market on the banks of Thu Bon river would be the most bustling place. The local residents often go here to buy foods for their breakfast as well as their foods for the whole day.
I also rewarded myself with a very tasty breakfast. I choose a delicious pork hamburger in Madam Phuong restaurant – one of the most famous local restaurant in Hoi An located in 2b Phan Chau Trinh street. After that, I came to a coffee shop on the banks of Hoai river. While drinking your coffee, I could watch and feel the peaceful beauty of this river in the slight sunny morning. I am sure this will definitely help you to find the peace of mind and temporarily forget all the noises and worries of life.
To learn and understand more about the culture of Hoi An, I tried to visit many ancient architectures and houses in Hoi An such as: Japanese Covered Bridge, Quan Thang ancient house  (77 Tran Phu St), Tan Ky ancient house (101 Nguyen Thai Hoc St), Phuc Kien Assembly hall (46 Tran Phu St), etc.
Even though each of them possesses their own beauty, they still hold the same typical architecture style of Hoi An. These houses are in the long piped shape with many apartments and each one has its own function.  The front of house is used for trade and business and the back of house is near the river for the goods import and export activities. This structure facilitates the locals to do business. The majority of furniture is made by the unique, valuable wood and skillfully carved to show the well- off of its owners.
Additionally, I think Hoi An is certainly a shopping paradise with a wide range of goods such as: art paintings, handicrafts, souvenirs, dressmaking from silk materials, lanterns, etc.
Most of the sellers seem to be opened, helpful and friendly. They are always willing to consult and answer any your questions. The price of goods are mainly reasonable, however, with a big number of sellers available in Hoi An now, no bargain to down the price could be missing out as I think. Two days of shopping in Hoi An, I bought 1 casual dress and 2 silk scarves for myself together with a formal dress for my friend as a gift with the total price of nearly 30$. I am so happy with my shopping.
You know, I consider myself to be a food – aholic. Therefore, the cuisine of Hoi An is of great attraction to me. I wander the streets and drop in any restaurants I like without worrying about price or quality of foods. In my opinion, some must-eat foods in Hoi An should be Quang noodles, Cao Lau, wet pancake rolled with grilled pork or chicken rice. If you are a careful and picky person, you can choose nice restaurants to enjoy these foods.  If you are not, I recommend you to enjoy the street foods which are really delicious, diverse, abundant and reasonable price (from 5,000- 30,000 VND/unit).
You can find all kinds of foods ranging from the Vietnamese foods like banh vac (made by ground shrimp, garlic, spring onion, lemon grass, and spices), Quang noodles, banh dap (cracked rice pancakes), banh xeo (fried rice pancake), etc. to the Chinese foods like tofu, xi ma phu, cao lau, etc. Along the streets as Tran Phu, Nguyen Thai Hoc, Le Loi…, you can easily find out a women with a bamboo frame on their shoulder who contribute to create characteristics of Hoi An tourism town.
Someone says that Hoi An is the best in night. I totally agree with that.
Getting a tour of this ancient town and participating in interesting activities such as sending the floating lanterns down to the river for luck, taking part in a nice boat ride on Hoai river, enjoying Bai Choi singing, buying the souvenirs in the night market…will definitely be unforgettable memory  for each people.
I am interested in walking on the street in the late night for thinking and totally experiencing the extraordinary beauty of Hoi An. Furthermore, I had a chance to look at myself, feel peaceful in my heart and inspire my love with life.
See more about Hoi An tours