In the early morning, I was awakened by the the sound of prairie chicken. Welcoming the dawn with the brilliant light and a bit cool weather of fresh air, i felt that was the most wonderful day. Suddently, I shivered by the cold frosty night still had in the air. Walking down to the traditional house where the wedding happened and joined in the farewell party.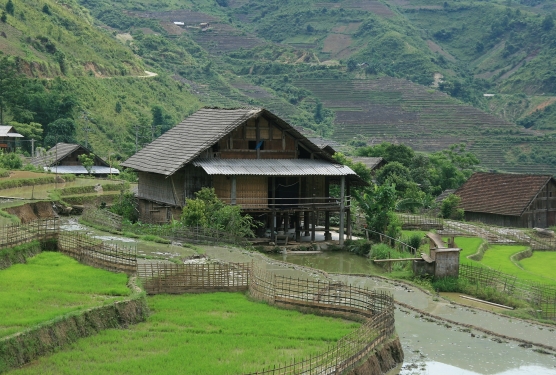 When we came, the farewell party was started. The ceremony was simple but deep of the local people's emotions. The guess return home, the local people sang the goodbye song the cup of aromatic banana wine was drank off, they went away in the affection of house owner.
I went back with pleasure and sadness mixed feelings. The pleasure to know about the daily life of the local people here, warm and friendly. However, looking the lovely children with a little bit embarrassment when taken photos. Anyways, the feeling of choking when saw children with cleft palate bewildered in the crowd, a kid had rice which was packaged in the banana leaf  and stood in front of the door or a boy with barefoot and wearing jacket was broken key still haunting in my mind.
Silence and the wind swept away the sorrow …
Silence your heart to understand the land and good people here…
Hence, that was my great trip in Sapa homestay where was in North Vietnam. I have gotten many experiences, emotions and wonderful time.
by Biru/TSA