In recent days, Sapa is being attractive more foreigners to become one of Vietnam's most popular destinations, but with no nearby airport, clearly over 380 kilometers from Hanoi. Spending two days and one night, visitors completely make the most awesome feeling in Sapa by three methods. Sa Pa is a town in Northearn Vietnam not far from the Chinese border with attractive topography and diversity culture. We will give you specific information to answer the question how to travel from Hanoi to Sapa. Actually, after this experience trip, you have more knowledge background of one of landscapes in North Vietnam and Vietnamese citizens living there.
Getting to Sapa by train
Depending on the running train time, you should take a taxi from your hotel before 30 minutes to avoid missing. Traveling by train takes about 8-9 hours and the train only stops in Lao Cai, the province which Sapa belongs to. It then takes another hour to get to Sapa from Lao Cai station. The final 30 kilometers to Sapa is travelled by minibus (50,000 – 60,000 VND), taxi (350,000 VND) or private transfer ( example hiring motorbike, or bus of tour firm).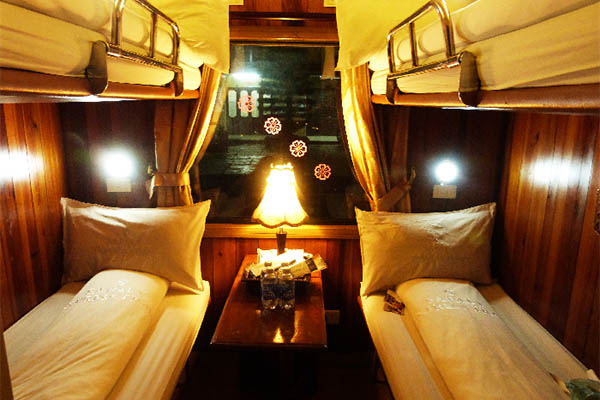 Train often departs at between 8p.m and 10p.m, and you can catch a good sleep before getting worked up by the beautiful mountain scenery at dawn.
There are also day trains which are not as comfortable as night train. It also takes a longer time to travel as it makes more stops.
Ticket for night train is 700,000 – 1,600,000 VND/person/way (the most expensive one is Victoria express which is exclusively for in-house guests)
Ticket for day train is 200,000 – 400,000/person/way
However, nowadays, most visitors choose to get from Hanoi to Sapa by overnight train; it's more comfortable and safer than a bus or motorbike, and a lot cheaper than hiring a car. One of reasons is when you choose a private operator, you will sleep in private, clean and comfortable cabin with four berths and fully equipped. Seats or beds can be booked through travel agents in advanced so it's very convenient for you. Although the overnight sleeper trains can bring new feeling for you, many people find it hard to get any decent rest on board and therefore you should arrange some hours in the next day to catch up on sleep.
Getting to Sapa from Hanoi by bus
Sapa can also be reached by bus which is faster but it is less comfortable and less safe — although there have been no reported serious accidents on that particular route, if you can't get booked on the train or want an option with cheaper price. There are two options for you: by sleeper bus or express Hanoi to Sapa bus. By sleeper bus, it takes you 8-9 hours to go directly to Sapa town.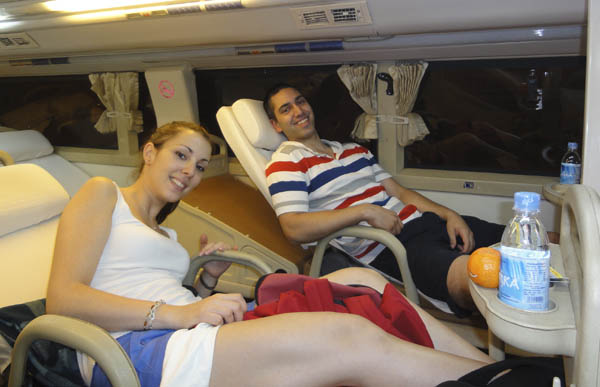 You can catch the bus at three bus stations such as My Dinh, Gia Lam, Yen Nghia and Nuoc Ngam with the bus named Hung Thanh, Hai Van or Ha Son. There are daily buses departing Hanoi at 6.30a.m or 10p.m with the price is around 250,000 – 350,000 VND. Hanoi – Sapa – Hanoi by Sapa express bus departs daily at 7a.m via the newly built Hanoi – Lao Cai highway. It takes about 6 hours to drive from Hanoi to Sapa, depending on traffic and weather. You will enjoy the scene of the Vietnamese countryside along the road and it is by far the quickest and easiest way to travel between Hanoi and Sapa.
Getting to Sapa from Hanoi by motorbike
There's getting to Sapa from Hanoi by motorbike. I wouldn't recommend driving directly to Sapa from Hanoi by bike because of your safety. However, annually, a lot of tourists visit Sapa by this method to gain more experience during the journey. It makes more time to move on the road. If you want to visit Sapa by motorbike, the suggestion for youis that putting your bike on the train, then driving to see amazing scenery around you or rent a motorbike in Sapa. Visiting Sapa from September to April is a very beautiful time in Sapa with stunning yellow winding rice padded fields, the leaves trumpet and the love market. You are comfortable to take photograph beautiful scenes and video the awesome moments while driving private.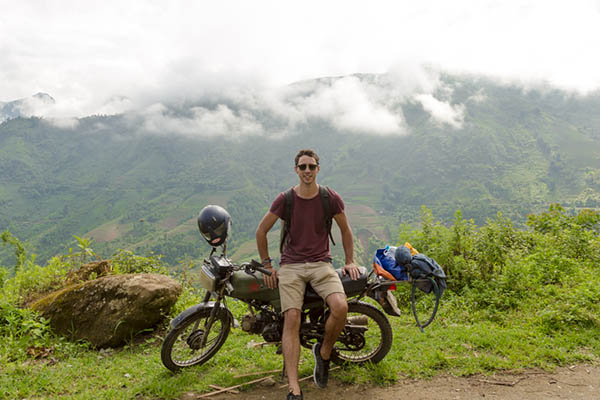 What are the best places in Sapa?
Sa Pa is a quiet town frequently used as a base for trekking in the Hoang Lien Son Mountains and touring rice paddies and ethnic villages. A high recommendation is staying at homestay to approach the life of local people. Travellers are invited to enjoy the best of Sapa all the year round with different taste of seasons and exciting outdoors.The second place mentioned that Silvery waterfalls (Thac Bac) is one of the most popular tourist attractions of the neighborhood. It is located about a half hour from Sapa town that offers stunning views over surrounding mountains and lush forests belonging to Hoang Lien National Park. Mountain fruits like peach, plum, and pear are also found around here.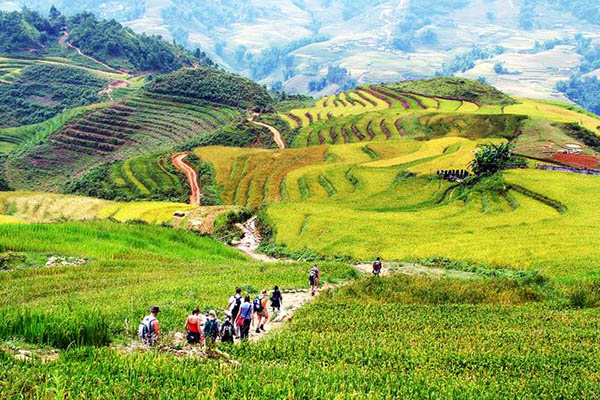 The other attractive place is Sapa market like Bac Ha market in Ban Seo which usually is organized Sunday with participated by Hmong and Red Dao. The second large market is Can Cau market met on Saturday, which located nearly 7 kilometers from the Chinese border, and just like the other markets in Northern mountainous provinces, a fascinating and authentic experience.  On Tuesday, Coc Ly market happens in the beautiful warm atmosphere with local hill tribes such as the Nung, Tay, Black Dao and Flower Hmong. Almost ethnic groups do not live in the center area but in hamlets scattering on the valleys throughout Sapa district. Therefore, Sapa has diversity culture by nations among clothes, foods, activities, languages. Visiting Sapa market in the morning, travelers will see a lot of local people gather at food stalls to enjoy favorite breakfast of steamed corn wheat and corn wine. These are traditional food and beverage of local people in Sapa, and must-try for any tourists who come here.