Think of summer, we will automatically think about emerald beaches with dazzling sunlight. But have you ever been to a seashore with turquoise water filled with multiple limestones islets?
We are talking about Halong Bay, one of the busiest tourist hub in the North of Vietnam. Cruising around this gorgeous bay is considered the most exotic experience in not only Vietnam but also in Southeast Asia.
Let's see the difference of one the worldwide New Seven Wonders!
Halong Bay At A Glance
Why To Head For Halong
The name itself means Descending Of The Dragons to describe the unique geographical structure with thousands of island perching over a significant part of the Gulf of Tonkin. No wonder it was recognized as a UNESCO World Heritage Site in 1994 and has been the film location of many box-office blockbusters including Kong: Skull Island (2017). Coming to Halong, you will be overwhelmed with the one-of-a-kind seascape, which is a fantastic fusion of the ocean and the mountain.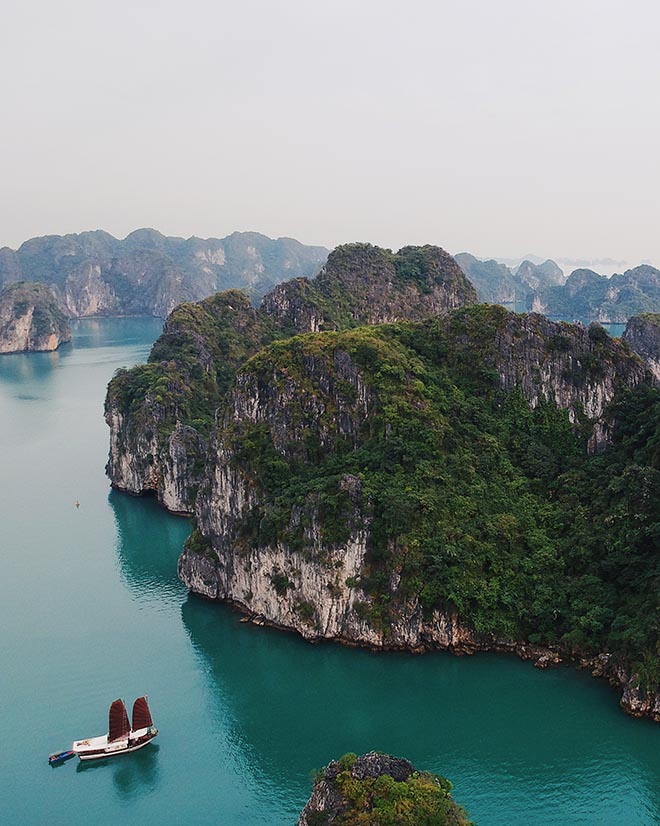 In addition to nature, this is also home to a wide range of biodiversity. It's easy to watch many types of seabird wings tossed in the crystal sky or notice some marine creatures under the water. If you join in a boat tour around the mysterious sea mountains covered with thick moss carpet, you may come across some animals of the jungles like monkeys, squirrels.
The outstanding characteristics of a fishing area are also alluring. Hardly can you see a long row of boat lining up, ready to conquer the ocean and bringing home the freshest seafood. There are very rare occasions to justify the fact that children of fishermen spend more time on the boat than inland. All the precious moments are what you can witness with your own eyes during your Halong trip.
Location And Transportation
As mentioned above, Halong Bay located in the Gulf of Tonkin on the Northern ocean of Vietnam. Best way to get to Halong Bay is to transfer at Hanoi, the capital city, then take a van to Halong.
Thanks to the national highway, which was newly opened in September last year, it only takes approximately 2 hours from Hanoi to Halong. However, buses between these locations often use the old routes, so the traveling time can be doubled, let alone some tourism scams like passengers stuffing. If choosing this way of transfer, you will have to do very much research. Normally, the ticket for this kind of bus is approximately 250.000VND (=about 11USD).
The most convenient way is to book service from a liable travel agent. Their cab will pick you up at the airport or in your hotel and go straight ahead to Halong.
Now, the Van Don International Airport in Quang Ninh has open some international flights, but it takes sometimes for everything to be complete. In the future, tourist can take straight flight to Quang Ninh, very near Ha Long Bay.
All-year-round Climate
Situated in Northern Vietnam, Halong shares the same wet tropical climate with the impact of the monsoon's operation as most of Northern Vietnam. The temperature can vary greatly from 15ºC in the winter to above 30ºC in the summer. Details about the weather in each season are as follow.
In Spring
Average temperature: 20°C-22°C

Common weather condition: drizzling fog and rain, which makes way for stunning ghost-like pictures.
In Summer
Average temperature: may reach 35°C and above

Common weather condition: clear and sunny, which really highlight various shades of blue from the sky, to the mountain and the ocean, making a perfect condition for a photo hunt. There can be storms and sudden rainfall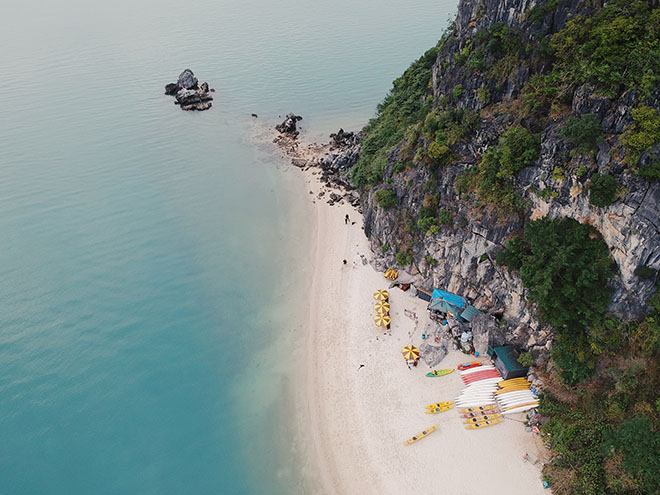 In Autumn
Average temperature: around 30°C

Common weather condition: quite nice and dry but typhoon may still happen.
In Winter
Average temperature: roughly 15°C

Common weather condition: cold and cloudy with thick fog.
In our opinion, the best time to visit Halong Bay is from April to October when the sun is shining most. You can get a bit of sun-tanned while beach activities such as kayaking have a great condition to organize. Remember to check for storms before the trip to avoid being delayed or canceled.
Cruising – The Best Way To Discover Halong Bay
Why To Take On A Voyage In Halong
The two most common way to explore Halong Bay is to get on a seaplane and to join in a sea cruise. While the former gives you an overview of the breathtaking scenery, the latter brings a closer look at the sea mountain range and the daily life of native residents.
That's why we regard Halong cruise as the best way to discover this Wonder. Below are what you can expect from a voyage in Halong:
Exotic Experience
Halong cruise gives you two options: day tour and overnight cruise. However, to really indulge yourself in the awe-inspiring nature of Halong Bay, it's better to go for either 2 days 1 night or 2 nights 3 days.
Traveling on a cruise brings a wide selection of activities at the World Natural Heritage such as scuba diving, parasailing or just leisurely swimming at an exclusive beach.
First and foremost, if you are a morning person, don't miss the tai-chi demonstration on the sundeck in the early morning. Not only great for health, but it also gives you the chance to enjoy the gentle ocean breeze which soothes your soul and refresh your mind. Sunrise on Halong Bay is another memorable moment that you shouldn't miss.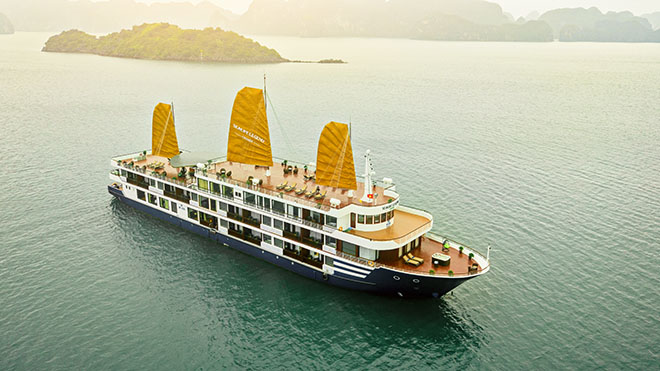 During the day, you will be transferred to a smaller boat or samba to wandering around mystically sculpted emerging from the waters of Halong Bay. You can also go for a kayaking excursion to have a personal closeup of the hidden caves via the chinks of the cliffs. Fishing villages with floating houses near the seashore are worth to visit too.
Before the sun sets, you will get back to the cruise to enjoy a fresh seafood buffet, watching the sunlight gold-plating the ocean. For night owls, a night fishing game or squid catching is perfect to call it a day.
Excellent Amenities
If you think facilities on a cruise are inferior to those in the mainland hotels, you are completely wrong.
Many tourists opt to choose cruises to create a memorable vacation thanks to the luxurious combination of value, pampering, and family-friendly atmosphere.
Most of the overnight cruises are luxurious with amazing amenities for royalties. The cabins are spacious, having many types of rooms for couples and families. Some also own a lovely private balcony so you can chill out and enjoy the seascape. Our collaborated cruises even offer a jacuzzi on board. The deck size is large enough for collective activities in the morning and at night.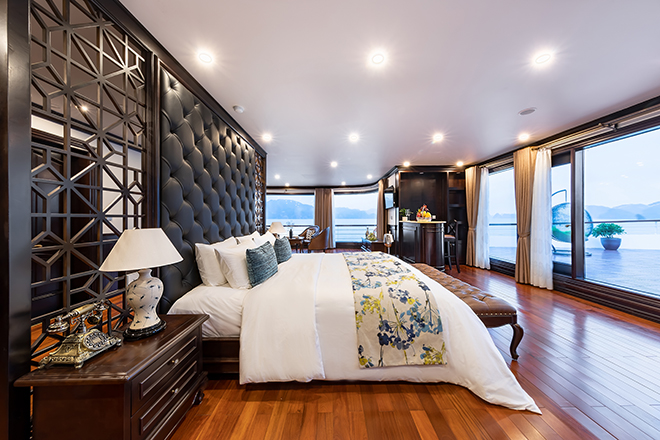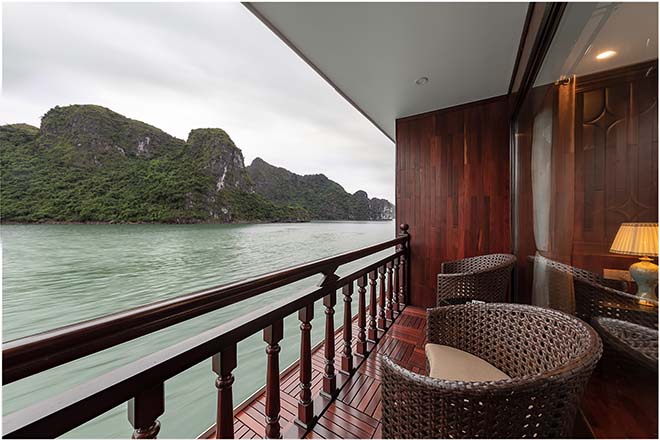 Reasonable Pricing
As there are diverse brands of cruises to fit with your budget, you can easily pick an affordable option. Most of them will base on your number of days, your requirements of facilities and services to give a quotation. The price for peak season and low season also differs a lot. The average number is around $110 to $150 per night.
In fact, you should book from a trustworthy tour operator as they often have better prices and arrange a direct private van to the cruise for you.
Suggested Spots For An Ultimate Halong Cruise
Mê Cung Cave
Literally translated to English as Maze Cave, this is an appealing and fanciful stop during your cruise in Halong Bay. Me Cung Cave possessed a complicated construction containing plenty of compartments and a 100m corridor. Archaeologists say that the cave of a history of more than 7,000 due to the Melania shells left in the entrance.
A distant look at the cave will make you feel like going under a roof carving into a slope. Ascending to Me Cung Cave, there are sparkling stalactites hanging like multi-shadow curtains in various sizes and shapes, which looks similar to a shimmering palace.
Sửng Sốt Cave
Set in the heart of Halong Bay, Sửng Sốt Cave or Surprise Grotto is among the deepest and finest grottoes in this World-declares UNESCO Site. The way deep inside the cave is made up of foliage, trees and strangely paved stone blocks. Many stalactites drooping from the high ceiling create numerous exotic and funny looks.
Titop Island
Mid-way through your cruise is Titop Island, a small golden sand beach surrounded with the jade blue sea. This is an ideal stop in between your Halong Bay exploration to take a full rest thanks to the ambient vibe.
Ba Hang Fish Village
Local life is another attractive side of Halong Bay, and Ba Hang village is where you can witness the daily activities of the native inhabitants. It contains about 50 households with a population of more or less 500 people. Many generations never leave the village for a more convenient life in the mainland. Children are born and raised here with the fish catching routines and the rise and fall of the tides.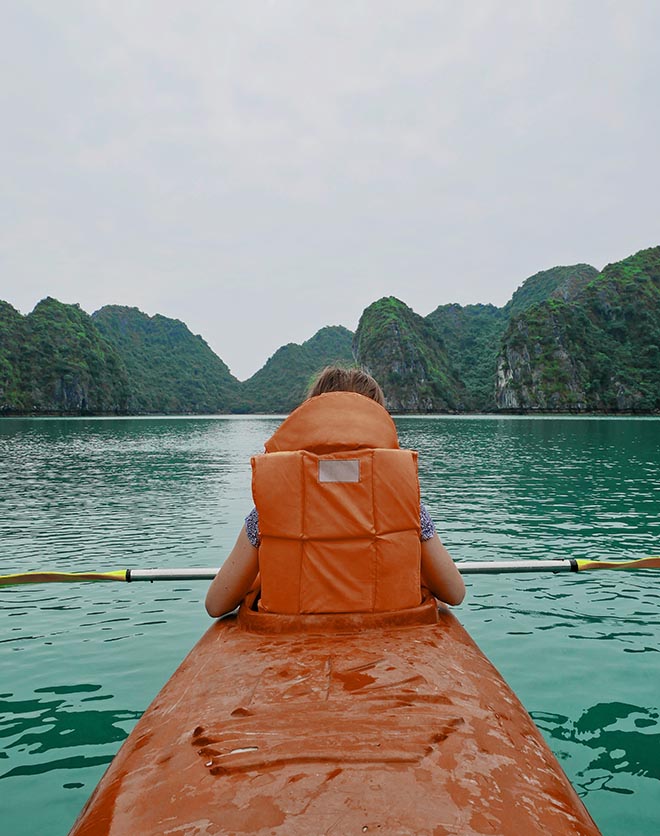 Packing Tips And Guides
Skim through our

"against-the-heat" package

if you go to Halong in the summer

Bring light clothes which enables flexible movements like comfortable jeans, t-shirts, sneakers, sandals, flats and your favorite swimsuit

A kind of bug repellent for an overnight trip

Carry your own belongings such as toothbrush, reusable water bottle, forks, spoons, straws to reduce trash
How To Identify A Reliable Tour Agent Or Cruise
You will know you can trust them if:
They have a clear policy, detailed terms and conditions as to delay and cancellation.

Their expenses are acceptable with their offers. Don't be lure into shocking statements with dirty cheap price and ultimate benefits. You should also beware of being ripped off.

They give you in-depth instruction before the trip.

You can find them on a popular website for traveling like TripAdvisor. If they can show you some certificates from well-known tourism organization, that will be great.
>> Find Your Perfect Halong cruise packages.