It is just only a few weeks away till Christmas and then comes the end of 2019. Soon we will say goodbye to 2019 – the end of a decade. So let's put all our troubles of this year behind, enjoy the most out of the Miraculous 2019 Christmas and welcome 2020, a new momentum with promising leads ahead.
How was Christianity introduced into Vietnam?
It would normally come to people's mind that Christianity has just recently been introduced to Vietnam during years under the French colonial, roughly around the 19th century. In real life, a lot of Vietnamese also hold this perception; however, what's written in the history might surprise us all. In fact, Christianity was actually introduced into Vietnam in the 16th century, to be more specific, 1533.
During the feudal period of Vietnam, people mostly use old Chinese characters. Pastors and preachers from Western countries, with an aim to spread knowledge, had attempted to replace Chinese characters with Latin characters, yet maintain the beautiful intonation and spelling of Vietnamese. 1651 marks the official historical birth of the modern Vietnamese characters, studied and published in a dictionary by pastor Alexandre de Rhodes.
Since then, not only has Christianity been introduced widely in Vietnam but thanks to the dedicated work of pastor Alexandre de Rhodes, the language Vietnamese nowadays is more accessible to the citizens.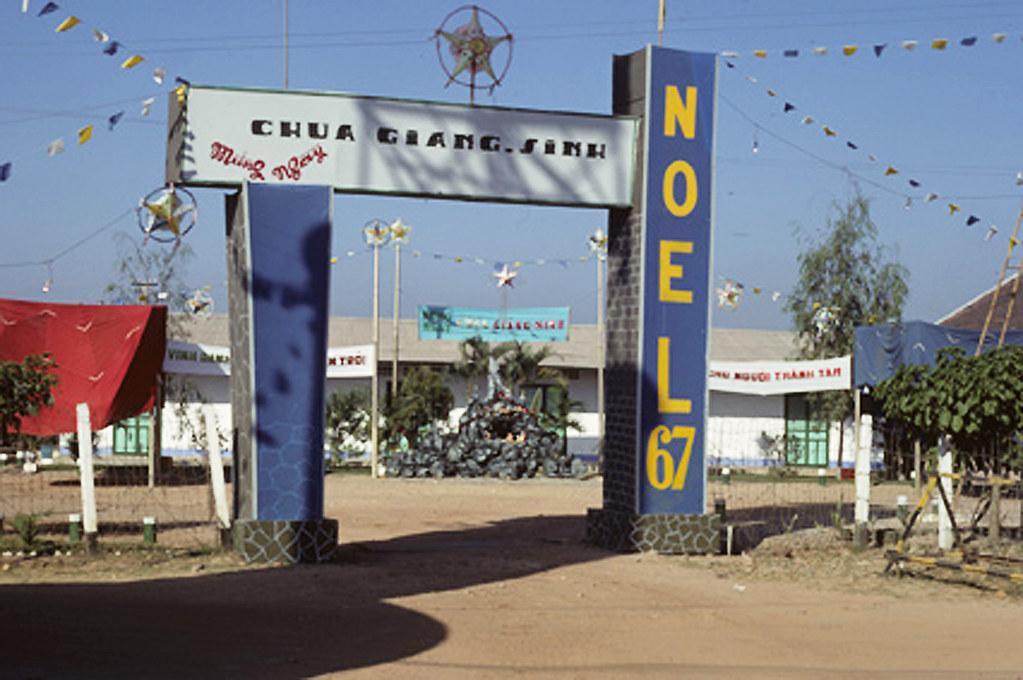 How do Vietnamese celebrate this holiday?
The fact that only a modest part of Vietnam's population are Christian may lead people to perceive that Christmas is something less familiar or less interesting to the other atheists here. Well, as soon as you walk down the main streets of big cities like Hanoi or Ho Chi Minh City in this special holiday, what is mentioned thereof is totally wrong. Although most Vietnamese are atheists, we are open to celebrate unique and traditional holidays of different religions. Christmas is definitely one of those.
In the last couple of years, Christmas has gained significant popularity in Vietnam as a result of globalization. It doesn't have to wait till the start of December that you can spot lots of Xmas ornaments and decorations around big cities. On windows of almost any shopping center or even small stores are stickers of reindeer, Santa Claus or hanging adorable mistletoes. Lately, if you bike around the city, you will see that every shopping mall attempts to put up a huge intricately decorated Christmas Tree on the outside. These are usually prepared and finished a week before Christmas so that people from the nearby neighborhood can come to take memorable photos and enjoy the miraculous Christmas spirit. 
Some families, no matter Christian or atheist, prepare their own Noel Tree to celebrate at home. Some will definitely eat out at fancy restaurants and exchange gifts just like people do in the Western. Parents even hire "fake" Santa Claus to give their kids presents.
On December 24th and 25th, when Christmas comes with miracles, main streets from Hanoi to Ho Chi Minh City are sure to be packed with both local and foreigners going out to be immersed in the rich liveliness of the holiday. To sum it up, Christmas is slowly becoming a tradition in Vietnam's popular culture as a day of gathering, of giving love and receiving love. 
Top places to spend your Christmas and New Year's Eve in Vietnam 
Say Your Prayers in Famous Churches/ Cathedrals in Vietnam
As estimated, there are roughly around 6.000 churches and chapels all across Vietnam. This is a considerable number compared to the size of the country and how long Christianity has been introduced into Vietnam. On Christmas day, parishioners will certainly gather at churches to say their prayers and enjoy this holy day together. In this article, we will narrow down to 10 churches anyone must visit this Christmas as tribute to their unique architectural style and the hard word people had put into building those.
St. Joseph's Cathedral – Hanoi (also known as Big Church/ Nhà thờ Lớn)

Phủ Cam Cathedral – Hue City

Sapa Stone Church – Sapa

Notre-Dame Cathedral Basilica of Saigon (Nhà Thờ Đức Bà Sài Gòn) – Ho Chi Minh City

Da Nang Cathedral – Da Nang City

Tan Dinh Church – Ho Chi Minh City (There is an annual Christmas market here that you should definitely check out)

Sainte Marie Church – Hanoi

St. Nicholas Cathedral – Dalat

Christ the King Cathedral – Nha Trang

Phát Diệm Cathedral – Ninh Binh 
>> More detail about these wonderful churches: Say Your Prayers this Christmas in Vietnam famous Churches
A side-note is that if you are looking for silence, peace and contemplation, you should consider avoiding visiting these named churches on Dec 24th or 25h since it can be crowded and might become a nuisance.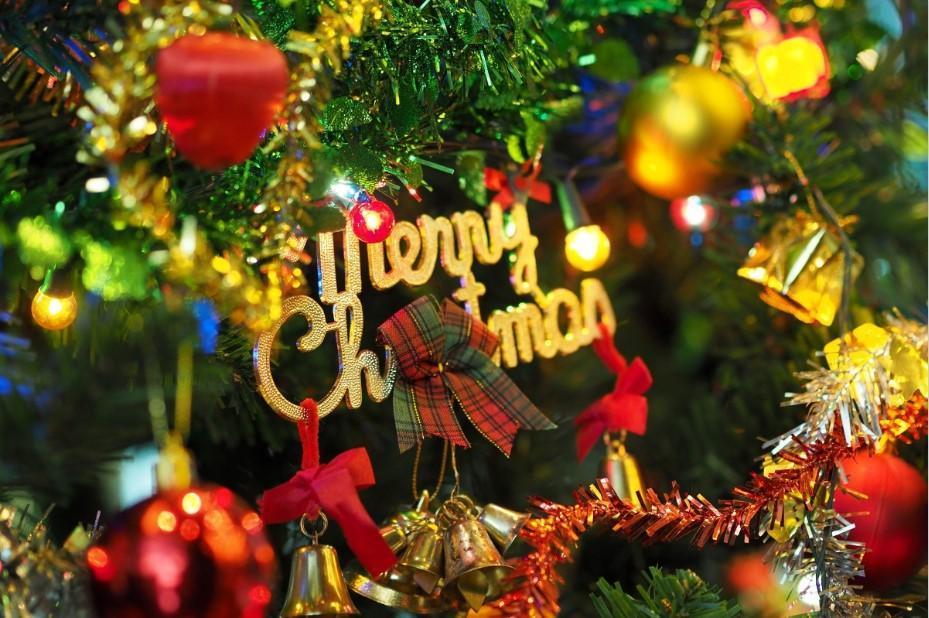 Joyful Activities and Awe-inspiring Decorations in entertainment centers or shopping malls in big cities
If you're travelling with kids or simply want to embrace the atmosphere of crowded yet heartwarming places, you should look for entertainment centers or shopping malls in big cities. Besides worth-seeing decorations or huge Christmas Tree with detailed jingling ornaments that you and your family can take an abundance of pictures of, these places also hold many kid-oriented activities and games. Santa Claus impersonators may walk around to greet children, hand out cute small gifts. To some, walking around and seeing everyone having their own big smiles on their face is fulfilling enough.
Right here, we will suggest some of the most well-known shopping malls or entertainment centers in big cities:
Hanoi:
Trang Tien Plaza

Aeon Mall Long Bien 

Hanoi Lotte Shopping Center 

The Garden Shopping Mall

Vincom Center – Royal City

Vincom Center – Ba Trieu street/ Pham Ngoc Thach street/ Nguyen Chi Thanh street

Vincom Mega Mall – Times City

…
Ho Chi Minh City:
Saigon Center (Takashimaya)

Bitexco Financial Tower

Crescent Mall

SC VivoCity Shopping Center

Aeon Mall Tân Phú

Aeon Mall Bình Tân

Saigon Garden

Vincom Center – Đồng Khởi

Diamond Plaza Shopping Center

…
Danang:
Danang Square

Vincom Center – Danang

Indochina Riverside Towers

Parkson Danang

…
Nha Trang:
Nha Trang Center

Hon Chong Center

Vincom Plaza Nha Trang

…
Quality time with your family or partner in top-notch restaurants
This is ideal for those in seek of peaceful or romantic nights on Christmas or New Year's Eve. Pick your restaurant and book early so that the reservation for a memorable time will not be missed. There are places that actually open for New Year's Eve so that people no matter where they're from can share one voice to celebrate the beginning of a new year.
It is also highly suggested to choose restaurants that open up a holistic view of the street. Looking down seeing dots of people wandering around happily, with red and green of Christmas everywhere makes every meal more appetizing.
Watch fireworks and sing Happy New Year
This is for sure what 75% Vietnamese do on New Year's Eve. They make plans with families and friends to gather at someone's house or any restaurants or cafe. While waiting for the clock to turn 0:00 and fireworks bursting extravagantly in the air, they eat and talk and review what had happened during an entire year. The atmosphere is cosy and full of love. If you happen to be out in the street when the firework starts, it will truly feel blessed as everyone is looking up, wishing something for the new year. After that, people say "Happy New Year" to everyone around, shake hands and have a big smile on their face. You feel like everyone and everywhere is family.
Tips to enjoy the most of Christmas and New Year's Eve
Open up, give love and you may receive a lot more

Join the friendly and joyful crowd of local cheering for New Year's Eve

Carefully secure your important belongings (wallet, passport, ID, …) as you go out during crowded holidays

Make sure to ask the price before you buy anything 

Choose well-reviewed restaurants and reserve your tables early

No matter where you are, send your sincere love to your family and friends.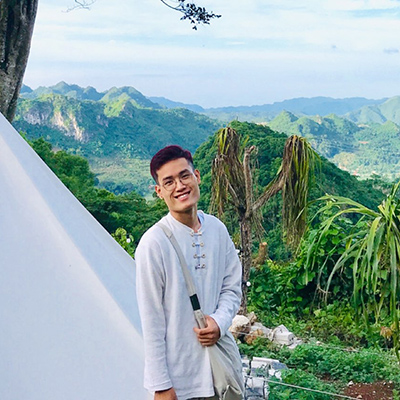 Anthony Icarus
I have always been an adventurous one since I was a little kid. My mom must have had a hard time making me sit still or just stay at home. Every travel to me, no matter long or short, low or high budget, always make me fall in love again and again with the magnificent nature, unique culture and endearing locals.
Travel Sense Asia thank you very much for having experienced this wonderful 2019 with us. May you have the best Christmas and a Happy New Year!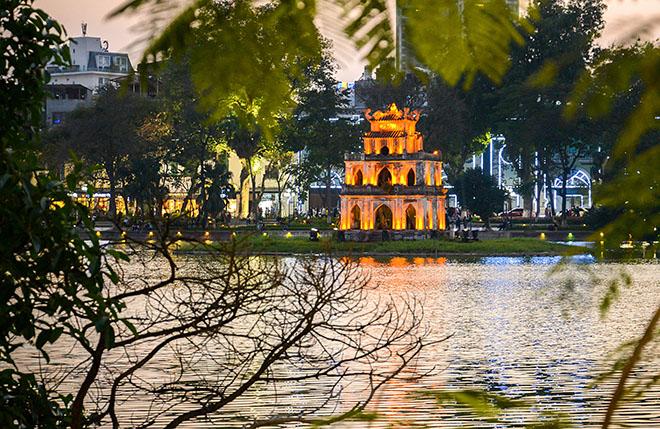 Vietnam Highlights Package 10 Days 9 Nights
The most popular destinations in Vietnam with all the highlights — all in Vietnam itinerary 10 days. Discover Hanoi with many foods, structure architecture and the stunningly beautiful UNESCO World Heritage Site of Halong Bay. Moving to culturally-rich Hue then spend time in incomparable and lovely Hoi An – one of the world's most charming towns. Finish the comprehensive Vietnam highlights tours in the South after Floating through the lush Mekong Delta, seeing vibrant Ho Chi Minh City. With same destinations in itinerary but you can start this trip from Hanoi or Ho Chi Minh city.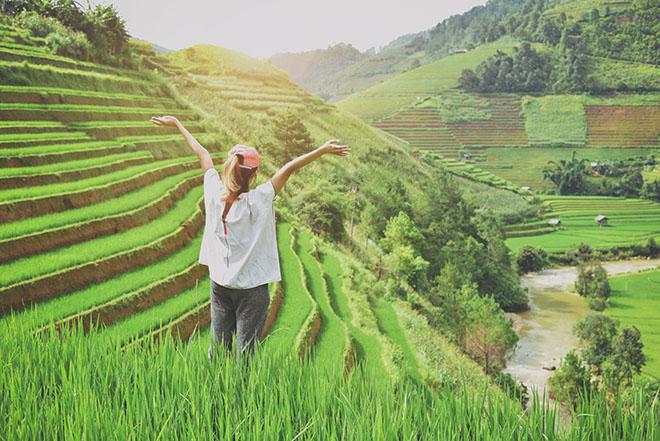 Essential North Package 7 Days 6 Nights
A fulfilling discovery of all Northern Vietnam signatures within a week is totally possible – with this tour. The package offers you a diverse experience of various attractive destinations in the area, from a tranquil mountainous Sapa to the splendid Lan Ha Bay, which will ensure both your natural and cultural exploration.
Or more Vietnam tours.