Sapa now is a favorite destination for the most beautiful and peaceful experiences in Vietnam of both domestic and international tourists. In any season, Sapa also owns a unique beauty that can not be found anywhere. Sapa becomes brilliant in the spring with wild white plum forest, fresh in the summer with lush terrace fields and colorful orchards over the mountains, picturesque in the fall with buckwheat fields and endless golden broccoli flower fields, mysterious in winter with mist and snow white. It's really hard to discover all of these beauties in a short trip. Therefore, if you have limited time, let's refer the ideal places which we introduce below to have memorable experiences from 3 days in Sapa.
The night train from Hanoi to Lao Cai
To prepare for 3 days in Sapa, you should book a night train to Sapa and enjoy the beauty of this misty city in the early morning. Most trips to Sapa can depart from Hanoi and if you book a tour through Travel Sense Asia, all the procedures for your trip will be well prepared. You just need to wait for our driver to pick you up at the hotel then transfer to the station for a night train to Sapa. You should check your belongings carefully. Anti-mosquito spray and plastic boots also need to be carefully prepared in case of bad weather. Once on the train, remember to lock your cabin carefully to ensure safety. Now, take a sleep and 10 hours later, the mountainous north of Vietnam and the memorable experiences from 3 days in Sapa are ready.
Lao Cai – Bac Ha market – Sapa
The first place in your 3 days in Sapa is Sapa's markets. Not only famous for its natural beauty, but Sapa also owns unique cultural including markets. Each of them has its own unique characteristics, and is held at different times: Coc Ly Market (Available on Tuesday only), Lung Khau Nhin Market (Available on Wednesday only), Muong Hum Market (Available on Sunday only)…In which, Bac Ha Market is the most famous and favorite.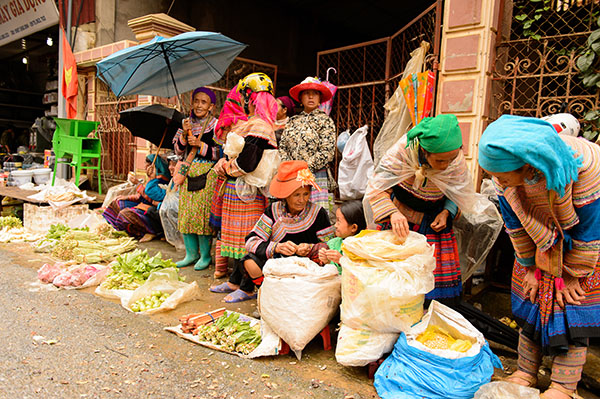 Bac Ha Market is located in Bac Ha District, about 60 km from the center of Lao Cai. It is one of the largest markets in this highland area which is only held every Sunday. Here, visitors can freely find out many brocade products. They will be impressed by the brilliant colors of different ethnic clothing, the hand-woven paintings with vivid motifs, harmonious and eye-catching colors. Next, you should not miss the area where sells vegetables and utensils. The colorful world of fresh red peppers, lush vegetable, yellow beeswax, dark black shovel…makes any tourists cannot leave the eyes. Besides, the area of cattle trade, especially horse selling area is truly funny. Lots of vendors and sellers come from remote villages, even people from Bac Giang province also come here to trade horses to the plains.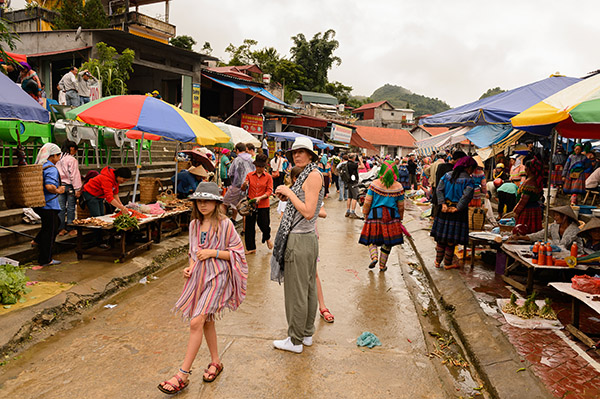 Coming to Bac Ha market, it would be a shortcoming if you do not taste highland specialties here. Crispy donuts, delicious noodle, passionate bowls of wine … all create an irresistible attraction. You can also enjoy Bac Ha sour noodle (Pho Chua Bac Ha) which made from the same ingredient as Pho Ha Noi, but the taste is special. Other specialties of Sapa which tourist never can forget is Thang Co. This traditional food of H'mong people has been cooked for hundreds of years, a type of soup which is made of horse meat and horse's bone. After that, spending 2 hours on trekking to Ban Pho village (Flower H'Mong people) a mountainous commune of Bac Ha district, you not only have a good opportunity to explore the nature and learn more about hospitable and sincere ethnic people but also enjoy one of the highland specialties at Ban Pho: corn wine.
Cat Cat village – Y Linh Ho – Tavan
The second day of your 3 days in Sapa will be a true trekking day. Today, you can experience a hiking in Sapa trip to 3 Black Hmong villages: Cat Cat – Y Linh Ho and Ta Van.
About 3 km from Sapa Town and take you 45 minutes to walk, Cat Cat is the residence of  H'Mong people. Located on the picturesque Muong Hoa Valley, the village is on the slope of the hill and easy walking, rice field, and corn are grown here. Proud of being one of the most worthwhile places to visit when traveling to Sapa, Cat Cat is an ideal option for you to explore the nature, the ordinary life of ethnic people as well as culture and architecture.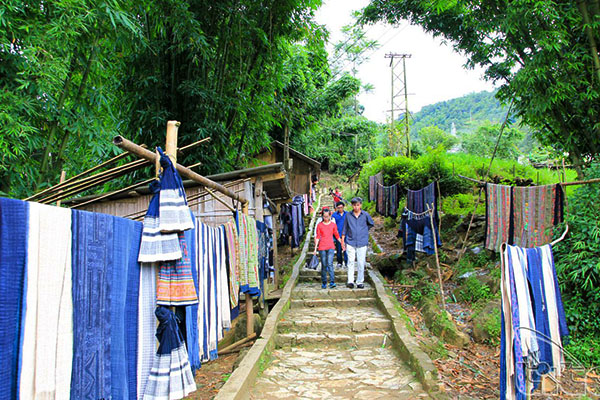 Situated at the foot of Hoang Lien Mountain, Cat Cat is hidden after natural scenery. The green of terrace fields, of majestic mountains, covered the whole village, interspersed with small rustic houses of ethnic people. All of them create a colorful romantic picture. Center of Cat Cat village is the convergence of three magnificent streams, including Tien Sa stream, Silver stream, Gold stream and Cat Cat waterfall (also known as Tien Sa waterfall). Besides the waterfall, there are two suspension bridges: Si bridge and A Lu bridge which attract many tourists coming to admire the spectacular view and take photos.
Today, H'Mong people in Cat Cat still live mainly by rice cultivation. Besides, they also develop traditional handicrafts such as flax production, weaving, knitting, and utensils. In addition, Cat Cat has a long history of making silver and bronze jewelry to produce exquisite products such as necklaces, bracelets, earrings, rings, and so on. To learn more about these occupations, visitors can visit traditional handicraft villages with hand embroidered areas, job introduction areas…which is really useful and interesting.
Coming to Cat Cat, visitors also have a good opportunity to experience, discover the customs and beauty of religious beliefs of the people, admire the gentle dances of the beautiful girl Mong, or the trumpet, the flute of H'Mong men and enjoy the specialties such as corn wine, thang co, corn cake…
After taking a rest and enjoying specialties in Cat Cat, a suspension will lead you to the slope where Y Linh Ho village is located for a long time. Nestled beside the stream of Muong Hoa, Y Linh Ho owns a quiet beauty more pristine than other villages in Sapa.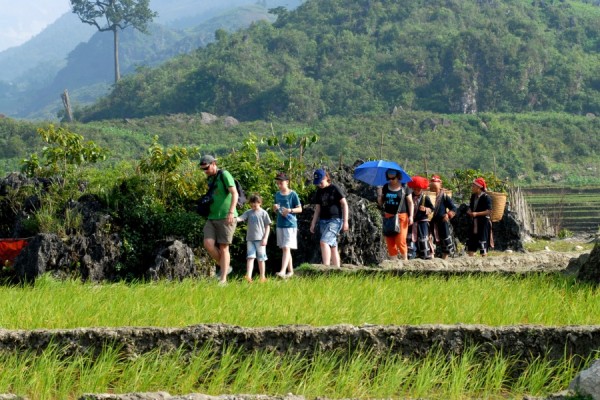 Going to Y Linh Ho, visitors will be immersed in beautiful natural scenery, with green corn fields, endless lush terrace fields, rustic houses of H'Mong people,…You can also experience the traditional textile methods of local people. All these highlights create a colorful natural painting. In particular, the hospitality, honesty, and friendly of Y Linh Ho people are the most attractive, making most tourists who have come here also want to return.
The last destination in this day will be Ta Van village – where the ethnic Giay settled. The road to Ta Van Giay village is small and narrow. Its two sides are the green color of the terraced paddy field. In the mist, there is a suspension bridge over Muong Hoa stream – the road to Ta Van Giay village with its two sides are the mop, reed, the rhododendron … swinging in the wind.
Coming to Ta Van Giay, visitors not only immerse themselves in the natural scenery with small streams, wild birds … but also discover the rustic beauty of the village. In addition, tourists will enjoy specialties of ethnic minority people, such as Muong Hum grilled fish, Muong Khuong horse meat, Bac Ha pork, sticky rice in five colors, explore the festive atmosphere, folk games of the Giay people such as Nao Cong, Roong Pooc (in the field)… and join the village tour.
Giang Ta Chai – Su Pan
After a recharge with a delicious breakfast at the local restaurant, it is time for you to be ready for your last day in Sapa. Our first destination today is Giang Ta Chai village – 13 km northwest of Sa Pa town. This is also the residence of Red Dao ethnic.
The trekking tour to Giang Ta Chai will offer you an enjoyable experience and a stunning view of nature Northwest Vietnam. Hike through scenic terraced fields, go over a lush bamboo forest which belongs to Hoang Lien National Park, you can see a picturesque waterfall in Giang Ta Chai village. Nestled in the beautiful Muong Hoa valley, Giang Ta Chai the more becomes small, beautiful after a lot of old trees and bamboo green scrub.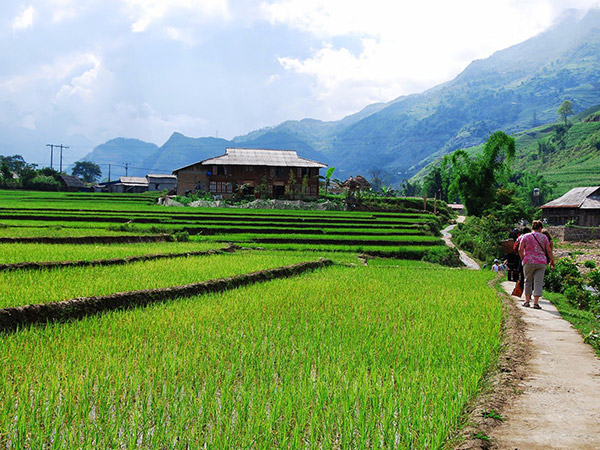 Giang Ta Chai village is also unique in traditional cultural activities of the Red Dao. Approaching the ordinary life of local H'Mong people, you can know how they make their clothes. They buy the fiber at the local market, after that, weave and embroider fabric. Their handicrafts, their embroidery products are really resplendent.
Besides their beautiful handicraft products, Giang Ta Chai also attracts tourists by the interesting customs such as the system of wedding ceremonies; dancing protocol, traditional songs,… Here, visitors also enjoy the food with bold flavors of the forest: grilled fish, mushrooms, sour bamboo shoots, salted bacon. Particularly, the rice wine of Ta Chai Dao has a characteristic aroma, mellow and refreshing, black Chung cake with cardamom… will be a gift for visitors to enjoy and buy for relatives.
Now, it's afternoon. This is also the time for you to depart to the last stop of your 3 days in Sapa: Su Pan village where also be referred to as " a real mountainous commune. Situated on the low hills in the east of the main road 17 km from Sapa town, Su Pan consists of 4 small villages of the Black H'mong and Red Dao people with terrain looking down Muong Hoa valley. From the main road, visitors can see the rudimentary houses nestled among the green corn fields. This small village also offers a spectacular view of picturesque valleys and magnificent terrace fields which is green in spring or golden in the harvest.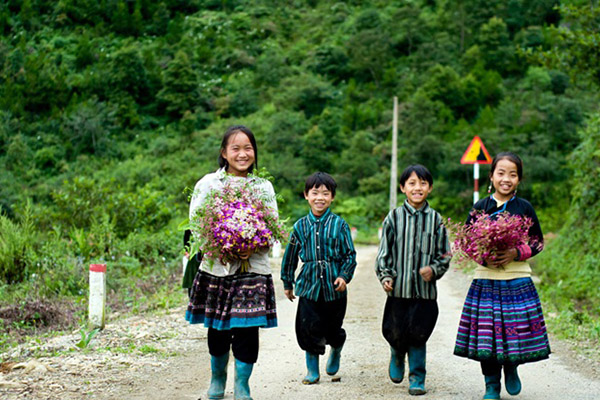 Going to Su Pan, you will also have a good chance to explore traditional products, phoenix paintings, stylized flowers paintings, beautiful bags combining of ethnic minority pattern with the modern pattern embroidered by the skillful hands of the local women. Don't forget to taste a cup of corn wine and enjoy the pungent taste and pure sweetness as the crystallization of heaven and earth.
Time to say goodbye to the little village is also sunset. The scenery of the small ethnic house hidden behind the smoke of kitchen, sunsets dyed yellow all sky, mountains and forests will be a beautiful painting that no pen can describe is the final incredible gift of Sapa for you in your 3 days in Sapa.
Before leaving Sapa, don't forget to check your luggage carefully and all your personal items of passports, visa etc. We will arrive at Hanoi in the early morning.