Sapa is one of the most breathtaking hill stations in Vietnam which reflects the signature of French architecture and colorful hill tribal cultures. Travelers are welcomed to enjoy the best of Sapa with diversity scenes and special foods. This destination is also the awesome place which helps you earning the perfect album during the trip. We specialize in offering get the experience Sapa tours Vietnam. Our highest commitment is to bring you the most authentic and unique experience with maximum of satisfaction.
The best time to get to Sapa is often from September to April. Spending 3 nights and 2 days discovering Sapa, you will feel more awesome about Sapa's local people.
What happens first night of Sapa tours Vietnam:
 8p.m – 8.30p.m: You will be picked up the mini bus of tour to Hanoi Railway Station for night train. You enjoy the new feeling by overnight journey at train. The running time is about 8-9 hours and the train only stops in Lao Cai.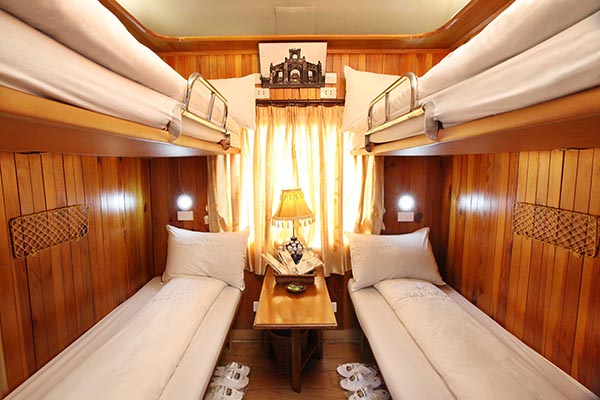 What happens first day:
6a.m – 7a.m: We will collect you from Lao Cai railway station by bus, then take you up to the township of Sapa which takes approximately one hour arriving at. The other option is hiring motorbike following to the tour to make safer than alone or small group. If you want to have an experience trip, you should stay at homestay to approach the life of local people.
 9a.m: You will have a chance to discover the beauty of nature and a various system of fauna and flora along the path. This trip will bring you the interesting experiences. You should not forget to visit Cat Cat Village, an ancient village of Mong ethnic people and this is a chance to see the hydroelectric power station built by the French. Located about 2km from Sapa Town, this village attracts a lot of tourists to drop in every year. Moreover, nowadays, this village is built and developed to be Cat Cat tourist area, which is a traditional destination for everyone. Local people in Cat Cat also keep many traditional handicrafts for a long time such as weaving fabrics, planting cotton and so on. You will come back Sapa Town for lunch at local restaurant. Check in, free at leisure.
 Afternoon is free time for visiting the Church in center and Sapa local market. Sapa Stone Church is located in the center of Sapa Town and a place keeping a lot of cultural and spiritual beauties of the ethnic minority people in Sapa for a long time. Next, one more attractive place in Sapa is local market participated by Hmong and Red Dao. If you want to buy something in Sapa Market, you do not worry as the sellers can speak English fluently with clear pronunciation. Market in Sapa provides many traditional food and beverage of local people in Sapa, and must-try for any tourists who come here. You can buy some souvenirs for your friends and family such as bracelet, scarf; silver jewelries or handicrafts.
6.30p.m: You come back to your homestay to change clothes and have a dinner in the restaurant or at homestay with host. A tour will organize some outdoor activities of local to make the relationships with members.
What happens second day:
6a.m: You will have breakfast at the homestay, enjoy mountainous landscape with your sunrise coffee.
 In Sapa tours, the additional package will offer you an opportunity to trek Lao Chai Ta Van village where you can see indigo dyeing by H'mong local people. Lao Chai is a village of Black Hmong ethnic people. Coming here you will discover their daily life and how they make their traditional clothes, handicraft, indigo… You will visit the biggest valley which offers to the best views of the golden rice terrace field in Vietnam. After that, our tour tends to walk to Ta Van, a village of Giay people. It is a small group of ethnic people living in Vietnam, they still preserve a rich and traditional culture. Especially, tour guide will arrange the lunch cooking delicious foods with a local family in one of the beautiful traditional houses located on their rice paddy fields. Then, you will be able to rest to serve energy for this afternoon.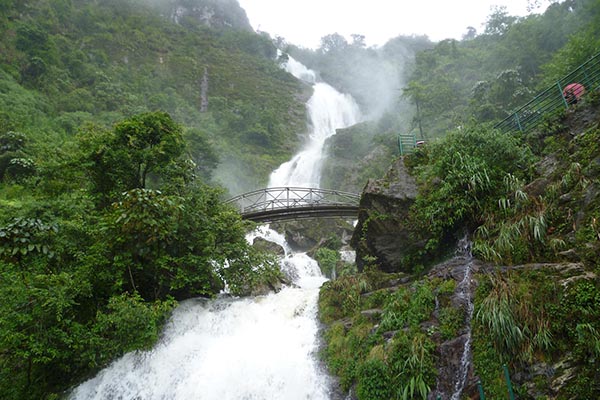 In the afternoon, you will explore the quiet village in Sapa or a swim in the river. The Red Dao women wear some of the most colorful and diverse costumes of all Vietnam's ethnic groups. Freely take photographs with them to save the awesome moments. Otherwise, you also go to Silvery waterfalls (Thac Bac) one of the most popular tourist attractions of the neighborhood. It is located about a half hour from Sapa town that offers stunning views over surrounding mountains and lush forests belonging to Hoang Lien National Park.
6.30 p.m: Enjoy the traditional foods and check out homestay.
Some special foods in Sapa:
 Sapa is famous not only for many beautiful scenes and the wonderful weather, but also for the unique food of the northwest forests. One of the traditional foods attracting foreigners is Bamboo cooked rice (Com Lam) cooked by sticky rice and grilled in the bamboo tubes. Next, Five-colored "Xoi Nam Mau" of Tay ethnic people mixed with some types of leaves in the forest to create the attractive five colors of "xoi" including green, red, violet, yellow and white. Other food is chicken of Mong ethnic people with black skin, bone and meat, which proved to be good for health, especially your heart. The best fruit in Sapa in this season is peach with both sweet and a little bit sour that creates its unique flavor.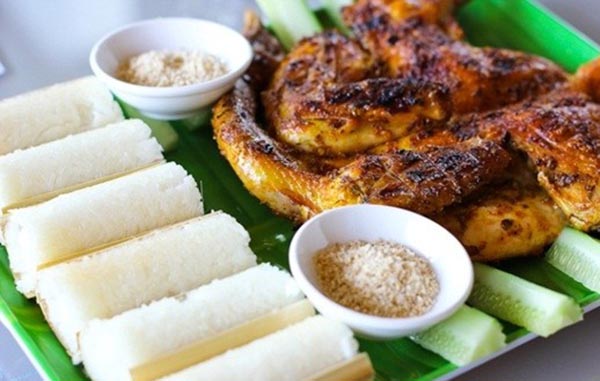 What happens last night of Sapa tours Vietnam:
7p.m: Transfer to station for overnight train back to Hanoi
06:00 am: Arrive at Tran Quy Cap station in Hanoi. Then, you will be moved to your hotel.
We have finished the trip during three nights and two days in Sapa tours Vietnam. All of these suggestions will help you have an experience trip in your holiday with reasonable price. We hope that you send your questions to us to clear more information in Sapa, Vietnam.