Halong Bay is one of the best places travelers shouldn't miss in Vietnam. The Bay makes a stunned surprise to all visitors when enjoying its beauty. Especially, high recommendation for you is to choose the luxury cruise and travel by seaplane, you will grace stunning landscapes of The World Natural Heritage from above then overnight on the cruise and immersing in the majestic nature. To respond the question how to get the luxury Halong Bay 1 night cruise, we consider together the guideline of the trip.
The background of cruise in Halong Bay
Nowadays, the luxury cruise in Halong is the best choice for foreigners to explore the Bay. There are many four-star and five-star cruises such as Paradise Elegance, Lavela Premium, Dragon legend, Orchid Cruise and so on. These prices are various between $130 – $200 per night, which depend on the traveling seasons and the quality of services of cruises. No doubts, they will provide all the best services for you with sophisticated boat design, royal amenities, impeccable service and gourmet cuisine.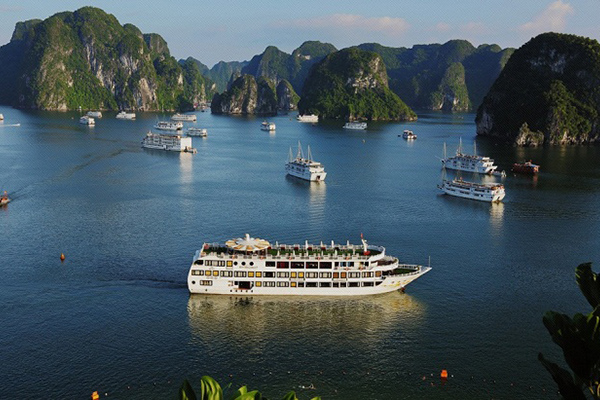 The itinerary on the cruise 1 night
Arrive in Tuan Chau Islands at 10.30 a.m, you should buy the ticket to grace overview from above about 25 minutes by seaplane. However, you want to grace Halong Bay from above need to apply in a group with two people. The price ticket for one person is $92.
11.00 a.m: you will your tour guide to check in the luxury cruise. At that time, the staffs will bring the welcome drink for you to receive cruise briefing, safety instruction. Let's start cruising and explore Halong Bay – one of the New Seven Wonders of Nature during the lunch. Almost of luxury cruises provide the buffet lunch for customers which include the delicious seafood and great drink made by a chef.
You will cross the most beautiful and quiet areas, such as Incense Burner, Dog Stone Islet, Fighting Cock, Soi Sim beach and Coconut Three Island. Continuously, you visit Luon cave located in the northeast of Bo Hon Island. This cave is the perfect combination of limestone mountains and jade-green sea by bamboo boat with local people. Passing through Luon Cave, you will reach a lake formed by an enclosed group of limestone mountains. The lake inside seems like a stadium surrounded by the high podium with calm and green sea water. On the cliff are used to be a deep freshwater valley. You maybe see monkeys on islands.
Next, you also explore the beautiful Ti Top beach for swimming (if the weather permits), which is especially famous for its fresh atmosphere, clean water, and smooth white sand that create a great ambiance for tourists to relax or passengers can take steps to reach the top of Ti Top beach to have a whole panorama view of Halong Bay.
In the evening, you will join a dozen activities on the cruise. For example, you attend the Cooking class on sundeck – How to make the traditional Vietnamese food. And then, it is time for chatting and relaxing. It is time to enjoy a chat with your friends, watching movies and many sorts of Vietnam cultural films, relaxing and spending a romantic night on the luxury cruise, playing cards, chess are available, reading magazines in room and dining room. Additionally, you may also try squid fishing and fishing from the boat.
At 6.30 a.m: You starts early onboard with Tai Chi session on the sundeck which combines deep breathing and relaxation with slow and gentle movements.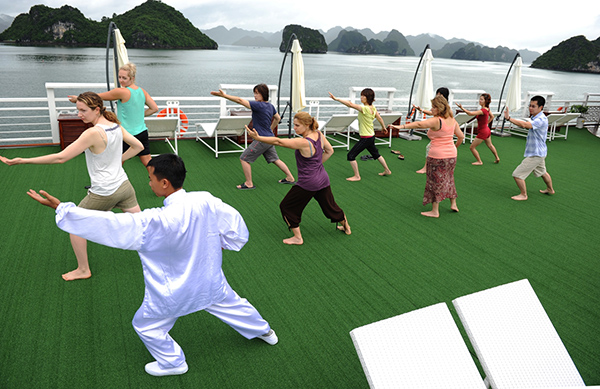 Continuously, you visit other caves like Sung Sot Cave – one of the biggest cave in Halong bay with beautiful stalactites and stalagmites. It takes approximately 45 minutes for cave visiting and walking up about 100 steps to the cave entrance. The light filtering through a huge opening brings the natural skylight the grotto and creating amazing scenery. This cave is one of the most stunning Halong Bay caves which covers about 10,000 m2 with thousands of stalactites and stalagmites. And this is the reason why the cave is similar to the shape of a horse and a sword. Then everybody on cruise comes back to the land.
Notes: If you have a free day in Halong Bay, you can spend the time to explore the Sun World Halong Park Entertainment Complex with Vietnam's largest theme park, which offers a huge variety of modern and unique entertainment at a world-class level. And then stay at Tuan Chau Island to see the musical performances, slideshows, sea lions, watching 3D film and so on.
We believe that all information will help you understand the itinerary in Halong Bay 1 cruise. If you have any troubles, let's send me the request to have a great trip in one of seven wonders of the world.