This Northern Vietnam Tour package from Singapore 5 days is pre-designed for your wonderful exploration of the best destinations in northern Vietnam. There are three famous destinations like Hanoi – a thousand-year-old capital to visit her top attractions, Ha Giang – the most impressive mountain view in the northwest of Vietnam, and  Halong Bay – the natural wonder of the world.
Spending one day in Hanoi
You will be picked up at Noi Bai airport & transfer to hotel for check-in. Firstly, you should come to Ho Chi Minh complex includes Ho Chi Minh Mausoleum, Museum and Perfume Pagoda, are where you can express their admiration and their gratitude toward the father of Vietnamese who is a famous person leading the country to independence and reunification. One Pillar Pagoda is where you need to visit because it is one of Vietnam's two most iconic pagodas, side by side the Perfume Pagoda. Because you have just one day to discover Hanoi so you should take a taxi to visit Hanoi Old Quarter which is one of the most popular destinations in Vietnam. Tourists get lost in a totally different from this city and explore the modest but energetic life of the local a hundred years ago. Nearly, Hoan Kiem Lake is known as the lake marks the historical center of ancient Hanoi. Then you can visit a complex of Ngọc Son Temple, The Huc Bridge, and Pen Tower in the surroundings that make a sparkling colorful natural picture.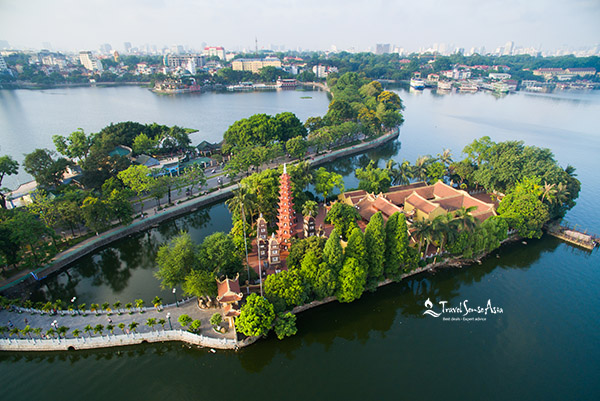 Spending two days in Ha Giang
You should transfer from Hanoi to Ha Giang at night to have a relax. The destination seems to be one of the most mentioned places in Northern Vietnam tour package from Singapore, particularly, Hoang Su Phi.
On the first day
Hoang Su Phi is the home for many H'mong, Red Dzao and Nung ethnic groups. You can stop in Thong Nguyen – a small village of Hoang Su Phi, and have a chance to stay with a local Dzao family in Nam Khoa with simple accessibilities in a stilt looking house. The local people are kind hosts with a friendly smile which made me feel at home in his lovely house.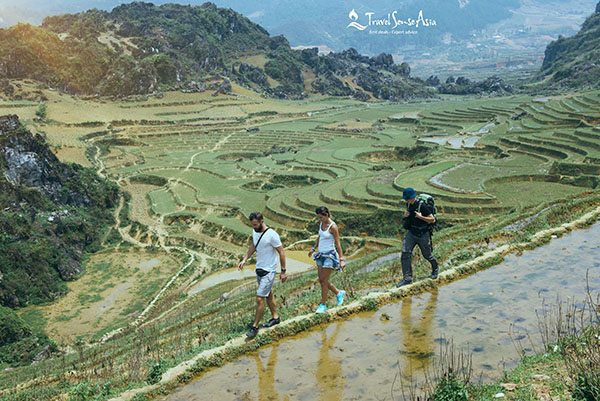 On the second day
The trek was from Nam Khoa to Nam Hong, approximately 10 kilometer, which was not hard but the weather condition made it tougher than normal. Of course, you will have a great experience in the trekking. The sunbeam created a great exposure on how green the rice fields were. The further the trek went, you will grace the more magnificent the view from above.  At Nam Ai, you will see old tea plant, which is a famous tea in Vietnam with buds have white hairs.
Spending two days in Halong Bay
On the first day
After coming back to Hanoi from Ha Giang, you should spend the relax time getting the enough energy to prepare for the next destination. At 7.30 a.m, you will be picked up at your hotel to transfer to Halong Bay. Nearly 4 hours to approach the place, you follow the tour guide to check in the cruise. Then, you have the great lunch with delicious foods. Cruise leads you to see the impressive limestone islets like Fighting Cocks, Duck, Finger, Incense Burner, and Stone Dog. Besides, you can visit two famous caves such as " Dau Go cave"  and "Trinh Nu Grotto". Dau Go cave has intrigued many tourists by its solemnity and grandiloquence. There are three main parts in the grotto, which bring the surprise for the tourists by a colossal pillar supporting the huge vault. And, you going there feel like they are going to a pagoda and then start to be gentle. The grotto seems to be wider with the image of the ancient citadel and a scuffle of horses, elephants, and people with sword and spear. Another wonderful cave is Trinh Nu Grotto. In history, the young lovers consider this cave is the symbol of the true love between a beautiful fisherman's daughter and a fishing man and an ideal romantic place for taking the oath of love. You can find a stone statue of a girl lying with her long hair hanging down and looking to the sea in a vain hope.
In the evening, after you finish the great dinner in the restaurant, you continue joining in many activities on the cruise such as squid fishing, karaoke, gracing the moon, chatting,…
On the second day
Besides, following the tour program, you also join the watersports in Vietnam tour package from Singapore with sunbathing or swimming. Besides, the other special water sports are diving and kayaking that you can indulge in.
You have free time idea to discover the brand new tourism product in Halong city as Sun World Halong Park. Tourists can easily grace overview from above by the most capacity cabin to get a perfect look of Hon Gai Port, Cai Lan port, Bai Chay Bridge,… Sun World Halong Park is a park that is appropriate for all ages. While the young can play adventurous games and adults can relax by going for a walk in Zen Garden. One of the impressive points in Halong Bay Tour is the Sun's wax museum.
Some tips for Singaporean
Singapore Airlines is one of the international airplanes that has various flights to Vietnam from different locations. For example, from Changi International Airport in Singapore, there is one flight to Hanoi that often arrives in Noi Bai International Airport at 12.20 am and departs at 9.50 am. You should book the ticket as soon as to receive the lower ticket.
To have a perfect trip, you have a good preparation including luggage, passport, cash, medicine, necessary devices and keep them avoiding thief.
You need to search the information of safe tour firm on the website before booking
Shopping: you should bargain the products as it is allowed when buying at shops or in the market.