A tour to Son Doong, the new gem among Southeast Asian jungles and arguably the top choice for adventure seekers coming to Vietnam these days, needs a lot of exercises and costs US$3,000 for a week.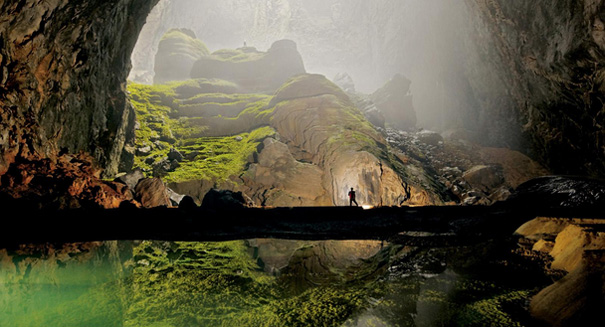 Oxalis is currently the only company providing tours to the cave, also known as Mountain River, in the central province of Quang Binh.
Howard Limbert, his wife and other members of the British Cave Research Association, who were the first foreigners to explore the cave and identified it as the biggest in the world, work as consultants and guides for the tour.
You will spend one day in Ke Bang jungle, starting with a bus tour from the company's office in Bo Trach District and a walk through Doong valley before having lunch at a village of eight Van Kieu ethnic families and a nap on hammocks provided by the company.
In the afternoon you will walk along Rao Thuong Stream to enter En (Swift) cave, a 1.6-kilometer feeder to Son Doong and one of the most captivating caves on earth.
Porters will set up camps inside En cave and cook dinner, and you will have all night to chat about the caves. Just make sure you get enough sleep because it will be Son Doong the next day and you don't want to miss anything.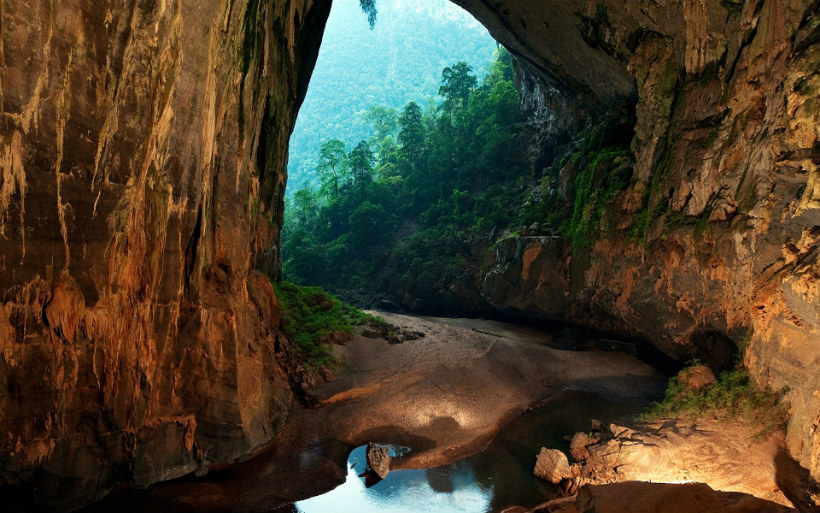 Son Doong stretches for around five kilometers with at least 150 individual grottoes, a dense subterranean jungle and several underground rivers.
Local man Ho Khanh discovered the cave in 1991, and in 2009 he helped British cave experts explore it.
ABC's Zinger Zee called the cave Avatar as she came to make a Good Morning America episode last month. Bored Panda named it a place out of this world.
Limbert said it has fossilized corridors, which prove there was life inside millions of years ago.
The weather conditions are completely different from the outside, and there is always fog.
There are also snakes and tourists should leave them alone, he said.
The tour gives you five days inside Son Doong to explore all the amazing things that you might not find anywhere else on earth.
You might wonder what to do for a toilet for five days.
The tour has strict toilet rules to keep the cave clean.
"We set up a mobile toilet at each camping site, which is an iron frame for you to sit on above a bucket covered with thick canvas," a company representative said.
"There are husks you can put on top of the waste after you finish. Don't put anything into the bucket except husk and tissues. We have hand washing gel for you after that."
After each tour, the porters take the buckets out and bury the waste far from the cave.
The entire group in a tour have to follow each other on a small path instead of spreading out to protect the floor of the cave and its stalactites, tour consultants said.
Also there are valleys tens of meters deep and fast-running streams inside the dark cave. One can put themselves in danger by trying a new path.
If there are incidents like rockslides or someone has a sprain, some of the visitors will have to help the patients back out because cell phones do not work inside.
Preparations
The tour is only for people of at least 18, and you will have to answer eight questions about your hearing, if you are using special medication, if you have a heart condition, asthma, epilepsy, mental disorder, diabetes, bone or joint diseases, and what sport you play.
Limbert said one should jog ten kilometers, climb a hill at least 300 meters high, walk firmly on rough soil and over large stones.
This regimen should be repeated at least four times between three and six months before the tour.
Those living in urban areas can practice by climbing up and down stairs of three stories without stopping 15 times every day. If you can still breathe fine after the climb, you can go on the tour.
Local porters will carry everything like the hammocks, tents, food, first aid kits, and equipment to filter water inside the cave for drinking. You just need to carry a small bag with a camera, a bottle of water and sunscreen.
You should bring clothes and shoes that dry easily up because you will have to swim a lot.
Bring extra wet tissues and hand lotion as there's little water to shower.
Nguyen Dinh Anh Cuong, who just returned from a trip with nine others, said one needs to carry special shooting equipment if they want to get good photos because of the lack of light inside the cave.
Besides a camera, lenses and a tripod, tourists need to take extra lights and use exposure techniques.
"A camera flash is like a firefly in there. It's not enough to show the hugeness of the cave," Cuong told news website VnExpress.
Camera exposure techniques use up a lot of battery power.
Nguyen Chau A, director of Oxalis (https://oxalis.com.vn), said tours for this year are fully booked with 500 tourists, mostly from the US, Australia, and Vietnam, going to Son Doong.
So if you want to be the first there next year, start practicing now.