Finishing a tour in the bustling and hustling Hanoi City, the next stop destination in Vietnam is Sapa. The tour attracts all domestic and foreign tourists by its climate, natural landscapes, and specialties. Travel Sense Asia's highest commitment is to bring you the most authentic and unique experience with a maximum of satisfaction in three days. Especially, read this article, you will respond the question – how to travel from Hanoi to Sapa. Actually, there are many methods to get Sapa from Hanoi and they have both of disadvantages and advantages you should consider making decisions.
How to Travel from Hanoi to Sapa
There are three main ways to travel from Hanoi to Sapa such as overnight bus, train, and motorbike. Of course, it depends on the number of days you come to Vietnam. However, the most practical route into Sapa is via the overnight bus or train.
High recommendation for you is to move to Sapa by train at night, it is more comfortable and safer than a bus or motorbike, and a lot cheaper than hiring a car. Traveling by train takes about 8-9 hours and the train only stops in Lao Cai, the province which Sapa belongs to. However, you spend another hour to transfer to Sapa from Lao Cai station. The final 30 kilometers to Sapa is traveled by minibus (50,000 – 60,000 VND), taxi (350,000 VND) or private transfer. One of the reasons is when you choose a private operator, you will sleep in private, clean and comfortable cabin with four berths and fully equipped.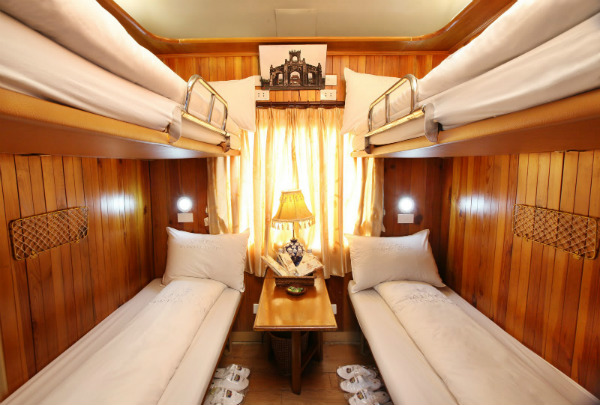 Sapa can also be reached by bus which is faster but it is less comfortable and less safe. However, it has the disadvantages which are serious accidents on that particular route. There are two options such as by sleeper bus or express Hanoi to Sapa bus. By sleeper bus, it takes you 8-9 hours to go directly to Sapa town. Or you can catch the bus at three bus stations such as My Dinh, Gia Lam, Yen Nghia and Nuoc Ngam with the bus named Hung Thanh, Hai Van or Ha Son. The price is around 250,000 – 350,000 VND. It takes about 6 hours to travel from Hanoi to Sapa, depending on traffic and weather. You should depart to Sapa at 10 p.m to save time and have a relax. By bus, you will enjoy the scene of the Vietnamese countryside along the road and it is by far the quickest and easiest way to travel between Hanoi and Sapa.
Another method helps you travel from Hanoi to Sapa is by motorbike. I wouldn't recommend driving directly to Sapa from Hanoi by bike because of your safety. However, currently, a lot of tourists come to Sapa by this way to gain more experience during the journey. It makes more time than others. The suggestion for you is that putting your bike on the train, then driving to see the amazing scenery around you or rent a motorbike in Sapa. On the road, you are comfortable to take photograph beautiful scenes and video the awesome moments while driving private.
Bring necessary items along a journey travel from Hanoi to Sapa
Before the tour, you should find out information about the destination which you will visit. Of course, it is very important. In the peak of the mountainous area in Vietnam, it is cool in the summer and extremely cold in the winter.
The necessary luggage and clothes can be easy to buy and relatively cheap prices compared to Western countries in the famous destinations, so the recommendation here is to bring as little as possible. Additionally, other items to bring with your tour to Vietnam can be a soft jacket or sweater for Highlands tourist but it must ensure a suitable case to avoid overloading kilogram in the flight. For example, warm clothes, scarf, hat, cap because the weather in Sapa is pretty unpredictable. Trekking shoes, sunglasses, sunscreen, insect repellent, small umbrella, light raincoat are also necessary. You should take the Vietnam Dong cash in the trip travel from Hanoi to Sapa because banking system in Sapa sometimes doesn't function well.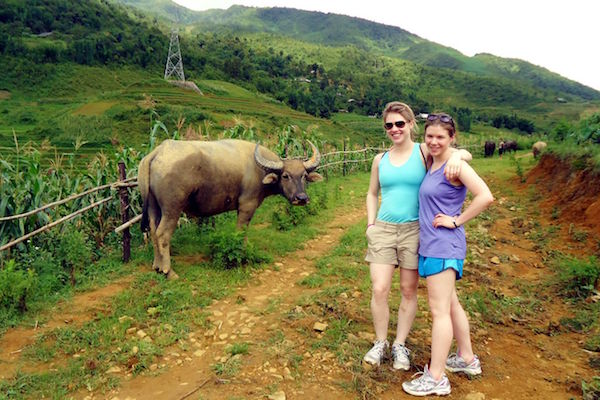 Next, you should search for more information about the culture in each of regions before traveling to these destinations. You need to bring your mobile phone and traveling notebook to search more clearly the knowledge anytime you want and contact for your partner avoid losing. For instance, tourists coming to Sapa where is a rural area has many nations such as Hmong, Thai,…, so to respond the curiosity, they should review the information before traveling.
Additionally, foreigners going to Vietnam should bring the health care. Sapa is rural area may encounter a variety of health risks and inadequate medical care. Therefore, you should bring the enough medicine although there are some chemist's shops in Sapa in case you get sick. In addition, Vietnam has the typical weather of tropical monsoon climate so you should bring sun protection cream to avoid the sunshine.
Suggest the itinerary travel from Hanoi to Sapa
For long experience years, we offer the most popular tour travel from Hanoi to Sapa in three days for you. Travel Sense Asia hope that you will have an awesome trip when coming to the friendly country.
On the first day tour travel from Hanoi to Sapa
Cat Cat village is the old village of ethnic groups which attracts many tourists from many countries for its distinctive customs and practices kept from a long time. This is a village of Black H'mong people where you can discover many interesting cultures in their daily life as well as culture and architecture.
Shin Chai is the place of the Dao ethnic people, whose women wear beautifully embroidered clothes with distinctive an enormous red turban and silver jeweler. In this village, local people will take the time to teach textile weaving and dying.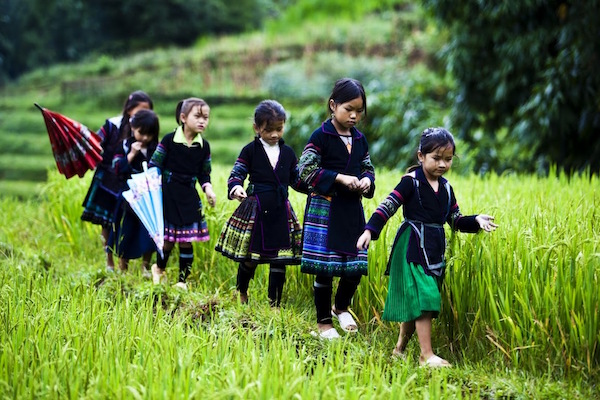 Muong Hoa valley is blooming with lots of colorful flowers in a wide range of various beauties. It is the time that the rice terraces are full of water at which you can contemplate one of the best scenery like the reflection of the sunshine on the fields' surface.
On the second day tour travel from Hanoi to Sapa
Ta Phin village is also the famous village in Sapa which surrounded by mountains with the rice terraces. In here, there are two ethnic minorities living like the Red Dao and the Black Mong. Therefore, it is this time for the tourists experience the unmixed cultural life of Black Hmong and Red Dzao minorities.
Ham Rong mountain that is combined with construction and natural landscape which is an attractive tourist area in the center of Sapa town. Besides, Ham Rong is home to numerous kinds of flowers and orchard gardens, which is attractive tourists.
Silver fall is located about a half hour from Sapa town that offers stunning views over surrounding mountains and lush forests belonging to Hoang Lien National Park.
On the third day tour travel from Hanoi to Sapa
Bac Ha market is the biggest market where you can buy several products, such as handicrafts, traditional costumes, and food. Visiting Sapa without trying a dish of baked or grilled meat, beef, fish, and vegetables are a great pity.
Sapa church was made from the shaped stones in combination with a mixture of sand, lime, and molasses even from the smallest details; that makes the church becomes more special. Moreover, it is also the main place for keeping many cultural traditional activities of the ethnic people in there.