Not only famous for its spectacular landscapes and delicious traditional dishes, but Hanoi also features the grace, elegance, and sophistication in every aspect. A visit to Hanoi can show you both faces of Vietnam, the ancient element, and the developing side. And you will find the full guide for your adventure in this article.
Hanoi, the capital city, the heart of the gorgeous country of Vietnam, is the beginning of the quintessence of the entire nation. Speaking of Hanoi, foreigners often think of a small yet hustle city with a variety of cultural highlights, from historical sites to traditional cuisine. 
Over thousands of years of civilization, Hanoi has transformed itself from a peaceful region to a bustling city with soaring economic growth. However, some places still breathe in the ancient atmosphere. To explore such a destination to the thorough, elaborate preparation is necessary. And you can find it right here.
Full Travel Guide For Hanoi, Vietnam
Must-try Dishes When Visiting The Capital Of Vietnam
A Brief Intro About Hanoi
Hanoi has been the capital of Vietnam for more than a thousand years. It nestles in the Northern Delta area. With a population of 8.054 million, this is among the most populous cosmopolitan around Southeast Asia.
Thanks to Noi Bai International Airport and Hanoi Station, Hanoi is also a travel hub with a large volume of international arrivals annually. It is usually the start for a Vietnam adventure as the capital gathers a lot of regional and local values.
Main Characteristics Of Hanoi Weather And The Best Time To Visit
There is no exaggeration to say that Hanoi is an all-year-round destination. The climate of this city is characterized by the apparent changes and vast differences between two hot and cold seasons.
From May to September, Hanoi goes through the hot and rainy season; the average temperature is 29.2ºC. On the other hand, the period between November and March next year can be called Winter. The weather is dry, and the average temperature drops to only 15.2ºC. Between those two seasons, there are two transition periods (April and October). So, there are four seasons Spring, Summer, Autumn, and Winter. Those four seasons of change have made Hanoi's climate more diverse; each season has its charm.
Hanoi in Spring is deluged in the festive atmosphere of New Year Holiday, the most significant vacation of the Vietnamese. Flowers are sold in every corner of the street. Although it's usually cloudy with intermittent rain, both the native and the foreigners get excited about the upcoming holiday with various activities such as traditional markets, fireworks display.
Summer is the hottest months with a maximum temperature of more than 40 degrees. However, the heat can be efficiently reduced by a wide range of summer dishes, from a cup of fruit juice to a bowl of che (a kind of Vietnamese dessert).
Most international travelers love to visit Hanoi during Autumn. The sun becomes less fierce, and some cold breeze starts to drift. It is perfect timing for outdoor activities to explore narrow alleys of Hanoi.
In Winter, the temperature hits bottom, sometimes less than 15 degrees. Still, traveling in the wintertime helps you enjoy hot Vietnamese dishes such as Pho, Vietnamese porridge better.
All in all, every day is an ideal day to go to Hanoi.
Photo: Shutterstock
Top Recommended Activities And Experiences In Hanoi
Wandering Around The Old Quarter
The Old Quarter sets in the center of the capital, near Hoan Kiem lake. Strolling on tiny streets, visitors can catch sight of various ancient constructions including temples, pagodas, or relics of traditional villages. On special occasions, you have a chance to witness religious activities and folk music festivals taking place there. This is a cultural highlight of Vietnamese people that foreigners cannot miss.
Life at the Old Quarter is perhaps most bustling after sunset. When the night falls, people gather here to meet up new friends and socialize over atop tiny plastic stools. Some count on the chilling feeling of "Bia Hoi," a local beer, to cool off the scorching heat in the day, while some just want to observe the bustling nightlife in the Old Quarter. Whatever the reasons, these people give and maintain a cultural meaning to Hanoi in particular and Vietnam in general.
Enjoying A Water Puppet Show
Do you know that only in Vietnam water puppetry was developed??
In the past, water puppet was performed in small villages. But recognizing the unique and attractive of water puppetry, more and more theaters for a live performance at the city are opened. The main stories are often the long told folk tales set in the essence of Tonkin area with banyan trees, water ponds, communal houses.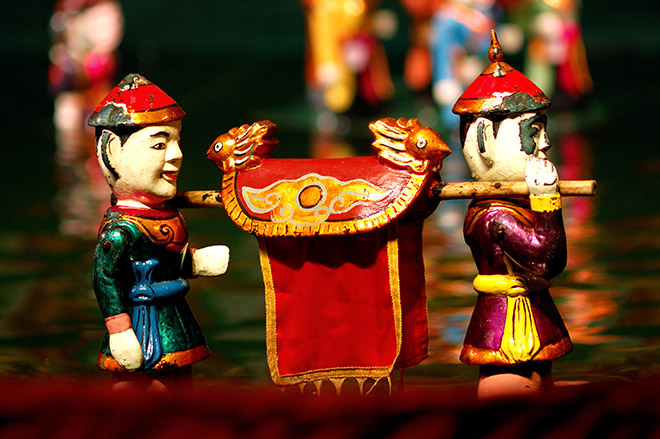 Water Puppet is a thing you can't miss when visiting Hanoi. Photo: Shutterstock
Visiting Ba Dinh Square And Ho Chi Minh Mausoleum
The historic Ba Dinh Square is where Uncle Ho read the declaration of independence giving birth to Vietnam. Nearby is Ho Chi Minh Mausoleum. The mausoleum is open five days a week, on every Tuesday, Wednesday, Thursday, Saturday and Sunday morning. When visiting Ho Chi Minh Mausoleum, pay attention to your outfit. It is a highly sacred monument to the Vietnamese, so you should cover your shoulder and at least your knees.
Getting To The First University In Vietnam
Dubbed as the first university in Vietnam, the Temple of Literature and the Imperial University is not only a famous Hanoi historical monument but also a place of the quintessence of previous historical periods. It features the ancient architectural style with red tile roofs. Inside you can find several stones to carve the name of the students as a remembrance of their achievement. It's a form of preserving the tradition of lifelong learning of Vietnamese.
Temple of Literature and the Imperial University. Photo: Shutterstock
Must-try Dishes When Visiting The Capital Of Vietnam
Pho is a long-standing traditional food that no one could ignore when visiting Hanoi. There is a saying that "If you come to Hanoi without enjoying Pho, it means you have never been here." Not only the capital city of Vietnam, but Hanoi is also the capital of Pho. Various types of Pho are offered in Hanoi. You can find the ancient style of Pho with broth almost everywhere. Some variation such as mixed Pho without noodle soup or rolls of Pho, pan-fried Pho are worth to try too.
When it comes to Hanoi cuisine, it would be a great mistake not to mention Bun Cha. On his visiting trip to Vietnam, the former President of the U.S. has given such high praise for Bun Cha. It is a dish with grilled pork, and rice noodle served with some herbs and a dipping sauce. Simple as it seems, Bun Cha gives a lingering aftertaste thanks to the fish sauce. 
Cha Ca La Vong is another special offer of Hanoi. This dish is prepared as follows: Fish is served hot in a small oil pan. The guests usually witness the entire process of cooking on the dining table. After the fish is done, you will add some condiments like vermicelli, roasted peanuts, coriander, basil, dill, freshly chopped onions with shrimp paste to enjoy Cha Ca La Vong.
Bun thang is a dish containing many quintessential features of Hanoi cuisine. Ingredients for making bun thang include shredded chicken, fried egg, shredded pork rolls. The broth is cooked from bones, prawns. The decoration of Bun thang is very meticulous. Each topping is sliced and arranged orderly on top of the noodles.
Beside those savory dishes, Hanoi egg coffee is a must-try. Humbly hidden in a small lane on a street of Hanoi, Giang Coffee is where the legendary Egg Coffee was born in 1946. A perfect blend of beaten egg white, sweetened condensed milk, and coffee will make you want to come back there day by day.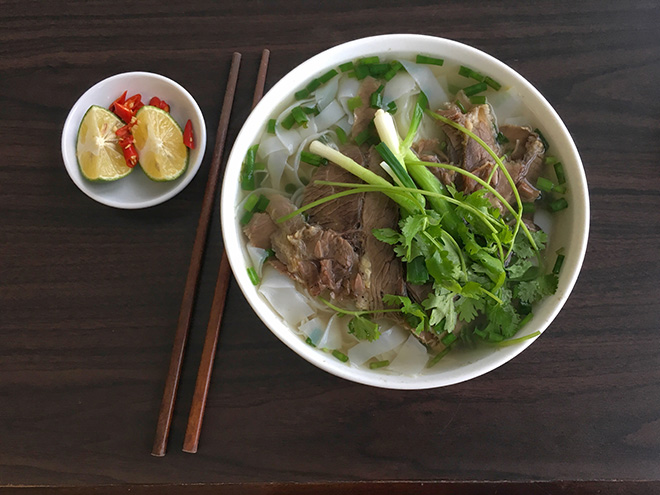 Find yourself the best Pho in Hanoi. Photo: Shutterstock
Culture Tips For The Best Trip To Hanoi
Hanoian is quite conservative. They are said to be elegant, polite, and friendly. It's easy to make friends with the locals. You just need to keep in mind the following things not to irritate the native:
Dress appropriately without showing much skin when visiting religious monuments

Don't speak too loudly at public places

Public affection is not welcomed

Vietnamese greetings don't include hugging or kissing

When having meals with a local family, wait for the oldest to start eating first

Complete all the food on the dining table as a display of thank

Learn several Vietnamese phrases for Hello (Xin Chao), Thank you (Cam on), Sorry/ Excuse me (Xin loi)
Find out the dos and don'ts in Vietnam here.
Other Guideline For An Adventure Around Hanoi
You will need to pack your luggage according to the time you visit Hanoi. The hot summer will require sunscreen, sunglasses, hats or an umbrella while you should bring warm clothes like jackets, scarves, gloves for the Winter. Don't forget the insect repellent as the hot tropical weather is an excellent environment for mosquitoes to reproduce.
To save some pennies for your travel, you can go to the street stalls to enjoy the authentic taste of Vietnamese cuisine culture. Don't hesitate to negotiate the price if you like a product. To avoid travel scams, you can book a taxi on apps like Grab, Be, Fastgo. 
Tap water is not safe for drinking, so you should bring your own water bottle and refill at the hotel or restaurant.

Ellie

I didn't have many opportunities for travel during my early childhood, so I decide to dedicate my young adult years to exploring the world. "Set off with a pure heart". That's my motto for any adventure in my life. And as sharing is caring, I love writing about my journeys so that the audience can gain an objective view of the destination. That's what I do before travelling, set the right, open mind to welcome both obstacles and blessings. So stay tuned for my new stories.